Sweetness and tartness, healthy and decadent, blueberry muffins with strudel topping have it all and are sure to please.
I've been in a baking mood this month and decided to make some muffins. I chose to make blueberry muffins because I love blueberries and they seem to me to be the perfect spring berry. Blueberries are considered a super food and are full of antioxidants and vitamins. I try to eat them regularly, either plain, or in jams or in baked goods or topping a salad. So much goodness and so delicious as well!
Blueberry muffin are amazing because they are both tart and sweet and have added nutritional benefits. Topping them with a strudel makes them even more special. You can leave the topping off too if you want a healthier, lower sugar muffin.
Easy to make muffin
I have made these muffins both with regular all purpose flour, wholewheat flour and gluten free flour. They all turned out perfectly. The gluten free muffins don't rise as high but they are as light and flavourful as the gluten flour muffins.
The recipe is very simple. Just combine the dry ingredients. Then add the blueberries and stir them gently until well covered in flour. This will keep them from sinking while baking.
Next you add the wet ingredients and stir until just combined. Its okay if the batter is lumpy. You really need to not over stir them. That creates hard muffins. The muffins are then baked and let cool on a rack. So easy and so delicious!
These muffins are healthy and yummy, and my new go to muffin recipe. They are great at anytime, with tea for an afternoon break or as a fast and easy breakfast with some fruit. Enjoy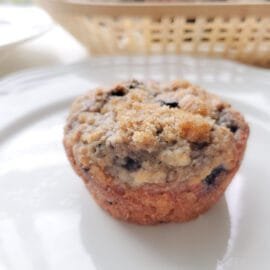 Vegan Blueberry Muffin with Strudel Topping
Print Recipe
Ingredients
1

cup

All Purpose flour

1/2

cup

whole wheat flour

3/4

cup

granulated sugar

2

teaspoons

baking powder

1/4

cup

canola oil

1/4

cup

applesauce

1

1 chia egg

1 tablespoon chia seeds mixed with 3 tablespoons water, let sit for at least 5 minutes

1

teaspoon

vanilla extract

1/3

cup

unsweetened soy milk

or more if needed

1

cup

fresh or frozen blueberries

1/2 cup of the cup mushed
Strudel:
2

tablespoons

softened butter

1/4

teaspoon

cinnamon

1/3

cup

granulated sugar

1/3

cup

brown sugar

1/4

cup

flour
Instructions
Preheat oven to 350 degrees F. Grease 12 tin muffin tin and set aside.

To Make Crumb Topping: Mix together sugars, vegan butter, cinnamon and flour. Mix with fork. Set aside.

To Make Muffins: Combine flour, sugar and baking powder in a large mixing bowl.

Add the blueberry and gently fold them in until well covered in the flour.

Place canola oil and applesauce into a 1 cup measuring cup. Add the chia egg and enough milk to make 1 cup.

Pour the oil mixture onto the flour mixture. Combine by gently folding a few times, until all the flour is just moistened. Do not overmix to keep your muffins light.

Fill muffin cups 3/4 full with batter.

Fill each muffin tin with sprinkled crumb topping.

Bake for 20 to 25 minutes in the preheated oven, or until done.