Canada's favorite donut tastes just as good veganized. With walnuts and a sweet sugar glaze, these donuts are the perfect sweet treat.
If you lived in Canada during the past 40 years you'll probably remember Walnut Crunch donuts. The Walnut Crunch is a donut made famous by our very own Tim Horton's donut chain. It was discontinued in 2011 to many people's disappointment. It wasn't vegan so I had to give it up long before its cancellation date, but in my pre-vegan days it was my all time favorite donut.
Walnut crunch donuts are a fried bar donut, made with baking powder instead of yeast which gives it a dense cake like texture. The chocolatey goodness is accentuated with walnuts and a sweet sugar glaze. Not exactly health food but a scrumptious decadent treat that's well worth the extra sugar and calories!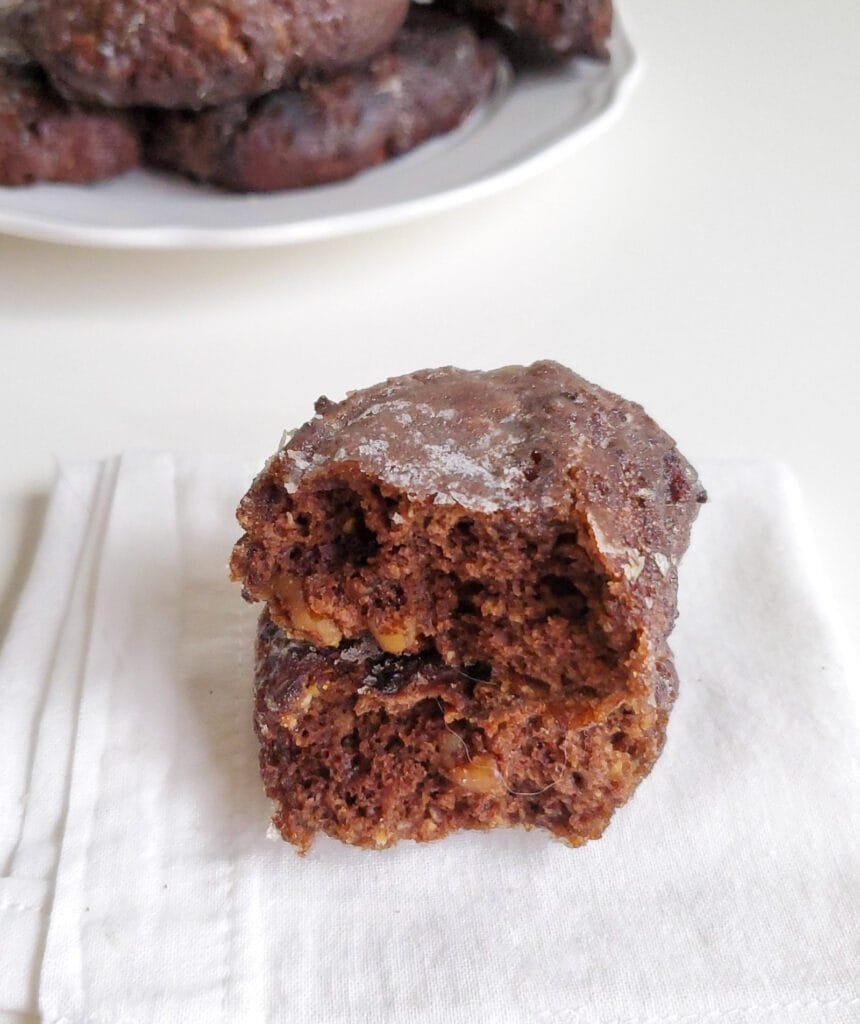 Vegan Substitutes
These substitutes are used in this recipe and in many of my baking recipes. There is no need for eggs or non plant based dairy in any baked goods. You can easily buy store bought vegan versions or make your own. Here are my go to vegan substitute recipes:
•Vegan chia egg– combine 1 tablespoons chia seeds with 3 tablespoons water. Mix and let sit for at least 15 minutes. Make sure to use light chia seeds and preferably ground. These add cohesion and moistness to your baking.
•Vegan sour cream– mix 1 teaspoon of vinegar with 6 tablespoons silken tofu. Let sit for a few minutes and use in place of sour cream. Sour cream adds lightness and moistness to your recipe.
Very easy to make
The doughnuts are very easy to make. They're made with cocoa powder and baking powder which gives them their chocolate flavour, and light and cake-like texture. Walnuts add crunch, hence the name, and a simple sugar glaze adds the sweet finishing touch. They are shaped by hand and then quick fried. They are then baked. It's a bit time consuming but an easy process. The donuts don't look too pretty but they look fine once fried and glazed.
The glaze is just a basic sugar, and water glaze. Coat the donuts liberally on both sides and let them sit until the glaze hardens. I use a baking rack over a baking sheet to insure an even coating. Be sure to slice the raw dough for the signature bar donut look.
Some people prefer the lighter yeast donuts, but I personally prefer cake doughnuts. After trying these you'll probably feel the same way. These chocolatey and nutty donuts are so perfectly rich and delicious. You can bake them if you're watching your oil intake, but frying them gives them a lovely crunchy exterior which is really irresistible. Eat fresh or store in the fridge for 2 to 3 days or freeze them for later. Enjoy!
Vegan Walnut Crunch Donut
Print Recipe
Ingredients
2

cups

flour

1/2

cup

sugar

1/4

cup

cocoa powder

1/2

teaspoon

baking powder

1/2

teaspoon

baking soda

1/2

teaspoon

vanilla extract

1

chia egg

1 tablespoon chia seed with 3 tablespoons water

6

tablespoons

vegan sour cream

6 tablespoons tofu with 1 teaspoon vinegar

1

cup

chopped walnuts

1/4

cup

plant-based milk

1/4

cup

vegetable oil

1-1/2

cups

sugar

1/4

cup

water
Instructions
Preheat oven to 375 degrees F. Line a baking sheet with parchment paper or a silicone sheet and set aside.

In a large mixing bowl, mix together the flour, sugar, baking powder, baking soda, and cocoa powder.

In a small mixing bowl, whisk together the egg, milk, oil and vegan sour cream.

Add the wet ingredients to the dry and mix with an electric mixer at medium speed until well combined.

Add the chopped walnuts and stir until they are well incorporated.

Cover bowl with a cloth or plastic wrap and chill for one hour.

Place oil in a Dutch oven and heat to 375 degrees F.

On a lightly floured surface, using a floured rolling pin, roll out the dough to 1/2 inch thickness. Cut the dough into 10 even pieces. Shape each into uniform bar shapes about 2-1/2 by 3-1/2 inches. Score each down the center.

Fry donuts in batches of two or three in the oil for about 10-20 seconds. Watch them closely as they burn very quickly and easily.

Once fried, remove from heat and place on a paper towel lined baking rack. Pat to remove excess oil.

Once all the donuts are fried, transfer them to the baking sheet and bake for 8-15 minutes.

While the donuts are baking make the glaze by whisking together the powdered sugar and water until smooth. Add additional powdered sugar or water if needed.

Remove donuts form the oven and transfer to a baking rack. While they are still hot brush them all liberally with glaze.  Let them cool and the glaze to harden on the rack.