Super sweet and filled with the fresh flavor of pear, these muffins are perfect for dessert or an anytime break.
I recently splurged on a bag of organic pears after reading that pears have now been added to EWG "Dirty Dozen" list. I love pears but it can be difficult to find affordable organic ones in most supermarkets. You can generally find them in health food stores or online. Pears are probably at their best and are usually associated with fall, but for me, springtime is the best time to enjoy their sweetness.
This recipe includes ginger which compliments very well the sweet and subtle flavour of the pears. It makes a great flavour combination. The muffins are very light and sweet and perfect with a cup of tea or as a fast and easy breakfast muffin.
Making Pear Ginger Muffins
You can bake these muffins in 2-6 cup muffins tins instead of a 12 cup tin if you prefer. After baking, let muffins cool on a rack slightly. They taste great when slightly warm but you can also refrigerate them for later.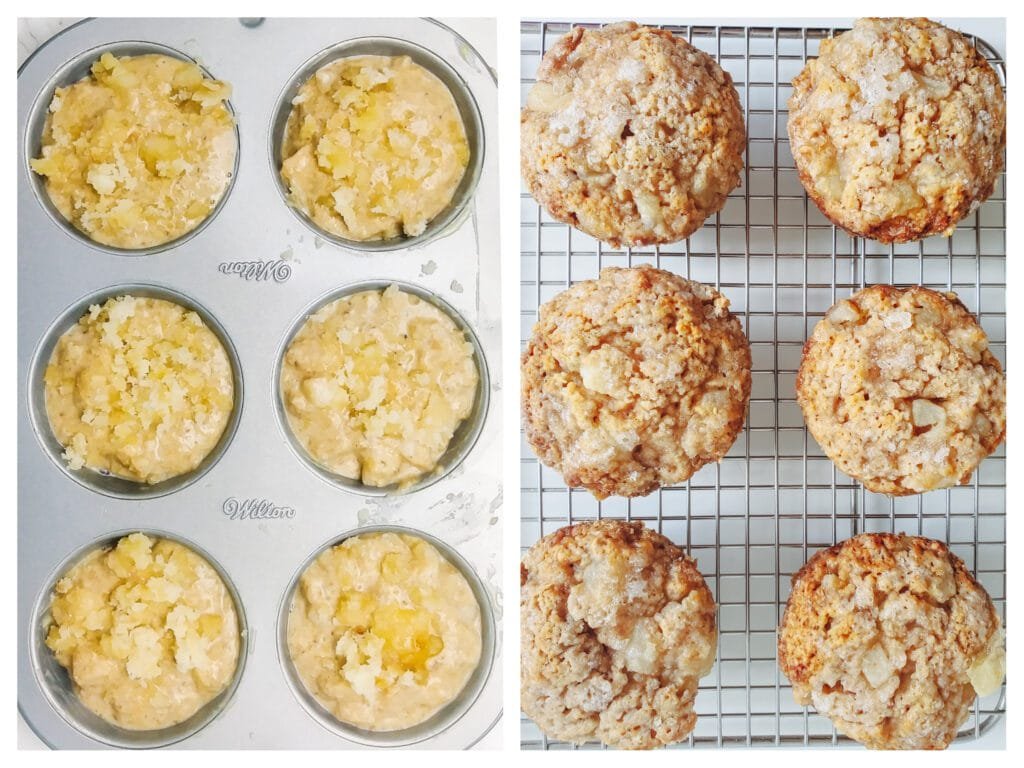 Beautiful, light and with a lovely subtle flavour, these muffins make a great snack, breakfast or dessert. They can be frozen or eaten fresh, and are perfectly portable. Enjoy!
Pear Ginger Muffins
Print Recipe
Ingredients
2 1/2

cups

gluten free flour

1

teaspoon

baking soda

1

teaspoon

ground ginger

1/2

teaspoon

cinnamon

3/4

cups

fine fruit sugar blend or fructose

1/3

cup

organic canola oil

1

chia egg

1 teaspoon chia seed with 2 tablespoons water, soaked 15 minutes

1

cup

soymilk

2

cups

pears

peeled, chopped
Topping:
1/3

cup

fine fruit sugar blend or fructose

2

teaspoons

vegan butter

melted

1/4

teaspoon

ground ginger
Instructions
Preheat oven to 350°F. Well grease or line a 12 cup or 2-6 cup muffin tin. Set aside.

Make the topping: In a small bowl, combine the sugar, vegan butter and ginger. Set aside.

Make the muffins: In a large mixing bowl, whisk together the flour, baking soda, ginger, and cinnamon.

In medium size bowl, whisk together the sugar with the oil; add the chia egg and soymilk. Whisk until mixed.

Pour wet ingredients over the dry ingredients; add the pears and stir until just mixed. Spoon mixture into muffin cups. Sprinkle topping mixture over batter.

Bake in the centre of oven until risen and tops are firm to the touch, about 25 minutes. Remove from heat and let cool on a rack.