These healthy and scrumptious date and oat squares are sweetened with dates, flavoured with vanilla and taste great. Only five ingredients and best of all, no baking.
Date squares are a common and popular treat but I didn't taste one until I was in my late teens when I fell absolutely in love with them. These sweet and satifying treats are one of my favorites snacks, and they are surprisingly easy to make. They only require five simple basic ingredients and no baking. What could be better or easier than that?
Theses squares are also sugar free. Dates do have natural sugar but it's much healthier and has much less of a negative effect than regular sugar. I'm really affected by sugar as it causes me to binge and crash and affects my ADHD so I try to avoid it as much as possible. Cooking with dates is one delicious way of doing so.
Making No Bake Date Squares
These squares are super easy to make. You do need to soak the dates overnight unless you are using merjool dates which are a lot softer. Once the dates are softened and well drained, just set them aside and make the oat base and topping.
For this, put your oat base ingredients in a food proccesor and process until blended and fine. Pour into a mixing bowl and set aside.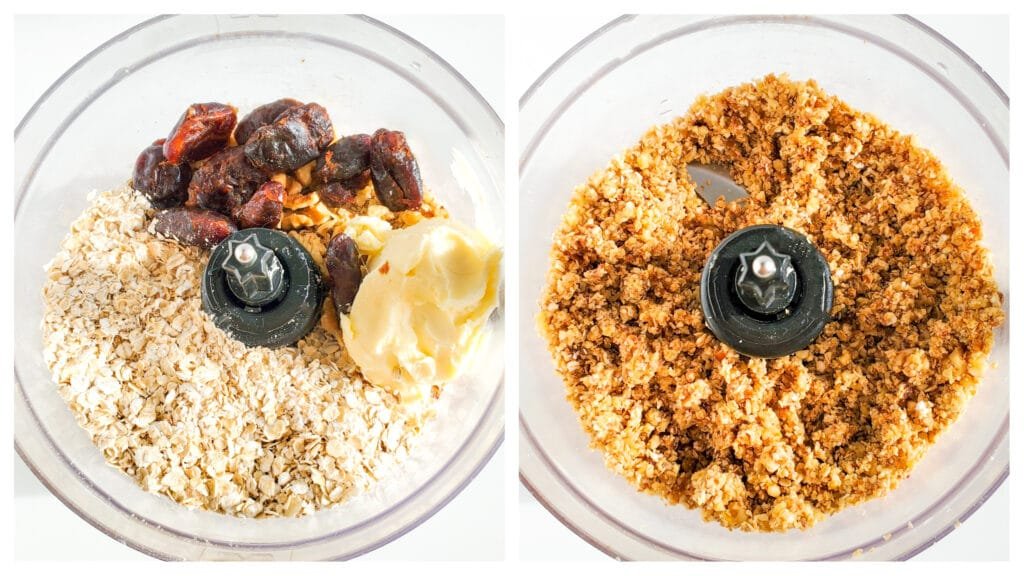 You then need to make the date filling. Make this by placing the softened dates in a mixing bowl and process until smooth. Once done, you are now ready to build up your squares. Start by pressing 1/2 the oat mixture into a 8×8 greased pan. Add the date puree and spread evenly. Top evenly with the remaining oat mixture and gently but firmly press down.
Chill the squares in the refrigerator and then cut into 16 pieces. The squares should be chilled for at least one hour but the longer they chill the better, as they become alot firmer the longer they are chilled. Letting them chill overnight, if you can resist eating them, is best for perfectly firm, delicious date squares.
A Healthier Start To The New Year
The key to making healthier treats is to replace unhealthy ingredients with healthier ones. It's very easy to do. This new year I will still be eating sugar occasionally but will be focusing on cooking and baking with alternative sweeteners such as dates, which have many health benefits, more often.
Date squares are a great treat for packing in school lunches or taking to work with you. They are also great for a work or study break as they will fuel your energy but not with the extreme effects of sugar. Another plus is that they're so easy to make and so delicious. These treats taste so good you might forget they are super healthy as well. What an amazing combination. Enjoy!
Other Easy to Make Treats
3 Ingredient Peanut Butter Cookies
No Bake Date Squares
Print Recipe
Ingredients
1 1/2

cups

raw walnut pieces

1 1/2

cups

rolled oats

15

pitted dates

1/4

cup

coconut oil or vegan butter

30

pitted dates

soaked overnight
Instructions
Place 30 dates in a container and cover with water. Cover and refrigerate overnight.

Lightly grease an 8×8 square pan with oil or vegan butter. Set aside.

Place the walnuts, oats, coconut oil or vegan butter and 15 unsoaked dates in a food processor. Process until finely crumbled.

Spoon mixture into the prepared pan, setting aside 1-1/2 cups. Press mixture into pan firmly making sure it is even.

Drain your soaked dates well. Place them all in a food processor. Blend until a smooth paste.

Spoon date mixture evenly over the crumble mixture.

Sprinkle the remaining crumble on top. Spread out evenly and pack down firmly.

Refrigerate for at least 1 hour until firm. Cut carefully into 16 squares and serve. Store leftovers in the fridge or freeze for later.
Notes
The squares will be firm after one hour but taste and hold together better the next day. They really firm up the longer they are refrigerated.
Nutrition
Serving:
16
Squares
|
Calories:
189
kcal
|
Carbohydrates:
22
g
|
Protein:
5
g
|
Fat:
10
g
|
Saturated Fat:
2.53
g
|
Sodium:
28.6
mg
|
Potassium:
192.29
mg
|
Fiber:
3.34
g
|
Sugar:
12.78
g
|
Vitamin A:
0.23
IU
|
Vitamin C:
0.28
mg
|
Calcium:
18.69
mg
|
Iron:
1.09
mg