When I'm craving something sweet and crunchy only a cookie will do. Its at these time when I really appreciate recipes that are easy, fast and have only a few simple ingredients. In all of these regards, this cookie is perfect.
I found this recipe on YouTube which is a great place find new recipes, cooking ideas and techinques. It's apparently a classic and I can see why. It requires only three very basic ingredients, and can be made in about 20 minutes. I was skeptical when I first heard about them. I thought they would not be a real cookie in texture or even taste, but happily I was wrong. These cookies look, taste and even have the same creamy snap as traditional peanut butter cookies.
How to make 3 ingredients cookies
The process is very easy. Combine the ingredients in a bowl and stir until well combined. Make sure to use all natural unsweetened peanut butter. I also use fructose or a fine blend fruit sugar. It's a bit healthier than regular sugar and its super fine so melts well.
Once the dough is smooth, roll it into small smooth balls about 1-1/2 inches in diameter. Space out well on cooking sheet- they really spread when baking. Once placed, press down with a fork going in one direction and then the opposite to form a criss cross pattern.
The cookies take only 6 to 8 minutes to cook. Watch them carefully as they burn easily. Once baked leave them to harden on the baking sheet. Don't transfer them to a baking rack as they will fall apart. Once they are cooled, after about 10 minutes, then you can safely move them to a baking rack until they are completely hardened and cooled.
This delicious recipe makes 24 cookies. Be sure to keep them refrigerated where they will last for a week or so. You can also freeze them as they freeze well and don't need to be defrosted to be eaten. Enjoy!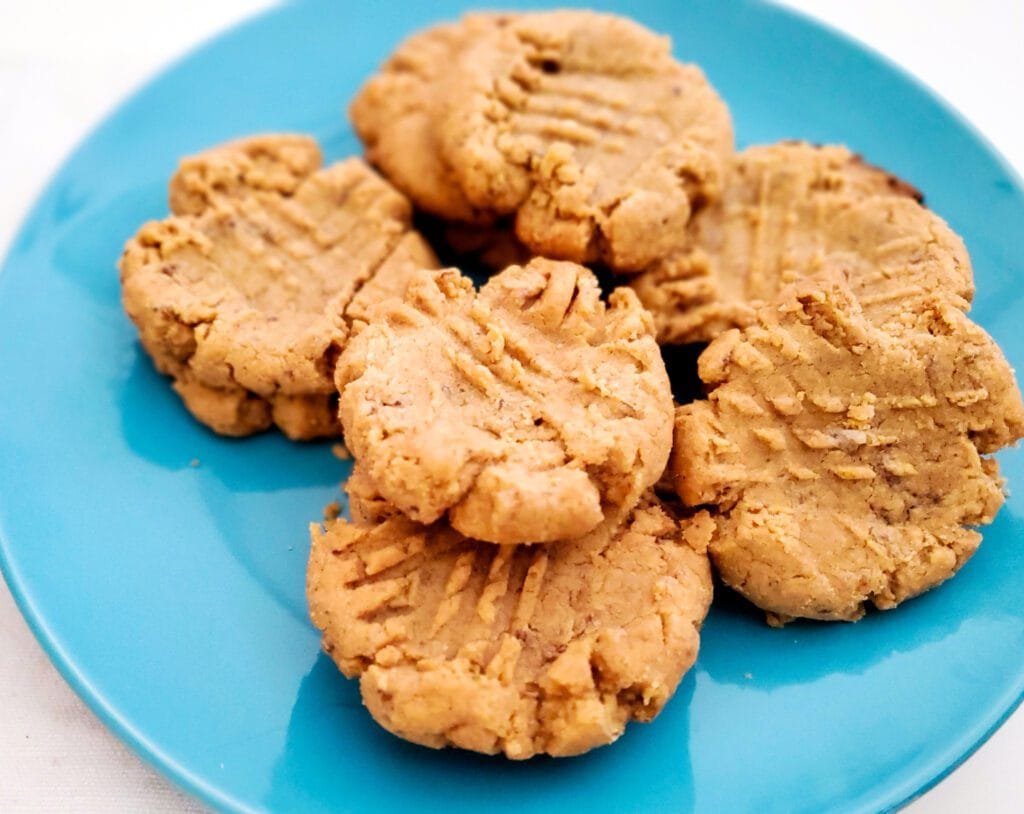 Three Ingredient Peanut Butter Cookies
Print Recipe
Ingredients
1

cup

peanut butter

1

cup

white sugar

1

chia or flax egg

1 tablespoon seeds mixed with 3 tablespoons water, let sit for 15 minutes.
Instructions
Preheat oven to 350 degrees F. Line baking sheets with parchment paper or a silicone mat. Set aside

Combine the peanut butter, white sugar and egg. Mix until smooth.

Drop spoonfuls of dough onto the prepared baking sheet.

Bake for 6 to 8 minutes. Do not overbake!

Let cool and harden on cookie sheet for 10 minutes before moving to baking rack.

Transfer cookies to a baking rack. Let cool completely before eating.