Ginger and molasses are perfectly combined in this soft and spicy cookie. Perfect for snacking and for sharing.
I love all things ginger and ginger cookies are a favorite of mine. I find they're as perfect for February, or anytime, as they are for Christmas. These cookies are very easy to make, and taste exactly like the gingersnaps you buy, but unlike their name suggests, they are a soft cookie. They have great flavour nevertheless, and are full of sweetness and gingery spice.
Making vegan gingersnaps
The cookie dough is very easy to make. You just combine the dry ingredients and the wet seperately and then combine them. An electric mixer helps alot when baking cookies. If you use it cream the butter and sugar you will get a much lighter cookie.
The dough is quite thick but that can depends on the flour you use. I have made this recipe with gluten free flour and it was quite runny. Those cookies was crisp so if you want a crisper cookie, just make sure your dough is a bit runny.
I use a tablespoon measuring cup to insure the cookies will be uniform size. I grease it with oil and just tap on the cookie sheet to release the dough. Don't pack the dough too tighly or it might stick.
Make sure when baking to leave two inches around each cookie, they really spread. Also, don't forget to add sprinkling sugar before and after baking. It's a perfect finishing touch and adds just enough sweetness. It's also important to not overbake the cookies. They brown very quickly and they're still soft when done.
After the cookies are baked, remove from oven and "scoot" them while they are still warm and soft. This means twirl them firmly around the inside of a large glass or biscuit cutter. This gives them a uniform round shape. Then press each cookie with a glass to flatten. Let sit on the baking sheet for a few minutes and then transfer them to a baking rack to fully cool and harden.

These are very yummy cookies and they are perfect for anytime snacking. Enjoy them as a great afternoon break cookie or to fill a cookie box for sharing. Ginger is both relaxing and energizing so it's perfect for afternoon tea or coffee breaks. Enjoy!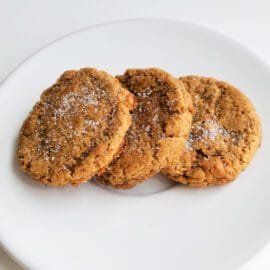 Vegan Gingersnaps
Print Recipe
Ingredients
3/4

cup

vegan butter

1

cup

granulated sugar

1

chia egg

1 tablespoon chia seeds mixed with 3 tablespoons water, let sit for at least 5 minutes

1/4

cup

molasses

1

cup

all purpose flour

1

cup

whole wheat flour

1

tablespoon

ground ginger

1

teaspoon

ground cinnamon

2

teaspoons

baking soda

1/2

cup

granulated sugar

for sprinkling
Instructions
Preheat oven to 350 degrees F. Line a baking sheet with a silicone mat or parchment paper. Set aside.

In a medium bowl, cream together the butter and 1 cup white sugar until smooth and creamy. Beat in the chia egg and molasses until well blended.

In a separate bowl, combine the flour, ginger, cinnamon, and baking soda. Mix well.

Stir the flour mixture into the sugar and butter mixture the liquid mixture to form a smooth thick batter.

With a 1 tablespoon measuring spoon scoop out the batter and pat onto your cooking sheet. Place cookies at least 2 inches apart onto prepared cookie sheets.

Bake for 8 to 10 minutes in the preheated oven. Cookies will be soft to the touch when done. Be sure not to overbake as they can burn easily.

Immediately after removing cookies from the oven, swirl inside a large glass or biscuit cutter to create a round shape. Then press down cookies if risen with a large glass.

Allow cookies to cool on baking sheet for 5 minutes before transferring them to a cooling rack. Let cool completely before storing.
Notes
Different flours and butters will get very different results. Using gluten free flour or all All Purpose flour  can give you a very runny batter. That is fine. Measure it onto the cookie sheet the same way, by tablespoon. They will be very crisp when they cool.