The hardest part of going vegan is not being able to use staples ingredients for cooking and baking. For me, what I missed most was butter. I missed it in my baking, and because of it's ease of use. It was definitely a hard ingredient not to be able to use.
You can find a good store bought vegan butter, but they all have salt which I don't eat, and don't like to include in my baking. I made do by making my own, combining coconut and canola oil. It did the trick but truthfully tasted and felt nothing like butter. So I was thrilled to discover this amazing recipe online. Its based on a recipe from Mikado Schinner's vegan cookbook "My Vegan Pantry". The cookbook is filled with many easy, classic staples and dairy substitutes. If you love to cook this is a great cookbook to add to your vegan cookbook collection.
The recipe uses soy lecithin as an emulsifier, meaning you can add milk or other liquids to an oil base and it will blend instead of separating. Emulsfiers are used in making chocolate and many vegan products. I use soy lecithin as an emulsifier. You can buy it in liquid or powder form at your local health food or bulk store.
I used unsweetened soy milk and liquid soy lecithin this recipe, and was amazed by how much it looks, tastes and feels like butter. Finally, a vegan butter that will give a buttery taste to baking and that is delicious on toast and vegetables. This recipe has brought new life to my baking and cooking experience and that may sound rather extreme, but it's true. Give it a try and you'll too will be amazed.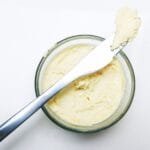 Vegan Butter
Print Recipe
Ingredients
1/2

cup

organic canola oil

1/2

cup

coconut oil

1/2

cup

unsweetened soy milk

4

tbsp

liquid soy lecithin
Instructions
Combine all the ingredients in a small bowl. Whisk or blend until well combined.

Pour into mold and refrigerate until firm and spreadable.