Healthy, hearty and comforting, vegan cabbage rolls are easy to make and are a very satisfying, comforting dish. Sure to please everyone even those who don't like cabbage.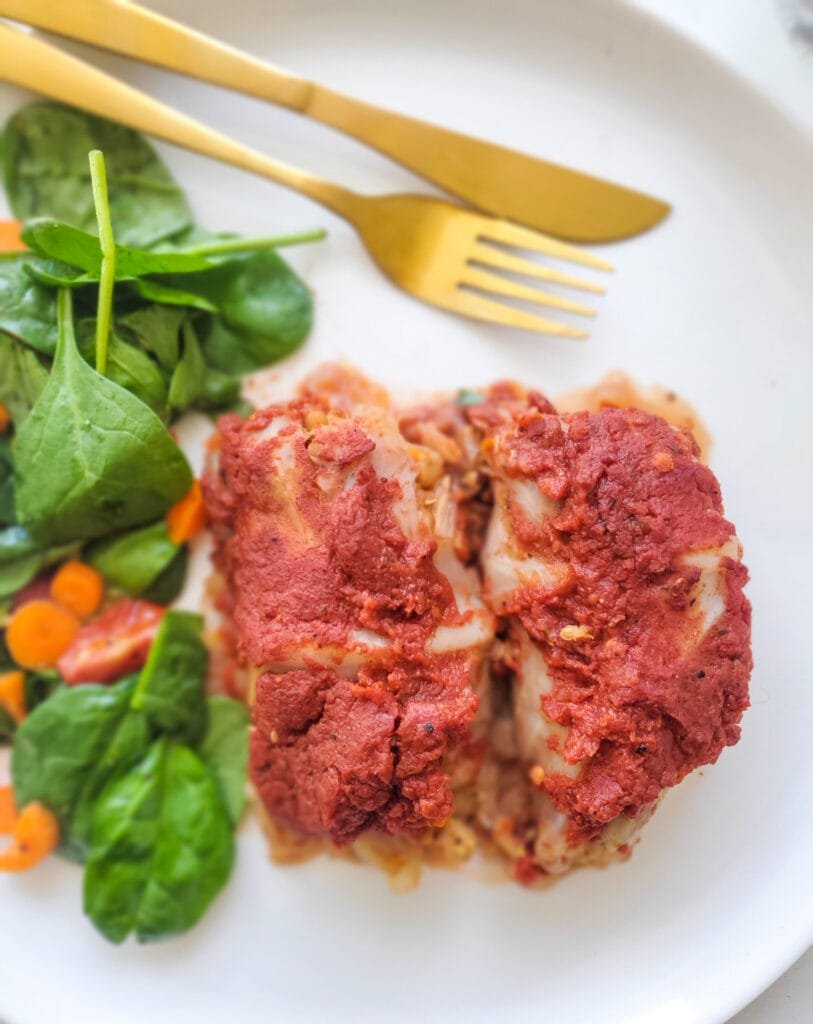 Happy new year! I hope you're having a great year so far. I am now that I've recovered from my Christmas sugar binge. I do enjoy indulging over the holidays, and always plan on detoxing in January. My favorite way to detox is to eat hearty, plain food like soups and stews, casseroles, and this favorite recipe, cabbage rolls.
I love cabbage rolls because they are filling and satisfying, and also really healthy. It's a very easy recipe to veganize, and in keeping with the detox theme I leave out the usual onion and garlic. I find these ingredients can also make me tired and distracted. I often don't use them in this recipe as I find it really allows the sweet flavour of the cabbage and tomato to shine.
Making Vegan Cabbage Rolls
To make vegan cabbage rolls, you begin cuting out the tough bottom core and carefully peeling off the leaves. Try to keep them whole but it's okay if they tear. Once you have 12 intact leaves, add them to a large pot of boiling water. Boil until tender, about 10 minutes. Drain well and let cool before using.
Process the rest of the cabbage in a food processor until finely chopped. Combine it with the rest of the filling ingredients in a large mixing bowl. Mix the ingredients by spoon or hand.
Once filling is well mixed, start filling the leaves by spooning a few tablespoons of the filling mix onto each leaf. Flip up both ends and then roll them to create rolls.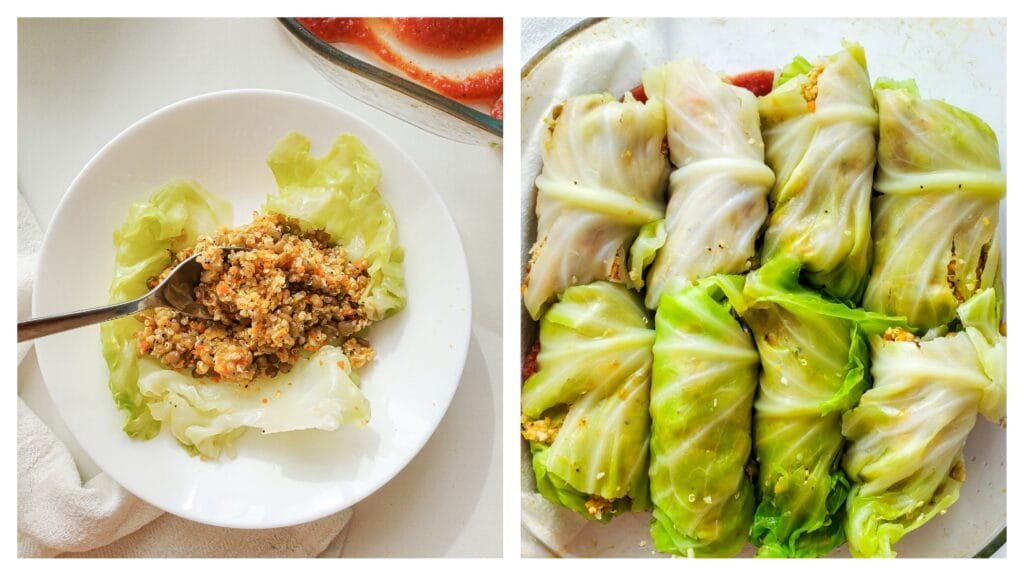 Place rolls in a rectangular baking dish (I used a 9×9 dish as I bake mine in batches) that has a little tomato sauce on the bottom. Fill the dish with the rolls and then cover with the rest of the tomato sauce.
Bake covered for 90 minutes or until leaves are tender and sauce is absorbed. Remove from oven and serve hot. You can reserve some of the tomato sauce and add it to the cabbge rolls just before serving for a more liquidy sauce.
Healthy comfort food
This recipe is a little labour intensive, but is so worth the effort. Cabbage rolls can be made the night before, or cooked, and frozen for an easy, fast, and nutritious meal. They are the ultimate comfort food. I'm a big fan of them, and I hope you will be too. Enjoy!
More Vegan Vegetable Recipes
Vegetables can be spectacular if you know how to cook them. Here are some vegetable based vegan recipes to try:
Vegan Cabbage Rolls
Servings:
12
Cabbage rolls
Print Recipe
Ingredients
Filling:
2

cups

cooked quinoa

2

cups

chopped cabbage

2

cups

cooked green lentils

1

carrot

grated

2

small

cooked yams

mashed

1

tablespoon

poppy seeds

1/2

teaspoon

stevia leaf powder

1/4

teaspoon

pepper

1/4

teaspoon

mustard powder

1

lemon

juiced
Tomato Sauce:
2

cups

tomato sauce

1

5.5 oz

can tomato paste

mixed with equal amount water

1

teaspoon

stevia leaf powder

1/2

teaspoon

black pepper

1/4

teaspoon

mustard powder

2

teaspoon

oregano
Instructions
Heat the oven to 350 degrees Fahrenheit.

Lightly grease 13×9 inch casserole dish. Set aside.

Cut out the tough bottom core of the cabbage. Carefully peel off 12 leaves.

Place cabbage leaves in large pot of boiling water. Boil for 10 minutes until leaves are tender.

Rinse cabbage leaves under cold water to cool. Drain well and set aside.

Grate the remaining cabbage to equal 2 cups. Place in large mixing bowl.

Add cooked, drained quinoa and lentils, yams, grated carrot, stevia, pepper and mustard powder, poppy seeds and lemon juice to the bowl.

Taste and add more seasoning, in very small amounts if desired. Mix well.

In a medium size mixing bowl, combine the tomato paste, water and tomato sauce. Add seasoning and oregano and mix well.

Pour a little sauce in the bottom of the baking dish. Set aside.

Lay cabbage leaves out on your work surface. Place 1/4 cup or 3 tablespoons of the mixture into each leaf. Roll up the ends first, and then the sides. Place in the baking pan.

Continue with each leaf until the casserole dish is full.

Reserving 1/2 cup, pour tomato sauce over cabbage rolls, making sure all are well covered.

Cover with lid or tin foil. Bake at 90 minutes or until cabbage is soft. You can test doneness by inserting a sharp knife.

When cooked, remove from oven, and add remaining sauce if too dry. Serve hot.