Korean Mandu dumplings are a fun to make and delicious to eat treat. Served pan fried or in a soup, make sure to make lots of these super popular dumplings. The leftovers taste great too.
This Thanksgiving Day, I decided to take a break from the traditional menu and make an untraditional recipe, Korean mandus. These are usually made to celebrate and add blessing to the new year and holidays in Korea, and I thought it would a perfect way of giving thanks and to celebrate my multicultural heritage.
Growing up we only had mandus on special occasion and making them was a family affair. I loved making them as much as I do eating them, and still do. Mandus are more substantial than Chinese pot stickers thanks to their homemade dough and are just as delicious. They are very flavourful, delicious and festive as well. Perfect for any holiday!
Making dumplings
Making mandus is a bit labour intensive but it's worth it. It's not a complicated recipe so it may take a while but it's a pretty easy recipe to make.
You start by making a basic flour and white dough. This is for the dumpling wrappers. Mandu wrappers are not the same as chinese dumplings wrapper you can buy, they are thicker and doughier and are what makes mandus unique and special. You need to handmake it, but its a simple process.
After making the dough you let it sit for 30 minutes and make your filling. Combine all the filling ingredients in a large bowl and mix well until everything is combined. Set aside.
Next, you roll out the dough. The dough will be very elastic so you're not going to get a very thin dough. That's fine. Roll it to as thin as you can make it. Then cut out your dumplings with a 2 1/2 inch biscuit cutter.
If your dough was very thick, reroll out each dumpling indivdiually until about 1/4 inch thickness. Collect the scrap dough and reroll it. This second rolling is important as you don't want really thick, huge mandu wrappers.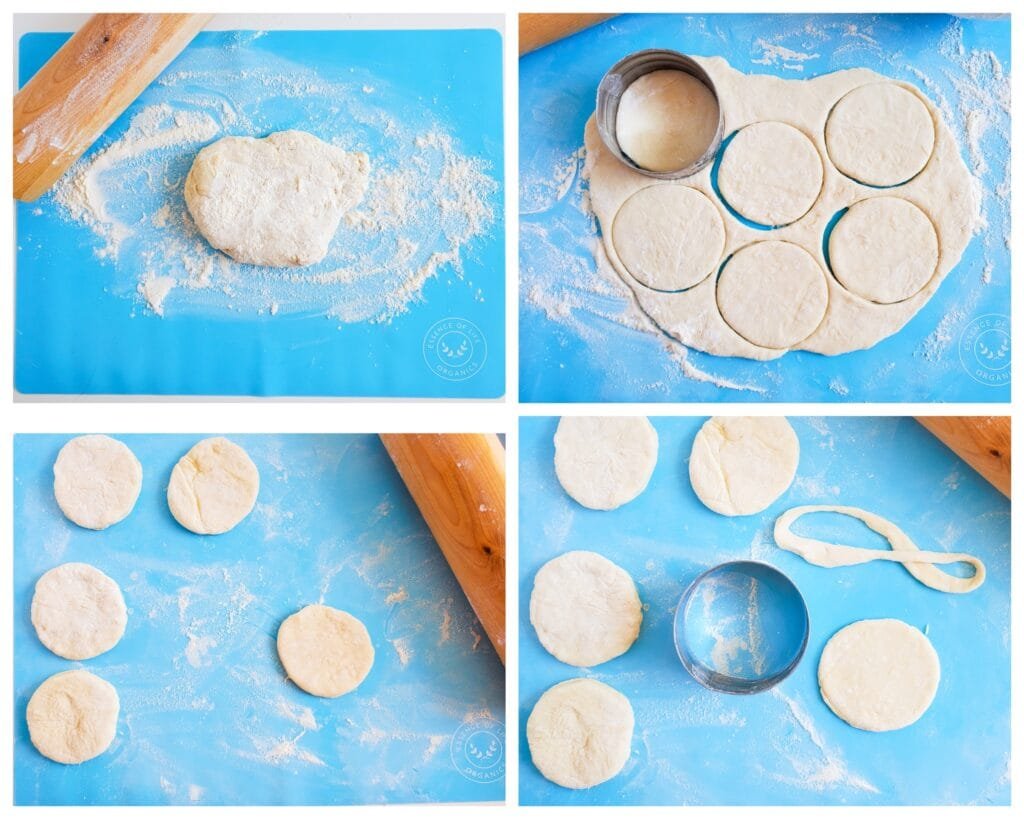 After the wrappers are all cut out, prepare a mando making station with a small bowl of water and a small bowl of flour and the large bowl with your filling. Pick up a wrapper and dip both sides it in the dough. Brush off the excess flour. Shape the dough to make it even thinner and larger by pressing from the center outwards.
Moisten the edge of the wrapper with a little water. Then, holding the wrapper over the filling mixture, add a tablespoon or so of the filling into the center if the wrapper. Fold in half and press the edges until they are joined, stretching dough gently as needed.
Place the dumpling on your work surface and make indentations with your finger. This is for decorative purposes and to also to further bond the dough.
You can also then join the edges to make a cicular dumpling. These are then usually boiled to make manduguk. I usually make a few so I can serve soup as well as the fried dumplings. Place completed dumplings on a silicone lined baking tray until they are all done and you're ready to cook them.
To fry, heat a little oil in a pan. Once hot, add a few dumplings and fry them, stirring constantly. They fry very quickly, less than a minute per side. Once one side is nicely browned, turn and cook the other.
To make the soup, mandu-guk, add a cup of leftover filling to a vegetable broth seasoned with garlic and onion powder, dehydrated vegan vegetable soup mix, soy sauce, and seasame oil. When stock is boiling, add round dumpling and boil at medium high heat until the dumplings float to the top. Reduce heat and simmer until serving, about 15-20 minutes.
For a holiday meal, I like to serve mandu-guk as an first course followed by the fried mandus with steamed rice, kimchee, vegan seitan bulkogi, a spicy "meat" dish, and kim, which is roasted nori sheets. Leftover mandus make a great snack as well, served with soy sauce dipping sauce.
The result of frying are perfectly browned and crisp-chewy dumplings. Perfect for dipping or serving with a simple meal of rice, and kimchee. Making mandu dumplings does take a while, but it's worth it for a special occasion. This recipe makes alot (if you're single), so I freeze half to defrost and eat later.
I hope you had (and will have) a lovely vegan Thanksgiving. We have so many blessings here in Canada. I'm happy to be able to celebrate my blessings without cruelty. If you're not vegan,why not give it a try on the holidays? Traditional or not traditional, western or multicultural, Thanksgiving can easily, enjoyably be kind and cruelty free, a holiday for us all. Enjoy!
Korean Dumplings (Mandus)
Print Recipe
Ingredients
Wrappers:
2 1/2

cups

All Purpose flour

1/2

cup

warm water

more if needed
Filling:
4

cups

raw bean sprouts



1

large

carrot

grated and minced

1

cup

TVP

Marinated for 15 minutes in 1 tablespoon sesame oil and 2 tablespoons soy sauce

1

450 g

package medium firm tofu

4

cloves

garlic

minced

1

tablespoon

ginger

minced

3

3 green onions chopped

chopped

1

tablespoon

soy sauce

3/4

teaspoon

stevia seasoning

or your favorite salt free seasoning

Pinch

cayenne powder

1

teaspoon

sesame oil
For Cooking:
All Purpose flour

for dusting wrappers

Warm water

for sealing dumplings

Canola oil

for frying
Dipping Sauce:
1/2

cup

Soy sauce

1/4

cup

rice vinegar

or white vinegar

1

teaspoon

granulated sugar

Red chili flakes

for garnish

Sliced green onions

for garnish
Instructions
Making wrappers: Place flour into a bowl. Slowly add water to the bowl. Gently mix until no more loose flour can be seen.

Turn dough onto a floured surface and knead for 1 minute. Leave to rest, covered in a clean cloth, for 10-15 minutes.

Knead again until a smooth, form dough about 1 minute. Cut dough in half.

Roll out half of the dough to 1/4 inch thickness. Cut into 2.5 inch circles. Place in a single layer on a cooking tray. Cover with a floured cloth or parchment paper. Set aside.

Repeat rolling out the second half of the dough. Add to the cooking tray in a single layer.

Making the filling: Chop the onion finely and put into a large mixing bowl. Mince the garlic and add to the bowl. Stir to mix

Add the TVP, tofu and bean sprouts to the bowl and combine. Add the soy sauce and spices.Mix well with a large spoon annd then your hands.

Let sit refrigerated for at least 1 hour.

Making the mandus: Prepare a clean surface to work and a clean surface to place dumplings. Place three small bowls beside the area you will be working. Fill one with warm water, one with All Purpose flour and the other with oil. Place a wrapper into the flour and cover both sides. Tap and wipe off excess flour.

Wrapper may have shrunk due to gluten. Gently roll out each wrapper before filling.

Once rerolled, hold the wrapper in your palm. Moisten wrapper's edge with water and a pastry brush. Fill with 1 teaspoon of the filling mixture. Pinch edges together with fingers. Then place on the surface and press edges down with your finger. Do the same to all the wrappers.

Lightly grease both sides of the dumplings and set aside.

Frying the mandus: Over medium low heat heat a deep skillet or wok. Ad a little oil and let heat until water sprinkled into pan sizzles. Add the dumplings quickly, one at a time, moving around immediately so to keep them from sticking. If they stick add more oil to the pan up to 2 inches.

Fill the pan with dumplings, stir gently and fry for 1 minutes. Onced lightly browned, about 1-2 minutes, flip and cook until just cooked, not browned on the other.

Remove dumplings from heat and let drain on paper towels or a clean absorbant towel. Serve hot with dipping sauce or with rice.