Sweet and savory, ice cream with red beans and caramel sauce is a refreshing change and the perfect dessert for hot summer days and nights.
One of the best things about living in a big city are the diverse cultures. I live in downtown Toronto which really puts me close to alot of great, inexpensive ethnic neighbourhoods and shopping.
My favorite place to shop is Chinatown and Kensington Market. I am a regular visitor all year but love it most in the summer when the area really comes alive. I go to shop at my favorite health food stores as well as the many bulk stores, vegan restaurants, authentic Asian supermarkets, and other great stores. It also has a laid back, multicultural atmosphere and is very affordable which is perfect if your on a budget and inspiring for any vegan foodie or cook.
Chinatown was the first area I lived in when I moved to Toronto, and what I remember most were the many great and cheap restaurants. I also remember noticing red bean paste cakes and cookies in some of the shops and restaurants and was intrigued. In Asian culture, red beans are a common dessert ingredients I later found out, so I finally decided to give it a try. This is the recipe I came up with and it's really amazing. It proved to me beans are a great dessert ingredient and one you should definitely give a try.
How to make a caramel red bean sauce
The recipe for red bean ice cream sauce requires a bit of work, but it's easy and straight forward. You began by making a quick caramel sauce. Its easy to make a perfect caramel sauce and it only takes about 15 minutes. The only thing to be careful of is that it doesn't burn.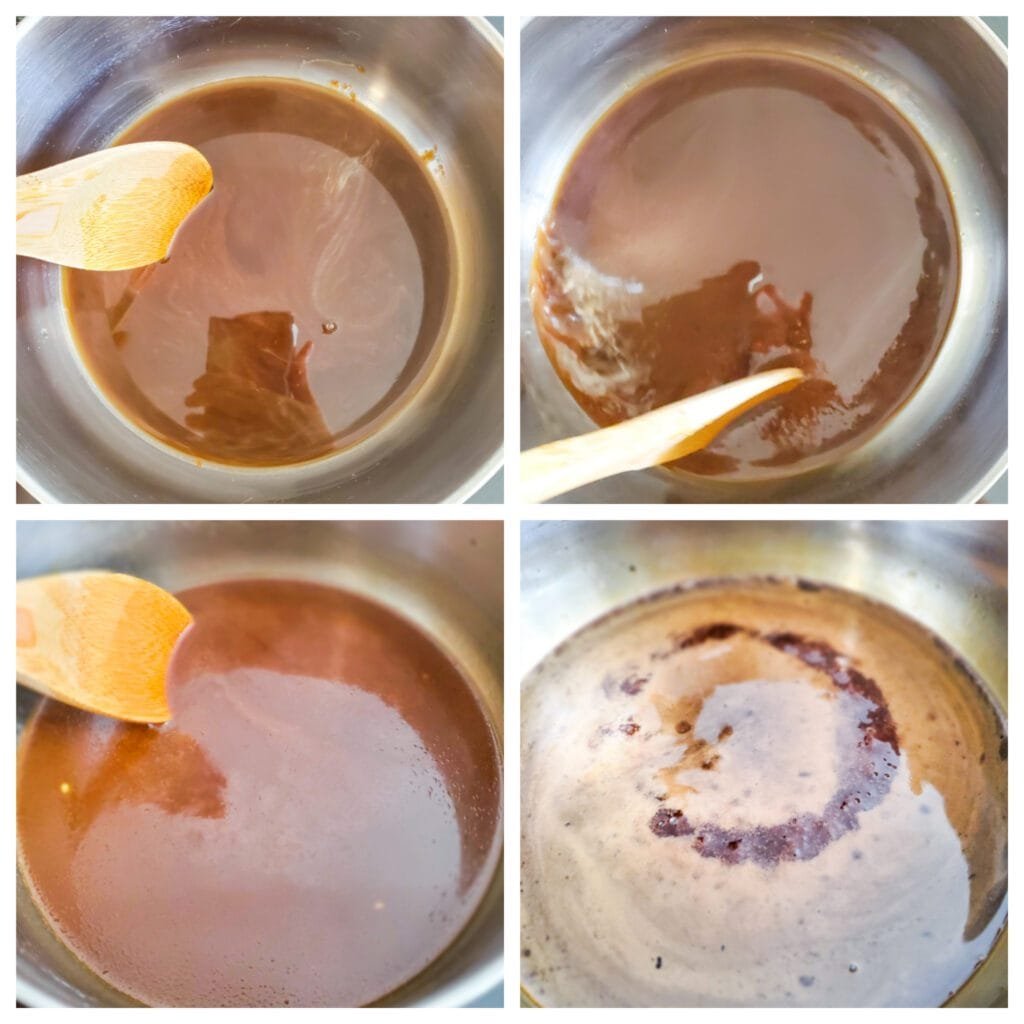 Then add a cup of well cooked red beans (kidney beans). You can either make your own or used canned. It's very important to make sure the red beans are cooked really well and are very soft. Undercooked beans do not taste good in this recipe.
To serve, spoon some of the caramel and red bean sauce over your favorite vegan vanilla ice cream. In Asian most desserts are served with some raw or grilled fruit so I added some grilled pineapple as a garnish and voila, a perfect summer dessert.
You can serve this dessert in tumblers or bowls or more formally, in a wine or parfait glass. Just make sure the ice cream is very hard before serving and that the caramel sauce has completely chilled as well. Enjoy!
Ice Cream with Red Bean and Caramel Sauce
Print Recipe
Ingredients
2

pints

Vegan ice cream

1

cup

red beans

cooked until soft and chilled

4

rings

pineapple

Canola oil

for grilling pineapple
Caramel Sauce:
1 1/2

cups

coconut sugar

1/2

cup

water

1

cup

coconut milk

refrigerated for at least 4 hours

2

tablespoons

coconut oil
Instructions
Making the caramel sauce: Over medium high heat, bring the coconut sugar and water to a boil while stirring.

Once boiling, stop stirring and let boil until slightly thickened, about 3-5 minutes.

Reduce heat slightly and add the coconut oil and the coconut milk, gradually, taking care as the milk may boil up and over. Boil and stir for another 5-7 minutes until creamy and slightly thickened.

Once sauce is done, pour caramel into a non plastic container and let cool for an hour at room temperature and then for 4-6 hours in the fridge. This will thicken it up.

Grilling pineapple: heat a little oil in a pan. Once hot add the pineapple and grilled on both sides until browned. Remove from heat let cool and then refrigerate until use.

Once the caramel sauce is cooled, combine it with the red beans. Stir gently to mix.

Pour the sauce over ice cream in bowls and garnish with the grilled pineapple.