Sweet and dreamy Sugar Free Brownies are the perfect snack for when you want to indulge in chocolate without the buzz and calories of sugar. Ideal for those on a sugar cleanse, sugar free diet or a Candida diet. Healthy and so delicious!
Who doesn't love brownies? I certainly do, but because of a recent bout of candida overgrowth, I've had to temporarily cut out all sugar from my diet. It's hard, but eating sugar free isn't new to me. I was sugar free for about 10 years, using only stevia leaf power and fruit as a sweetener. I found it easy as I was never a super sugar addict, and stevia leaf is just fine in tea and cereals.
These sugar free brownies are from an old recipe I developed during that time, in 2007. I had had a year or so of very disappointing sugar free baking experiments using stevia leaf powder. Stevia leaf is a herb and therefore it doesn't melt, carmalize, bind or add moisture like cane sugar does. I was therefore thrilled when this recipe actually tasted like and had the right texture of brownies. I used a mix of cocoa and carob because carob doesn't have caffeine and it also has a coffee like taste giving the brownies a mocha like flavour. Yum!
Making Sugar Free Brownies
These brownies are pretty easy to make. I start by assembling my ingredients before baking as pre-measuring makes the baking process alot easier. For the stevia, make sure you are using the leaf powder, not the extract. The leaf powder is green, an herb and 300 times sweeter than sugar. That's why it will taste very bitter if you use too much. Two tablespoons equals one cup of sugar, so be very careful with your measuring.
After assembling your ingredients, combine the flour, stevia leaf powder and baking powder together in a medium large sized mixing bowl. Sift the carob and cocoa into the bowl and stir until well mixed. Next, puree the cooked beans until smooth and combine them with the applesauce, water and oil. Then, add the bean mixture to the dry ingredients. Add the walnuts and mix until just mixed. Don't over mix or the brownies will be tough.
Next, spoon the batter into a greased and dusted 8×8 baking pan. Bake for 18 minutes at 350°F until a knife in the centre comes out clean. Let cool slightly in the pan for a minute or so, and then turn onto a plate and then a baking rack until completely cooled. Once cooled, cut into squares.
Healthy and Irresistible
Any kind of restrictive diet can be hard to follow. That's why it's useful to have recipes on hand that use alternative ingredients. This recipe has become one of my go to recipes, and I'll make it even if I'm not watching my sugar intake. It tastes as good as regular brownies, has a fraction of the calories, no sugar and is a healthy treat. Who could ask for anything more?
These go pretty fast, but be sure to store any remaining brownies in the fridge in a covered container. They taste great the next day as well. If you want to, you can also freeze them for later. Enjoy!
More Healthyish Desserts
You don't need a lot of sugar, dairy butter and eggs to make yummy treats. Here are some of my favorite sweet and healthier vegan desserts:
Baked Apples with Maple Coconut Cream
Blackberry Almond Bread Pudding
Vegan food is healthy, kind to animals, and kind to the planet. It is also delicious and affordable. If you like this recipe, please share! ~Una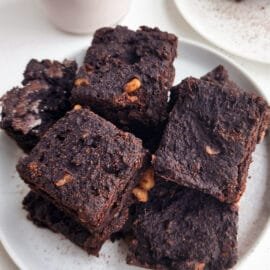 Sugar Free Brownies
Print Recipe
Ingredients
1 1/2

cup

spelt flour

2

tablespoons

stevia leaf powder

3/4

cup

cocoa powder

1/2

cup

carob powder

1

teaspoon

baking powder

1

cup

cooked white beans

pureed

1/4

cup

avocado oil

Or canola oil

1

cup

organic unsweetened applesauce

1/2

cup

water

1

cup

walnuts

chopped
Instructions
Preheat oven to 350 degrees F. Grease and lightly flour an 8×8 cake pan. Set aside.

Cook the white beans until soft and drain well. If using canned, drain well. Set aside.

Combine the cooked beans, avocado oil, applesauce and water in a food processor or blender. Blend until smooth. Set aside.

In a medium large mixing bowl, combine the spelt flour and baking powder. Sift the carob and cocoa into the bowl and whisk well to mix.

Add the bean mixture to the bowl. Add the chopped walnuts and stir until just mixed.

Spoon batter into the prepared cake pan. Lightly smooth the top.

Bake for 18 minutes. Remove and test by inserting a tester into the centre of the cake. If it comes out clean, it's done.

Let cake cool in the pan for a minute or two. Flip cake onto a plate and then onto a baking rack.

Let brownies cool completely and cut into squares.