Blackberry Almond Bread Pudding is a great way to use up day old bread and enjoy the sweet tartness of blackberries. Delicious served plain or with almonds and vegan ice cream.
Bread and butter pudding is an easy to make, classic British recipe. It consists of day old bread, a creamy custard or milk sauce and added flavorings such as raisins, fruit and spices. I usually make mine plain, but as its spring and I had some blackberries, I decided to try adding them along with almonds to the pudding. It was a good idea as the result was amazing!
I served this blackberry and almond bread pudding with vegan vanilla ice cream but it would taste as good with vegan whip cream or a creamy custard sauce. It's your choice. You can even eat it plain. Yum!
Making Blackberry Bread and Butter Pudding
Blackberry almond bread pudding is very easy to make. It consists of only a few ingredients and most of them you will probably already have on hand. You begin by cutting up day old bread into small, bite sized pieces. Place them into a greased baking dish and set aside.
Next, top the bread crumbs with almonds and the fresh blackberries, scattered evenly. Then, prepare the custard sauce and pour it evenly on top. You can tap the dish a couple of times to insure the custard covers all the bread crumbs.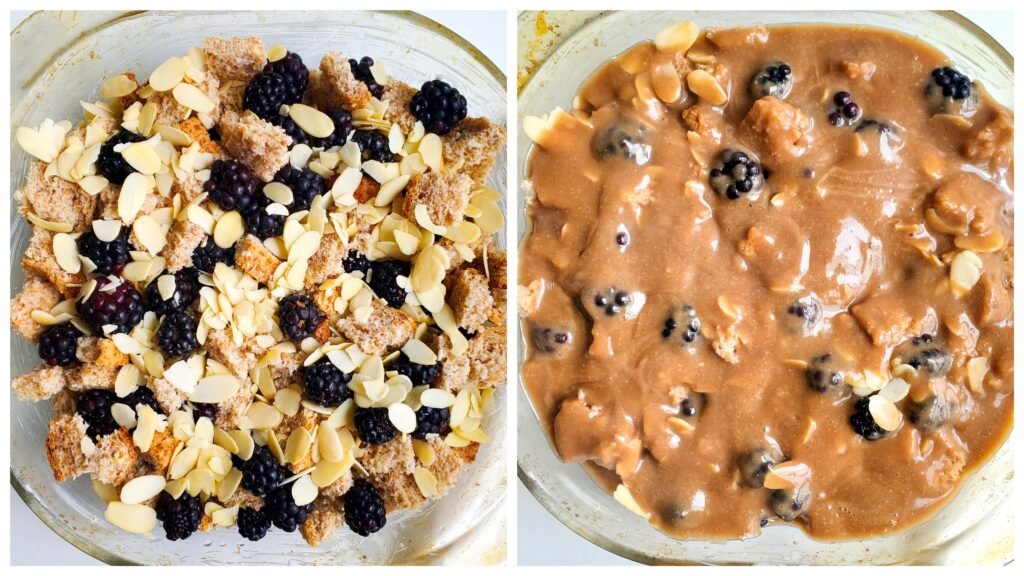 Once prepared, place the bread pudding in the oven and bake it for 45-55 minutes. It's done when the top is brown, bubbly and slightly caramelized. Test doneness with a knife inserted into the centre. It should be firm but slightly soft inside.
When the bread pudding is done, sprinkle more almonds and a little sugar on top, and let cool slightly at room temperature. Serve while it's still warm. Refrigerated leftovers taste great both cold and reheated.
Fresh and comforting dessert
Finding those go to dessert recipes that both comforts us and bring us delight is always a good experience. This blackberry almond bread pudding recipe does that and so much more. It's very delicious, and I plan on making it often.
What makes it so memorable is the sweetness of the pudding with the slight tartness of the blackberries. The almonds are a perfect finishing touch. It tastes so good you can eat it plain and it freezes well so you can enjoy it at anytime.
I made this is the early summer when it's perfect for evening dinners under the summer sky or premade and served while camping or at the cottage. It can also be a warm and comforting fall and winter dessert, served with hot custard cream. Either way it's a new comfort food classic and sure to be enjoyed by everyone at your table!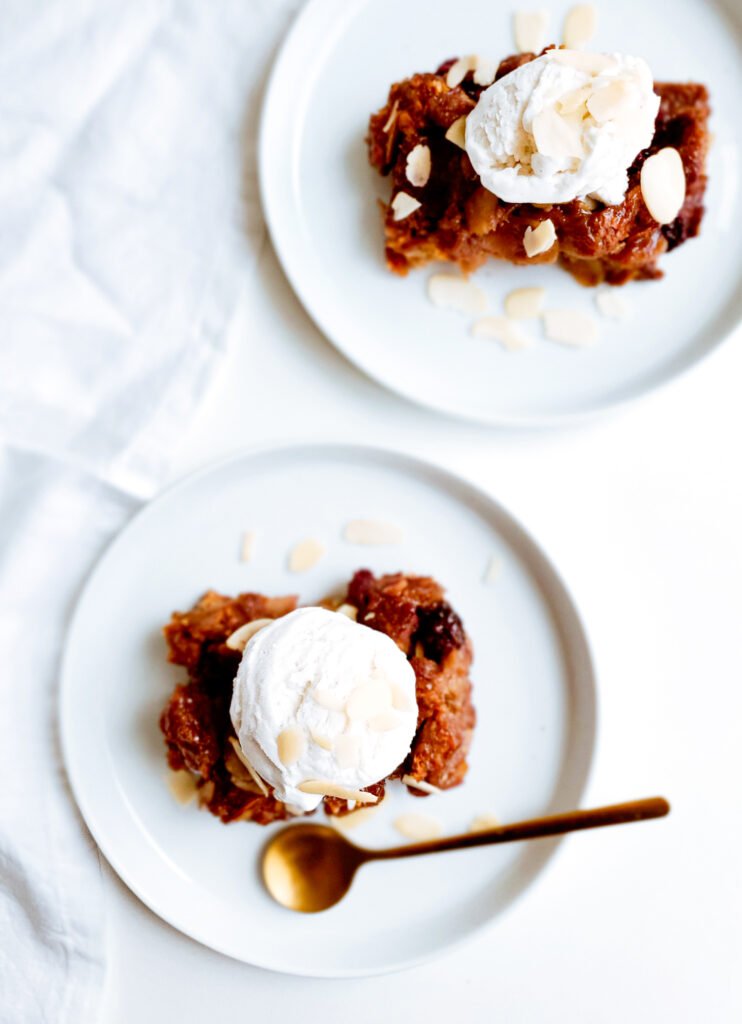 More Classic Vegan Desserts
Gluten Free Orange and Lemon Cake
Blackberry Almond Bread Pudding
Print Recipe
Ingredients
4 1/2

cups

bread

cut into bite pieces

6

oz

fresh blackberries

1

cup

almonds slivers

4

cups

unsweetened soy milk

or any plant based milk

1/4

cup

cup silken tofu

2

tablespoons

cornstarch

3/4

cup

granulated sugar

plus more for sprinkling

1/4

cup

coconut sugar

1

teaspoon

vanilla sugar or extract

1/2

teaspoon

cinnamon
Instructions
Preheat the oven to 350°F. Lightly grease a 9 x 9 baking dish and set aside.

Cut the bread into small, bite sized pieces and place evenly in the baking dish.

Top bread evenly with fresh blackberries and shivered almonds.

Combine the soy milk, silken tofu, sugar, corn starch, coconut sugar, vanilla and cinnamon in a blender and blend until smooth.

Pour milk mixture evenly over bread. Tap dish on counter a couple of times to insure all bread is covered by the custard .

Place into the oven and bake for 45-55 minutes until bubbly, slightly browned on top and cooked through. Test with a knife inserted in the centre.

Remove from oven and let cool slightly.

Sprinkle lightly and evenly with sugar. 

Serve warm with vegan whipped cream, vegan ice cream or vegan custard.