Everyone's favorite cake veganized. Whether dressed up for dessert or served plain for a snack this versatile, delicious cake is sure to become a favorite.
There is something comforting about classic recipes during times of turmoil. Those foods from our childhood and classics that we all know and love, and the recipes that become our standards in good times and in bad. Chocolate cake is one of those foods that bring us both comfort and joy and is the perfect food to make right now.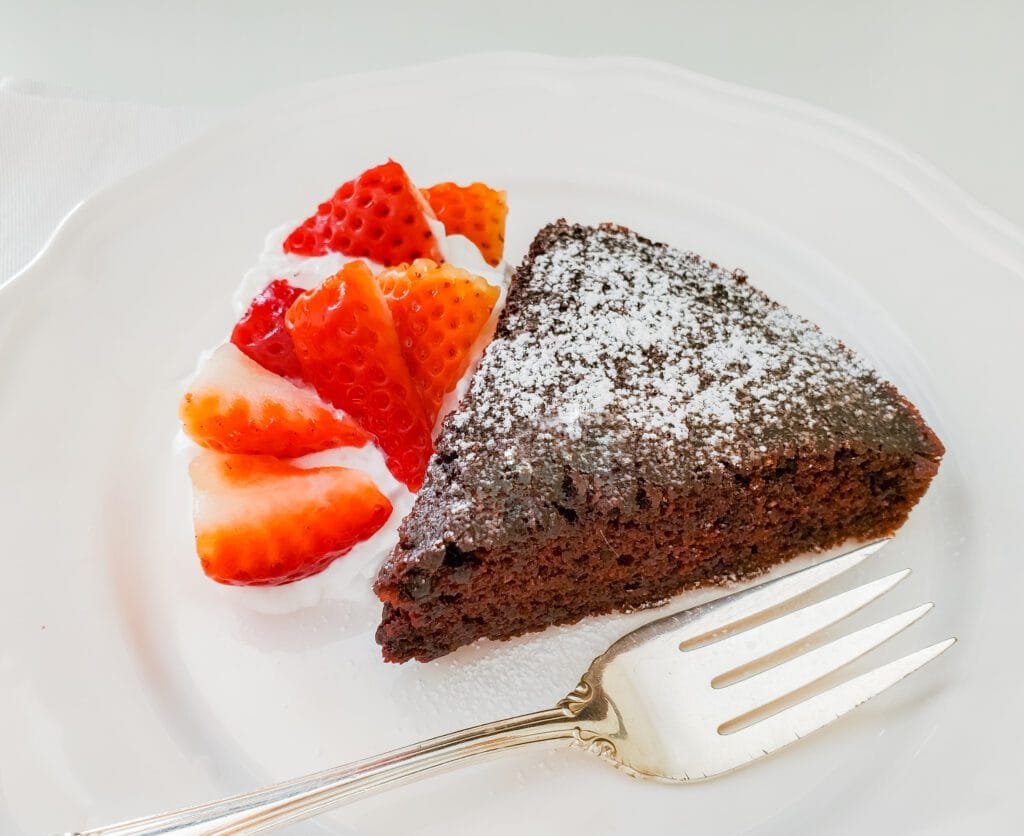 Naturally vegan
This recipe is naturally vegan, based on a recipe that became popular during the Second World War. During that time, most foods were rationed including butter and eggs, so home bakers had to experiment baking without them. This cake is one of those experiments and proves that we don't need eggs or butter to bake a cake that's light, fluffy and delicious.
Very easy to make
It is a very easy two bowl recipe and requires no electric mixing which really saves time and effort. I used all purpose flour for the recipe, but you can easily veganize it by using gluten free flour. It is vegan, and it's incredible how light and fully it is. That's due thanks to the magic of vinegar and baking soda.
Baking can take anywhere from 28 to 33 minute. You can check for doneness with a knife inserted in the center of the cake. Please note that it's very important to be exact in your measurments when baking cakes. Too much moisture will lead to a cake that doesn't rise properly and has a raw center.
Once done, let the cake cool completely in the pan. This ensures easier cutting. If too warm when cut, the cake will crumble. Once cooled, sprinkle top with icing sugar and cut into 8 pieces.
This cake is delicious enough to eat plain straight out of the pan or you can dress it up with ice cream, whip cream or my favorite, with vegan cream made of silken tofu, icing sugar, and vanilla powder, and served with fresh strawberries. It's as delicious as any chocolate cake can be and the perfect treat. Enjoy!
Vegan Chocolate Cake
Print Recipe
Ingredients
1 -1/4

cups

All-Purpose flour

1

cup

granulated sugar

1/3

cup

unsweetened cocoa powder

3/4

teaspoon

baking soda

1

cup

water

1/3

cup

canola oil

1

teaspoon

vanilla extract

1

teaspoon

apple cider vinegar

Icing sugar

for dusting on top
Instructions
Preheat oven to 325°F. Lightly grease and dust with flour a round 8-inch cake pan. Set aside.

Combine the flour, sugar, cocoa powder,and baking soda in a large mixing bowl. Stir with a whisk until well blended.

Combine in a seperate bowl the 1 cup water along with the oil, vanilla extract and vinegar. Whisk until blended. Pour liquid mixture into the flour and combine well with a spoon or spatula.

Pour the mixture into the prepared baking pan. Smooth the top and tap pan a couple of times on the counter to release air bubbles.

Place the dish to the oven and bake until a knife inserted into the center of the batter comes out clean,about 28 to 33 minutes.

Remove cake from the oven, and let cool in the pan. Once cooled cut into 8 pieces. Sprinkle icing sugar on top and serve.