Sweet and loaded with fresh flavour, these cupcakes feature peaches, coconut and pecans, a taste combination that is summer eating at its best.
At my last job I had the dubious honor of being the office vegan. Working at an office where no one else was even close to being vegan was challenging to say the least. It was not a problem for me most of the time but as it was a high pressure entertainment industry job, we often had food gifted to us or ordered in, such as pizza, ice cream bars and sometimes entire gourmet lunches. I sadly had to miss out on all of it and satisfy myself with my own brought lunch and snacks. We also had potluck days to celebrate holidays. Again it was all depressingly non vegan.
This improved after I had been working there a while. There began to be vegan options available. These cupcakes, brought in by a fellow worker, were one of them. My co-worker wasn't vegan but did alot of vegan baking. The cupcakes were just basic vegan coconut cupcakes but she had made them spectacular by adding peach slices inside and topping them with pecans. They were amazing! Its such a great combination of flavors and textures, perfect for any summer party or picnic and for snacking. I decided this year to try duplicating them and these, while not exactly the same, come pretty close.
Making the muffins
The recipe for these muffins is pretty simple. Just mix the dry ingredients in a bowl. In a separate bowl combine the wet ingredients. Add them to the dry and gently fold to mix. Be careful not to overmix or the muffin batter will become dense.
Next, you fill your muffin tin to 3/4 full with batter. Add two or three peach slices and top with more batter, covering the peaches. Top with a few pecan pieces and the muffins are ready for baking.
The muffins are baked for 35 mintues. After baking, its important to let them cool slightly in the tin. This will make removing them easier. To remove first slice with a knife around the top and then insert knife and go around the edge to fully remove muffin. Let them finish cooling on a baking sheet.
Theses cupcakes taste great with peaches but you can also use pineapple for a more tropical but equally delicious taste combination. Either way, adding fresh fruit makes all your summer baking special and more nutrious. Enjoy!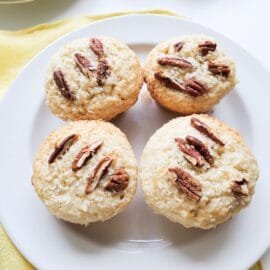 Coconut Peach Pecan Cupcakes
Servings:
6
large cupcakes
Print Recipe
Ingredients
1

cup

soy milk

1/4

cup

organic canola oil

1

teaspoon

vanilla extract

2

teaspoons

baking powder

1/2

cup

white sugar

1

cup

grated coconut

2

cups

All Purpose flour

3

peaches

peeled and sliced lengthwise

12

whole pecans
Instructions
Preheat the oven to 350 degrees F. Lightly but well grease a 6 tin muffin tin and set aside.

In a medium bowl combine the soymilk with the oil and vanilla. Whisk until well mixed and slightly frothed.

Combine the flour, sugar and baking powder in a separate mixing bowl. Stir well. Add the coconut and stir until well mixed.

Pour the dry ingredients into the wet. Stir by folding until just mixed. Don't overmix.

Spoon the mixture into muffin pans filling them 1/4 full. Top with 1-1/2 tablespoons diced peaches. Top with remaining batter, filling tins to 3/4 full. Top with 2 pecans each and brush with oil.

Bake for 25 minutes or until tester comes out clean and cupcakes are golden on the sides.

Let cool in the pan for a few minutes and then remove and let finish cool on a wire rack.