If you love marmalade, you'll love this cake. Light, airy and citrusy, this cake is sweet, gluten free and deliciously infused with the sweet and tart flavour of lemon and orange.
I've always been a bit of an anglophile and am always on the lookout for classic british recipe. I found this recipe for a gluten free orange and lemon cake from the National Trust website. It looked yummy and the recipe was very interesting so I decided to give it a try.
I love cooking with citrus as it can really adds alot to any recipe. This recipe is very sweet and very citrusy and altogether delicious. This cake is also beautiful and a real showpiece which you can dress up or down to fit any occasion.
Before trying this recipe yourself, please be aware that British recipes don't use western measurments like cups and tablespoons. Everything is measured in ounces and grams. Luckily I have a mini food scale so it was not a problem for me. I would highly recommend purchasing one. They are very inexpensive and make baking British recipes alot easier. If you don't have one, you can google a measurement calculator to adjust amounts to imperial measurements.
Making Gluten Free Orange and Lemon Cake
This recipe is very fun to make and easy. You begin by boiling an unpeeled orange and lemon. It is preferable to use organic but as long as you wash the fruit well, unorganic is fine to.
Once the orange and lemon are cooked and cooled, remove the seeds and place them into a food processor. Process them until smooth. Then add the vegan butter and sugar. Process until fluffy and light.
Next, spoon the fruit and butter mixture into a large mixing bowl. Add the flour and corn flour and fold them into the butter mixture, making sure all the flours are well incorporated. Once well mixed, spoon into batter a cake pan, smooth the top and bake until risen, browned and a tester comes out clean.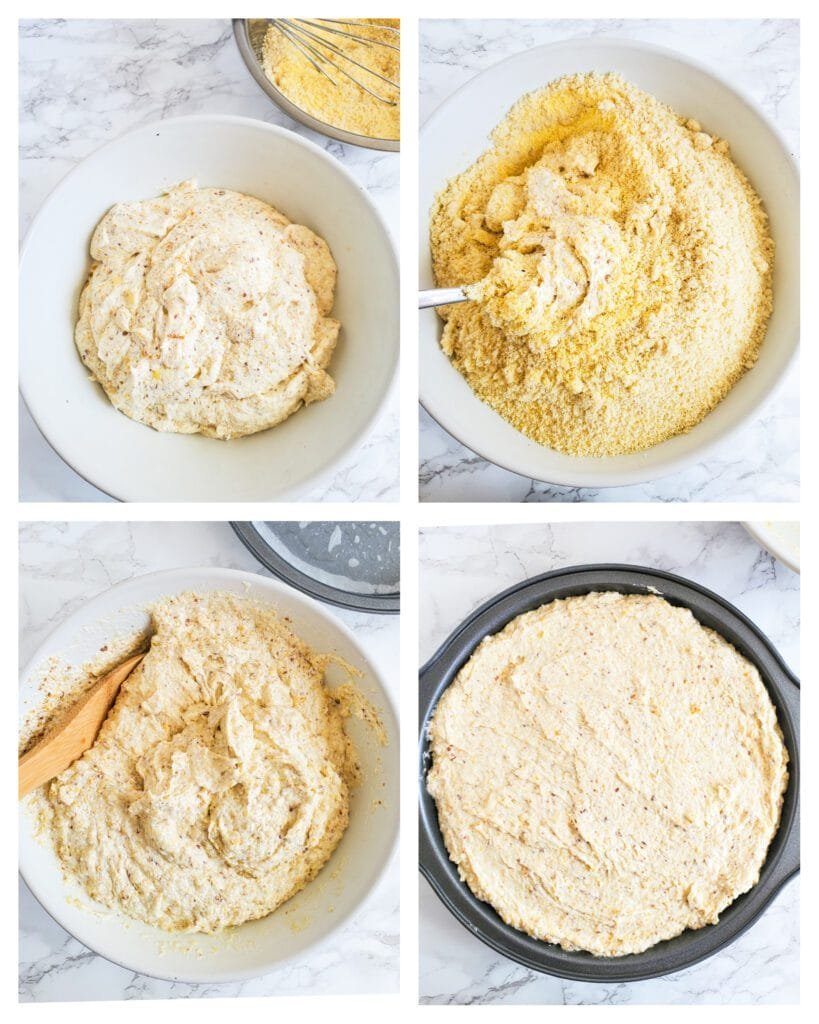 While the cake is baking, prepare the candied orange and lemon slices if you're going to add them. They are optional but make the cake look pretty. Candying cirus slices are a very easy process. Start by bringing sugar and water to a boil. Add orange and lemon slices and let boil for 30 minutes. Remove and let harden on a baking rack. Then you can bake them for 15-20 minutes to further harden and crystallize them. Once they are starting to brown, remove them from the oven and let them cool before adding to the cake.
Once the cake is baked and cooled slightly in the pan, flip it onto a cake plate. Heat microwave marmalade if its needed to become spreadable and evenly spread on top, covering it. You can leave it like this or your can add the candied orange and lemon slices as decoration.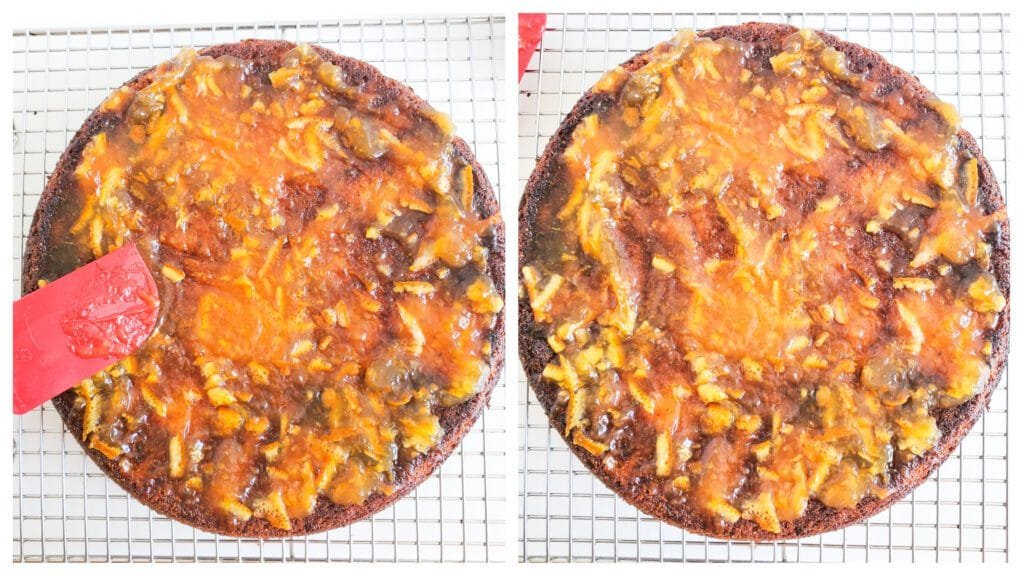 This cake is so delicious. Dense, but light and full of great citrus flavour. The almond and corn flour add texture and make the cake gluten free. It keeps well in the fridge and takes even better the next day.
It is very sweet and very cirusy and tastes great on its own or served with some whipping cream or vanilla ice cream. Its also very rich so its best to cut it into 10 slices instead of the usual eight. Serve this lovely cake for tea with friends or as a dressy and special end to a meal. Either way it is sure to please. Enjoy!
Gluten Free Orange and Lemon Cake
Print Recipe
Ingredients
1

orange

1



lemon

250

g

vegan margarine

150

g

granulated sugar 

4

chia eggs

4 tablespoon chia seed mixed with 12 tablespoons water, let sit for 15 minutes and sti

200

g

almond flour

50

g

cornmeal

50

g

marmalade
Candied orange and lemon slices:
1

cup

sugar

1

cup

water

1

orange

sliced into 1/4-1/2 inch slices

1

lemon

sliced into 1/4-1/2 inch slices
Instructions
Place the whole unpeeled orange and whole lemon into a saucepan. Cover with water and boil for one hour. Keep water topped up if needed to ensure that they remain covered. Once done, remove from the water and allow to cool completely.

Pre-heat oven to 300°F. Grease and flour a 9-inch cake pan.

Cut the cooked fruit open and remove any seeds. Place the fruit into a food processor and process until smooth. Add the margarine and sugar to orange and lemon mixture. Process on high until light and fluffy. Add the chia eggs. Process until well mixed well.

Spoon the mixture into a large mixing bowl. Add in the ground almonds and cornmeal. Stir together until well mixed.

Pour the mixture into the cake pan.

Bake for one hour turning halfway through the baking. When removing cake should be golden brown, well risen and firm to the touch. You can also use a tester in the center of the cake to insure it is done.

While baking, make the candied orange and lemon slices. Instructions are below.

Remove cake from oven. Let cool slightly in the pan for 5 minutes. Then turn onto a cake plate.

Warm the marmalade if needed to make a spreadable consistency. Spread it on top of the cake, covering it.

Add candied oranges and lemons as decorations if desired.

Making candied orange and lemon slices: Slice an orange and lemon uniformly and set aside. Slices should be 1/4-1/2 inch in thickness.

Place sugar and water into a medium size deep sauce pan. Bring to a boil. Add the fruit slices and let boil for 30 minutes to 1 hour.

Remove from heat and place on a baking rack to remove excess syrup.

Transfer the slices to a lined or lightly greased baking tray.

Bake at 300 degree for 30 minutes. Check them to insure they don't burn.

Remove the fruit slices from oven, and let them cool and harden on a baking rack.