Sweet, fancy and festive vegan cookies with
a peppermint marshmellow twist. Fun and yummy, the perfect sweet treat for the holidays. Make lots, these cookies are sure to be very popular!
Everyone has their favorite holiday treats and tastes. For me, its the sweetness of candy canes. I don't eat much candy during the year, but I make up for it over the holidays. I also love baking holiday cookies so I was thrilled to find a recipe online for candy cane sugar cookies. Adding vegan mini peppermint marshmallows to the recipe to make them a little more fun and festive.
These candy cane marshmallow cookies are great: pepperminty, vegan, nicely sweet, and light as well. They're basically sugar cookies with the added crunch and peppermint sweetness of crushed candy canes and toasted marshmallows. A perfect combination for the perfect festive cookie.
Making Candy Cane Marshmellow Cookies
These irresistable cookies are also very easy to make. The only labour intensive part is crushing the candy canes. You can make it easy by buying crushed candy cane which is sold at many bulk stores.
To make, add the dry ingredients to a bowl. Add the candy canes and marshmellows. Stir until mixed. Next, melt the butter in the microwave until very soft. Add it with the soy milk, vanilla extract and stir well by folding batter until well mixed. It should be soft and slightly moist.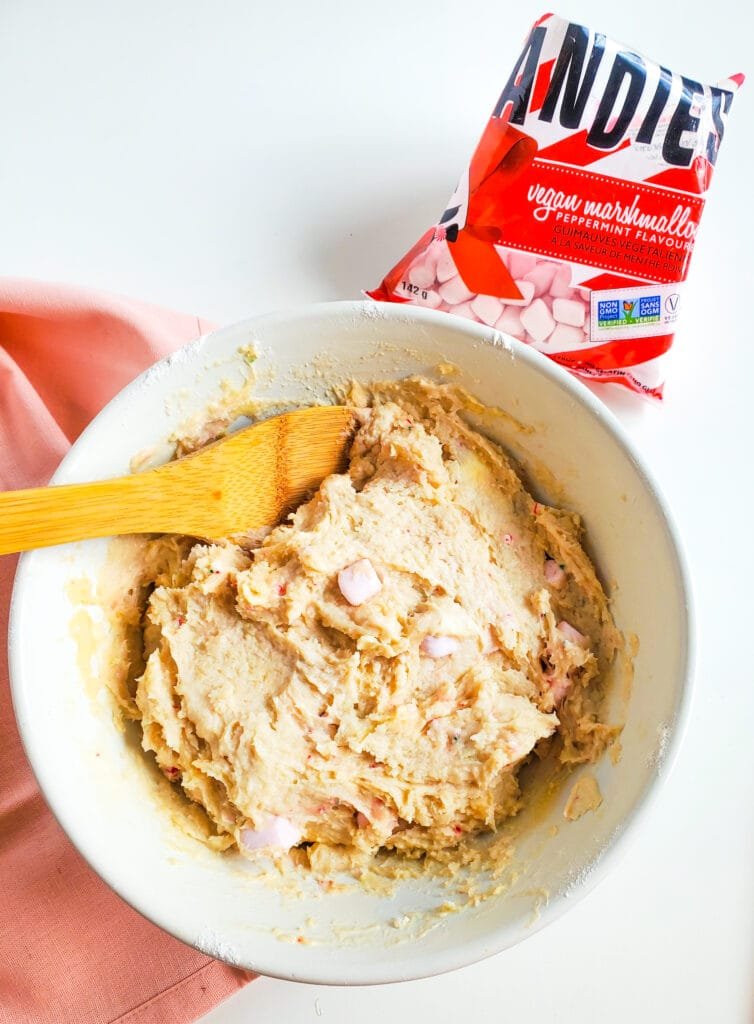 Drop cookies by heaping tablespoon onto a silicone baking sheet, leaving 1-1/2 inch between cookies. Bake until marshmellows are toasty and bottoms are slightly browned. Once done, let cookies completely cool on a baking rack. Store cooled cookies in the refrigerator.
New Holiday Favorite
Candy cane marshmallow cookies are definitely a new favorite of mine and would make a lovely gift. They are a soft cookies with the sweetness of toasted marshmellows. So yummy! My advice is to bake alot of them as you're going to want to eat a batch, and give a batch as well. Enjoy!
More Vegan Holiday Treats
'Tis the season to get your bake on! Enjoy the sweet and special tastes of the season with these festive and fun holiday treats and desserts:
Cherry Peppermint Rice Crispy Treats
Candy Cane Marshmallow Cookies
Print Recipe
Ingredients
3

cups

All Purpose flour

1

cup

icing sugar

1

teaspoon

baking powder

1

cup

vegan butter

3

teaspoons

pure vanilla extract

1/2 + 1/4

cup

unsweetened soy milk

3

crushed candy canes

about 1/2 cup

36

mini vegan peppermint marshmellows
Instructions
Preheat oven to 350 degrees F.

Lightly flour a cooking mat or greased cooking sheet. Set aside.

Break candy canes and put into a sealed baggie. Pound with a rolling pin. To break up harder bits, pound them with a hammer or mallet. You want very small pieces, but not powder, so don't over pound them.

In a large mixing bowl, combine the flour, icing sugar and baking powder. Whisk together until well mixed.

Add the vegan butter, soy milk, vanilla extract and candy cane to the dry ingredients. Stir with a fork until well mixed. Dough should be moist and soft.

Drop cookie dough by heaping tablespoon onto the cookie sheet leaving 1-1/2 inches between cookies.

Bake for 8-12 minutes or until bottoms are golden brown.

Remove cookies from oven and let cool completely on a baking rack.
Notes
You can use cherry candy canes. Just use vegan vanilla mini marshmellows instead of peppermint ones.
Adding vegan white chocolate chips makes this cookies even more delicious. Add 1/2 cup chips with the candy cane and marshmallows.