Tasty, fresh and light, vegan crab cakes, crabless cakes, makes the perfect lunch or brunch. Delicious, environmentally responsible and kind. 
As the weather get warmer, people often feel like eating lighter. Seafood is a popular summer food choice and unfortunately, it is also an environmental disaster and very cruel as well. I fortunately love vegan food so the idea of ordering or cooking a dish that is destroying our oceans and causing marine animal suffering and death is not difficult to say no to.
I love these vegan crab cakes. They are light and very tasty with a great texture. I prefer to call them Fab cakes as they are vegan and they make a fabulous lunch or snack! They are made with zucchini, a fab ingredient that is plentiful and cheap, especially if you grow your own.
So easy to make
You can buy crabless cakes but it's just as easy to make your own. This recipe I found the Hell Yeah its Vegan Blog. It's delicious, fast and easy to make and will show you that seafood dishes are very easy to veganize.
The cakes are made with wilted, grated zucchini, bread crumbs, parsley and other seasoning and vegan mayonnaise. The ingredients are mixed together in a bowl, shaped into small cakes, coated with vegan egg and cornstarch, and then pan fried. Very simple and very yummy and they taste as good or better than the non vegan version. 
They don't bake well at all so if your worrying about oil, just use a non stick pan and only a small amount of oil. Organic canola oil is healthy and adds a crisp crust to these cakes when fried.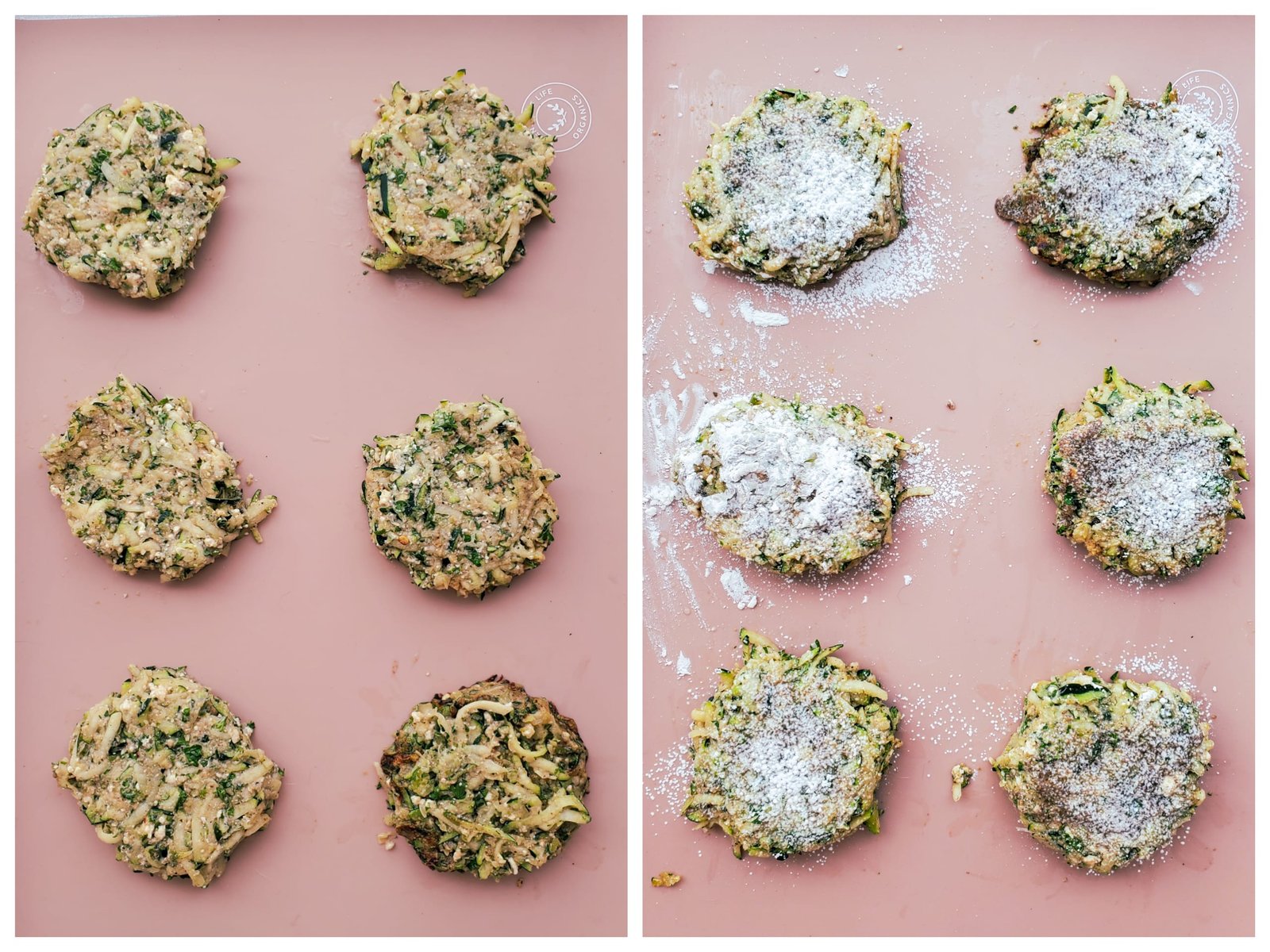 I like to serve these healthy and satisfying crabless cakes with red pepper mayonnaise for dipping. They are perfect for a Mother's Day brunch or a light lunch. Enjoy!
Vegan Crab Cakes
Print Recipe
Ingredients
2

cups

grated zucchini

1

cup

bread crumbs

1

tablespoon

baking soda

1/2

teaspoon

celery seed

1/4

teaspoon

freshly ground pepper

1/8

teaspoon

nutmeg

1/8

teaspoon

cloves

1/8

teaspoon

allspice

1/8

teaspoon

ginger

1/4

teaspoon

paprika

Dash of

red pepper flakes

1/4

cup

silken tofu

1 1/2

tablespoon

vegan mayonnaise

1 1/2

tablespoon

lemon juice

1 1/2

tablespoon

Dijon mustard

or 1 tsp hot mustard

1

teaspoon

corn or potato starch

1

vegan egg

preferably 1 tablespoon chia seed in 3 tablespoons water

1/4

cup

fresh parsley

chopped

1

vegan egg

to coat

1/4

cup

cornstarch

to coat

Organic canola oil for frying
Instructions
Place the grated zucchini in a colander and sprinkle with 1 tablespoon baking soda. Let sit for 1-2 hours.

After it has sit, place in a colander and rinse very well to remove the baking soda and then wring it out with your hands to remove the excess water. Rinse and wring out until all water and baking soda is gone. Place in a clean bowl and set aside.

In a separate large bowl combine the bread crumbs and the spices. Stir well to mix

In a small bowl combine the tofu, mayonnaise, lemon juice, mustard, potato starch and parsley. Beat or whisk until smooth. Add to the bread crumb mixture.

Add the zucchini to the bread crumbs mixture. Stir well until all the ingredients are thoroughly mixed. Mixture should be moist but not liquidy and should stick together when pressed.

Divide the mixture into 8 small cake shapes. Scoop them out onto a plate and them press them down and shape with into small cakes. I use  a 1/3 cup measuring cup and then a 2 1/2 inch biscuit cutter to shape them, but you can do so with your fingers as well.

Place 1 vegan chia egg and 1/4 cup cornstarch in two separate bowls. Brush each side of the cakes first with the vegan egg and then the corn starch mixture until both sides are coated.

In a wok or skillet, heat a quarter inch of  oil over medium high heat. When oil is hot fry the cakes for a few minutes (1-2 minutes per side) or until cakes are nicely browned.

Remove from heat and let sit on a clean tea towel or paper towels to absorb excess oil. Pat the tops of the cakes gently as well.

Serve hot, with lemon wedges, red pepper mayonnaise or tartar sauce.