Festive dessert that's fun and fruit filled. Layers of jam filled cake, fruit salad, vegan custard and whipped cream are what make this irresistible, impressive dessert. The perfect finale to any holiday dinner!
The holiday this year was definitely different than most of us have ever experienced before. I decided to counteract the strangeness of this locked down Christmas season by making some classic and traditional Christmas dishes. Classic fruit filled Trifle fit the bill in that regard, plus it was a favorite of mine from my younger years, so I decided to make it my Christmas dinner showpiece dessert.
Trifle is alot easier than it looks. It does involves various stages of making, from baking the cake base, to chopping up fruit for the fruit center or making the vegan vanilla custard but they all involve only straightforward and easy steps. You can also make your own whipped cream but this year I decided to go with a yummy store bought vegan version.
Classic recipe is easy to veganize
This is a classic english trifle recipe with a jam cake layer base, fresh fruit salad, vanilla custard and lots of whipped cream. The cake I made is a basic vegan vanilla cake which I cut in half and added a jam blend center.
Begin by making the vanilla cake. You will layer this with jam to make a sponge cake base. This cake is super moist which makes it perfect for this recipe. I don't use any alcohol which most traditional trifle recipes add, but when the cake is this moist, you don't need any.
You can use any jam you like as filling. Strawberry, raspberry work best. I use a combination of raspberry jam and rosehip jam. It made it a little less sweet and added a deeper flavour to the recipe. You can find rosehip jam in the ethnic section of most major supermarkets or in European speciality shops.
I cut the cake it half before costing each side with jam. It make it easier to freeze and cut later. The cake does need to be frozen. It makes cutting it alot easier and allows you to make the cake up to a week beforehand. Wrap the cake well in tin foil and then a plastic freezer bag. It will last well frozen for up to two weeks.
You can use any fruit you want for the fruit salad. In honor of the season I included raspberries, and tangerines along with apples and pears. I also made my own easy vanilla custard. I thought it would be difficult to make or turn out lumpy but it wasn't. It turned out perfectly and is so easy to make.
You make the trifle by layering the cubed cake into the bottom of a trifle dish. Next add the fruit salad, and top with the cooled custard. Stir the custard well before adding if a crust has formed. Then refrigerate the trifle before adding the whipped cream and garnishes. Smooth the whip topping on the chilled trifle and garnish with sliced almonds and preferably fresh fruit.
Spectacular holiday dessert
The end results are spectacular. The fresh fruit add a little tartness and the creamy custard and whip cream are the perfect compliment. Its also a very beautiful dessert whether you choose to serve it in a bowl or individually in trifle glasses.
If you've never had trifle I greatly suggest you give it a try. Classic trifle is delicious, and brings a touch of tradition and fun to your holiday menu. It is always popular and will be the perfect ending on any holiday feast. Enjoy!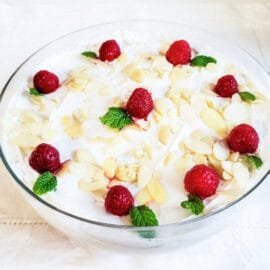 Vegan Trifle
Print Recipe
Ingredients
Vanilla cake:
1

cup

plain soy milk

1

tablespoon

apple cider vinegar

1 1/2

cups

all-purpose flour

1

cup

white sugar

1

teaspoon

baking soda

1

teaspoon

baking powder

1/3

cup

canola oil

1/4

cup

water

1

tablespoon

lemon juice

1

tablespoon

vanilla extract
Jam Filling:
3/4

cup

rosehip jam

1/4

cup

raspberry jam

1/8 cup

unsweetened soy milk

1

tablespoon

vegan butter
Fruit salad:
2

ripe pears

1

apple

2

tangerines

1

large

banana

2

cups

raspberries

1

tablespoon

sugar
Custard:
4

cups

unsweetened soy milk

4

tablespoons

white sugar

4

teaspoons

vanilla extract

6

tablespoons

cornstarch
Toppings:
255

g

storebought vegan whipped topping

Toasted sliced almond

Raspberries

Mint leaves
Instructions
To make the cake: Preheat oven to 350 degrees F. Grease and flour an 8×8-inch baking dish. Set aside.

Stir soy milk and vinegar together in a medium sized mixing bowl.

Whisk together the flour, sugar, baking soda and baking powder in a large mixing bowl.

Add the canola oil, water, lemon juice and vanilla extract to soy milk mixture. Mix well with a whisk.

Add soy milk mixture into flour mixture and stir until batter is lump-free.

Pour batter into the prepared baking dish.

Bake in the preheated oven until a knife inserted in the center of the cake comes out clean, about 35 minutes.

Remove from oven and turn onto a baking rack to let cool.

Once cooled, cut in half and then again lenthwise. Liberally spread jam to all pieces. Place the top halves back onto the bottom halves and press down gently.

Wrap in tin foil and freeze for at least 2 hours, If freezing for longer, place tin foiled wrapped cake in a plastic freezer bag.

To make the fruit salad: Wash all fruit and remove stems and cores.

Cut each into uniform bite sized pieces. Place together in a large mixing bowl.

Sprinkle with sugar and gently toss to mix. Cover bowl and refrigerate until using.

To make the Custard: Measure the soy milk into a medium sized saucepan.

Remove ten tablespoons of the milk to a bowl.

Add the sugar and vanilla extract to the saucepan.

Heat and stir over medium heat until sugar has dissolved.

Bring the milk almost to the boil then remove from the heat.

Add the cornstarch to the set aside cold milk, stirring briskly to make a smooth paste.

Add half of the hot milk into the paste, stirring as you do this.

Pour the entire mixture back into the saucepan.

Return the mixture back to the heat and stir until the custard thickens.

Continue stirring as the custard bubbles and thickens. It should stick to the spoon and be of a thick yet pourable consistency.

Remove form heat and let cool for at least an hour.

To make trifle: Remove cake from freezer and cut into uniform cubes.

Place cake in the bottom of a large trifle dish. Be sure to cover the bottom of the dish evenly.

Spoon the fruit salad into the dish, evenly spreading it over the cake with a large spoon.

Pour the cooled custard over the fruit, spreading out with a large spoon or spatula to smooth.

Spread custard with whipped topping and smooth out with a spatula.

Sprinkle top with toasted sliced almonds. Add raspberries and fresh mint leaves to serve.