Start your Veganuary off right with the vegan version of this popular snack. Made with frozen prepared cauliflower, healthy has never been this easy, fun or tasty!
Happy new year! I am, like many, very glad the past year is over, and hopeful this year will be a lot brighter and a start to a much better new normal for us all. This time of year is exciting because it brings forth people's resolve and resolutions. Maybe after 2020 we will all realize how important doing better is. Whether its going vegan or going low waste, buying locally and from small businesses, or buying an eletric vehicles and choosing to adopt instead of buying a pet, there is so much we can all do and starting this year, is the perfect time to get started.
I decided to start the year by making Buffalo popcorn cauliflower. Its an easy, fun and healthy snack I've wanted to try for a while. I'm really glad I did as this recipe is amazing! I love roast caulflower as a side dish and as a spicy snack, it's even better. I served it with a cooling garlic mayo which compliments the heat and adds more flavour. It is a super easy recipes and super delicious. Its also healthy, low fat, sugar and salt free and just the right amount of color and spice for these cold and chilly days of winter.
How to make popcorn cauliflower
To start prepare the cauliflower. You can use fresh or frozen. If using frozen, thaw it before use and remove the water. If using fresh cauliflower, cut into bite size pieces and blanche it, boiling for two minutes, before using. Use only the heads and reserve the ends for later use.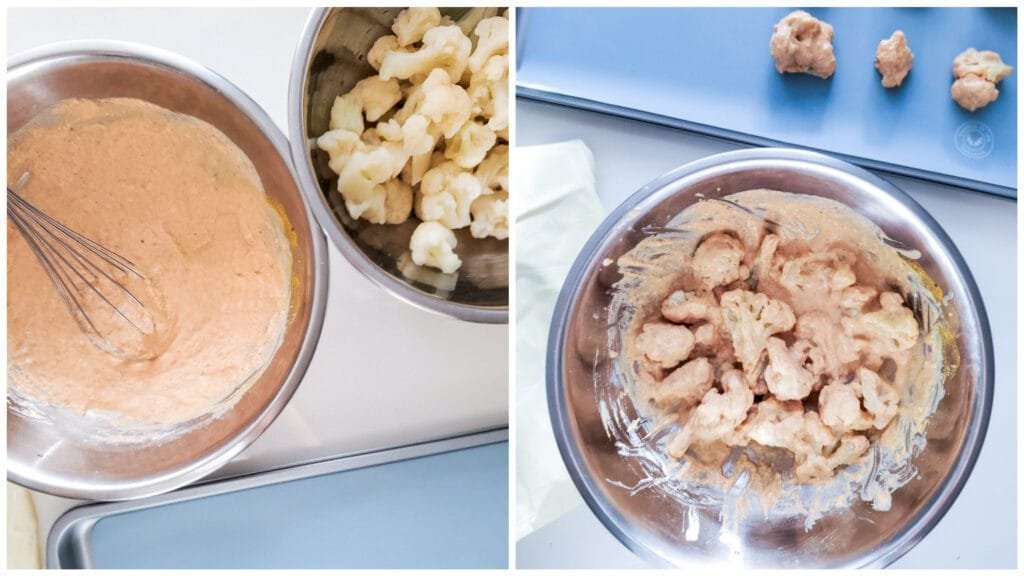 You then make a dredge for the cauliflower. Added spices make it flavourful and spicy. It's important to fully and evenly coat every pieces. To do so, the dredge should be thick enough to adhere to the cauliflower. If it isn't, add more flour until it is.
Buffalo sauce is very easy to make. Just combine hot sauce with melted vegan butter. You can adjust the heat factor by adjusting the amount of butter you use. The more hot sauce used, the hotter the Buffalo sauce will be.
The cauliflower is then twice coated and baked. The first time is with the dredge coating. The second is with the Buffalo sauce coating.
Finished cauliflower will be hot and spicy and satisfying crunchy when freshly baked. They are best served immediately with garlic dipping sauce.
Celebrating Veganuary 2021
Eating a vegan diet or changing to a vegan diet is a good way to help animals, the planet and help create a peaceful, sustainable world. If you are new to it, welcome and I hope your journey is yummy, educational and fun.
For those who have been vegan for a while I hope you continue with this kind, sustainable lifestyle choice, and continue to follow me and enjoy this recipe and those that will follow here in 2021. Please subscribe to my email subscriber list to receive new recipe updates to your inbox. Have a great, vegan 2021 everybody and enjoy!
Buffalo Popcorn Cauliflower
Print Recipe
Ingredients
3/4

cup

all-purpose or gluten free flour

1

teaspoon

paprika

2

teaspoons

garlic powder

1/2

teaspoon

turmeric

1/2

teaspoon

pepper

3/4

cup

unsweetened plant based milk

1-500

g

package frozen cauliflower 

1/2

cup

hot sauce

2

tablespoons

vegan butter

melted
Garlic Dipping Sauce:
270

g

silken tofu or plant based yogurt

1/2

lemon

juiced

2-4

cloves

garlic

minced

1

tablespoon

fresh parsley

1/4

teaspoon

pepper

Small pinch

mustard powder

optional

Small pinch

stevia leaf powder

optional
Instructions
Preheat the oven to 450 degrees F. Line a baking sheet with a silicone baking mat or parchment paper and set aside.

In a large mixing bowl, add the flour, paprika, tumeric, garlic powder, pepper, and milk. Stir until well-combined.

Thaw cauliflower by rinsing under warm water and draining well. Dip each florets to the batter until well coated. Place the coated cauliflower on the baking sheet making sure to leave space between each piece. Bake for 20 minutes, turning after 10 minutes.

Meanwhile, in a small bowl, combine the hot sauce and melted vegan butter and stir combined. Brush the buffalo sauce mixture on the cauliflower, coating both sides, and bake for another 20 minutes, turning halfway through.

While baking, make the garlic dipping sauce by combining the silken tofu, garlic, lemon juice, fresh parsley and pepper in a blender. Start with 2 cloves of garlic and taste test. Add more if desired. Blend until well mixed and garlic is finely minced. Spoon into a small bowl.

When cauliflower is done, remove and serve immediately with garlic dipping sauce. 
Notes
You can also use fresh cauliflower for this recipe. Just cook it for 2 minutes in rapidly boiling water. Drain well and rinse with cool water before use.