Vegan nachoes for the win! Celebrate and enjoy with loaded baked nachoes filled and topped with tangy vegan cheese, refried beans and jalapeno peppers.
I'm not a sports fan but I am an awards show fan and this is definitely the season for both. These special events require big ticket snacking and what's better than hot and spicy, layered vegan nachos? Loaded with refried beans, vegan cheese, tomato, jalapeno peppers and cilantro these nachos are perfect for any special viewing event and are healthy as well.
I'm kind of a purist when it comes to cooking and make all my own ingredients. This is due to my food sensitivities and also cost. It can be cheaper to make your own ingredients and healthier as well. For this recipe, I made my own refried beans, salsa and vegan cheese but you can easily substitute vegan store bought versions store bought versions instead.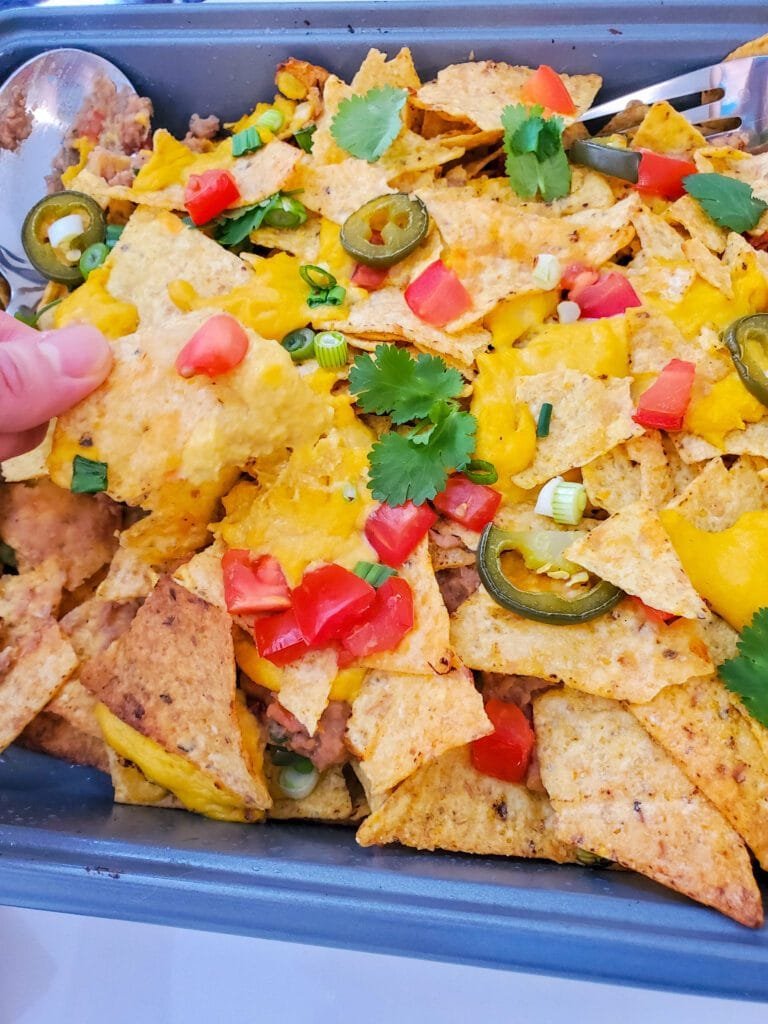 So easy to make
Nachos are really easy to make and if you prepare the ingredients the night before, only take about 20 minutes to be fully prepared. You start by making the vegan cheese sauce. It's best to prepare the night before so you can freeze it. Frozen cheese can easily be shredded in a food processor. You can just spoon it onto the nachos as well but I prefer to use it shredded.
Next, you boil some pinto beans. I soak them overnight first and then boil. After they are done, you drain them and add with salsa and spices in a wok. They are heated and then pureed in a food processor. Refrigerate until you will be using So easy!
It helps to create a mis en place of all your ingredients. That makes assembly alot easier. You can use whatever toppings you prefer. I like chopped roma tomatoes, green onions, fresh cilantro and sliced pickled jalapeno.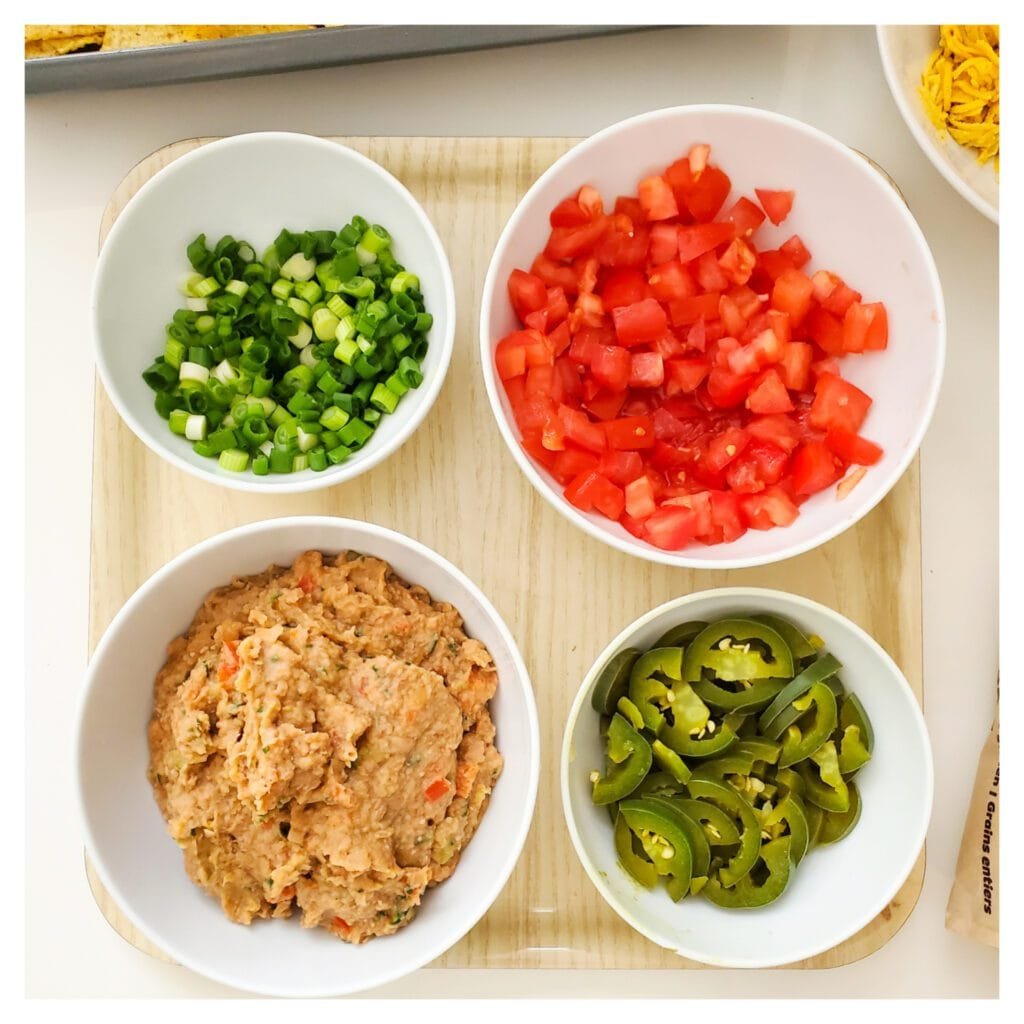 These nachos are layered. You start by adding a layer of tortillas in a oiled or non stick 9×13 baking pan. Add spoonfuls of refried beans and cheese and sprinkle some toppings as well. Add more tortillas and repeat adding more beans, cheese and toppings. Add a third layer of tortillas and top with cheese and toppings.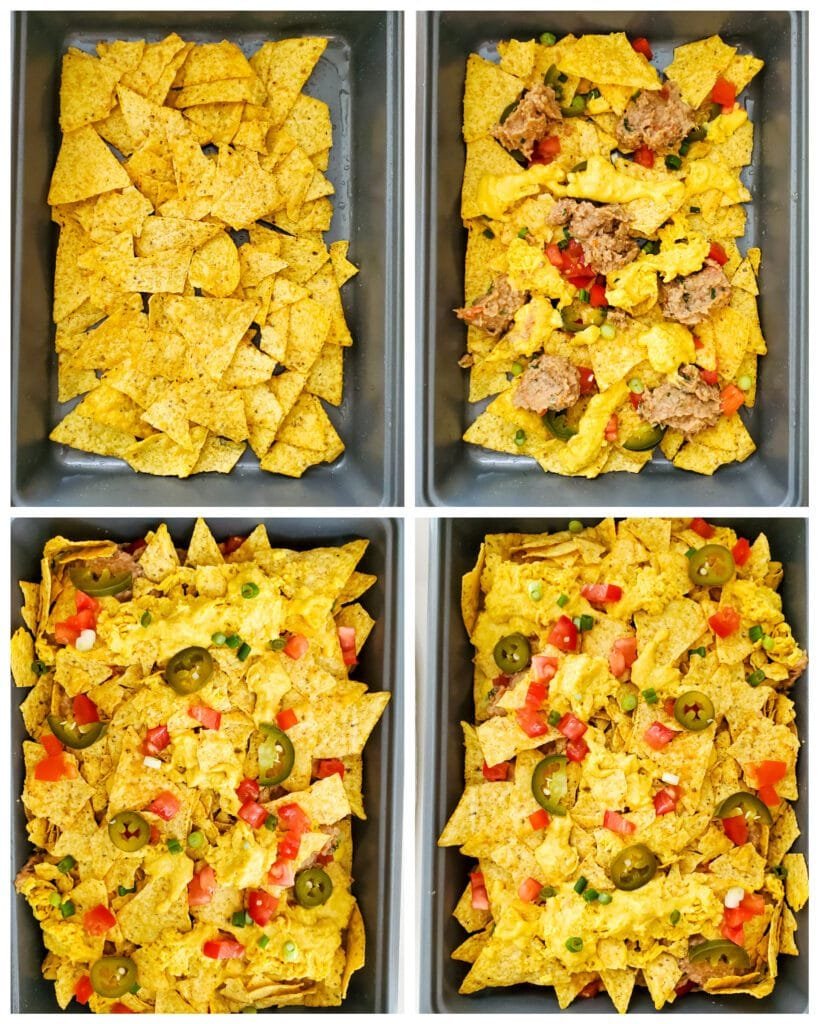 They don't take long to bake. You need to watch them as the easily burn. Check them after 5 minutes and every couple of minutes after that. They are done when the cheese is melted through out the layers.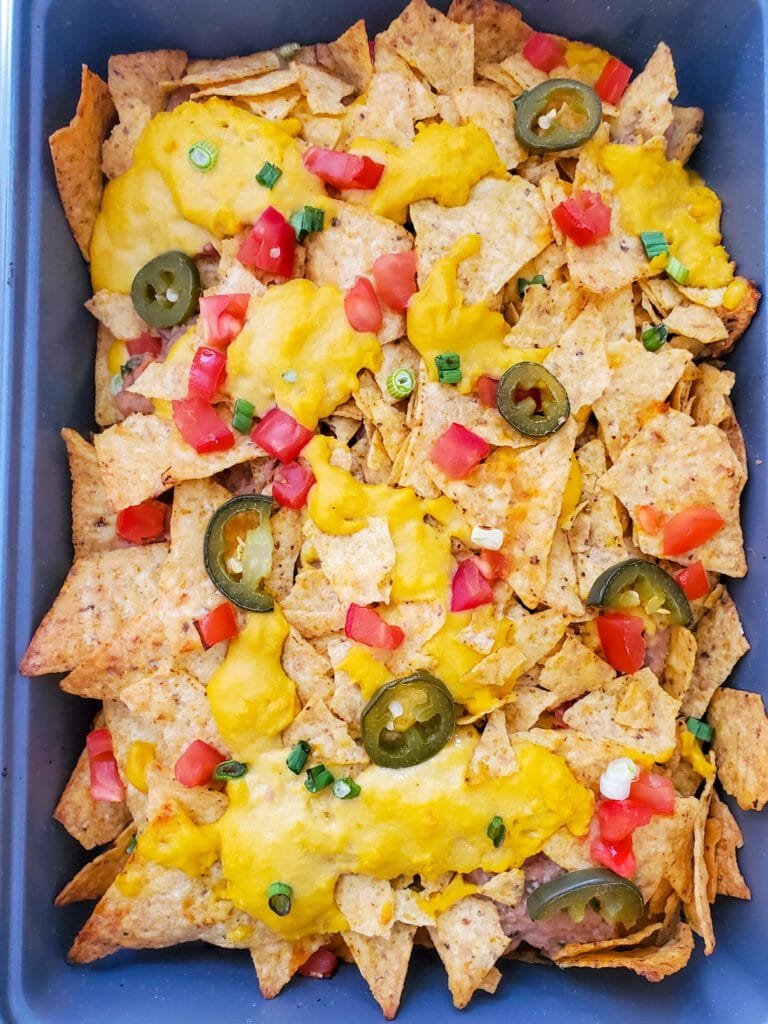 Making your own ingredients is time consuming but the yummy, healthy results is worth the extra work. You can also use store bought cheese and these nachos will still taste amazing. So this year it's vegan nachos for the win and a great time for all lovers of this classic special viewing event dish. Enjoy!
Vegan Nachos
Print Recipe
Ingredients
1

350 g

bag tortillas

preferably unsalted
Vegan Shredded Cheese:
1-1/2

cup

cashews

3

medium

carrot

sliced

3/4

cup

nutritional yeast

3/4

cup

tapioca starch

3

tablespoon

lemon juice

3/4

teaspoon

stevia seasoning

1-1/4

cup

cashew water

from boiling
Salsa:
1

cup

tomato

diced

1/2

cup

red pepper

diced

2

tablespoons

green pepper

diced

1/4

small

onion

diced

2

tablespoons

green onion

chopped

3

jalapeno rings

1/2

teaspoon

cumin

1/4

teaspoon

stevia powder

1/4

cup

cilantro leaves

1/2

lime

juiced

Dash

hot sauce

optional
Refried Beans:
2

teaspoons

canola oil

3

cups

cooked pinto beans

1

cup

salsa

1

tablespoon

tomato paste

1/4

cup

cilantro leaves

1/2

teaspoon

cumin

1

teaspoon

taco seasoning

1/4

teaspoon

stevia leaf powder
Toppings:
1

tomato

diced

Fresh cilantro

1/3

cup

jalapeno pepper rings
Instructions
To make the vegan cheese shreds: To make the vegan cheese shreds: In a medium pot, bring 4 cups of water to a boil. Add the cashews and carrot and boil for 10 minutes, or until the carrot is well cooked.

Use a slotted spoon to transfer the cashews and carrot to a high-speed blender. Do not discard the cooking water.

Combine the nutritional yeast, tapioca starch, lemon juice, and 1 cup plus 2 tablespoons of the reserved cooking water in a blender. Blend sauce for 2-3 minutes on high speed, until completely smooth. Add more water if needed for a thick, creamy sauce

Pour the mixture back into the pot and heat, stirring over medium heat. Clumps should immediately begin to form. Continue stirring for 10- 15 minutes, or until the sauce is thickened and stretchy. Remove the pot from the heat and let cool slightly.

Once slightly cooled pour into a flat container. Refrigerate until completely cooled.

Once completely cooled, freeze overnight.

The next day remove cheese from the freezer.

Slice into sections that can be grated by hand or the food processor.

Place in fridge until needed.

To make the salsa: Chop the tomato, red and green pepper, onion and green onion.

Place in a food processor. Add the seasoning and cilantro and pulse until well blended and only slightly chunky.

Remove from the food processor. Refrigerate until use.

To make the refried beans: Cook pintos beans and rinse well.

Add oil to a a large wok or skillet and let heat over medium high heat.

Place the pinto beans with the salsa, tomato paste, seasonings and cilantro in the wok.

Cook, stirring until the ingredients are soft and well heated

Once cooked, spoon the bean mixture into a blender. Blend until fairly smooth. Remove from blender and set aside.

Assembling the nachos:

Preheat oven to 350 degrees F.

Oil a 9 x 13 pan. Add a thin layer of tortillas chips.

Top with generous tablespoons full of refried beans. Add some diced tomato and jalapeno pepper circles and cover with cheese shreds.

Add another layer of nachos and repeat the process.

Add a top layer of nachos and cover with shredded cheese,

Place in oven and bake until all layers of cheese are melted.

Remove from the oven and garnish with remaining chopped tomatoes, and jalapeno peppers, and fresh cilantro and lime wedges. Serve hot.