French Canadian Poutine is french fries in gravy with melty cheese curds. This vegan version is as yummy and cheesy without the cruelty and cholesterol.
If you're Canadian, you've probably had poutine at least once in your life. This French Canadian classic can be found in most towns and cities in Canada and once you try it, you'll understand it's popularity.
Poutine is french fries topped with gravy and cheese curds, which are knobbly bits of compressed cheese. It's an easy recipe to veganize by replacing the gravy and cheese with vegan gravy and vegan cheese. The end result is the same, delicious and decadent, gooey and full of french fried goodness.
How to make Vegan Poutine
Poutine is very easy to make. You begin by making vegan cheese. You can also buy a good vegan block cheese and cube it but I like to make my own. I make it the day before and freeze it overnight so it will be easy to cube. The next day I thaw for a few seconds in the microwave so its still firm but easy to cube. After cubing the cheese, set it aside at room temperture while you make the gravy and fries.
The next step is making the french fries. You can roast them or fry them. Frying leads to crisper fries but roasting them allows you to keep them warm as you make the gravy. I fry mine in a wok with a little oil. I stir them regularly and remove them when they are browned and crisp.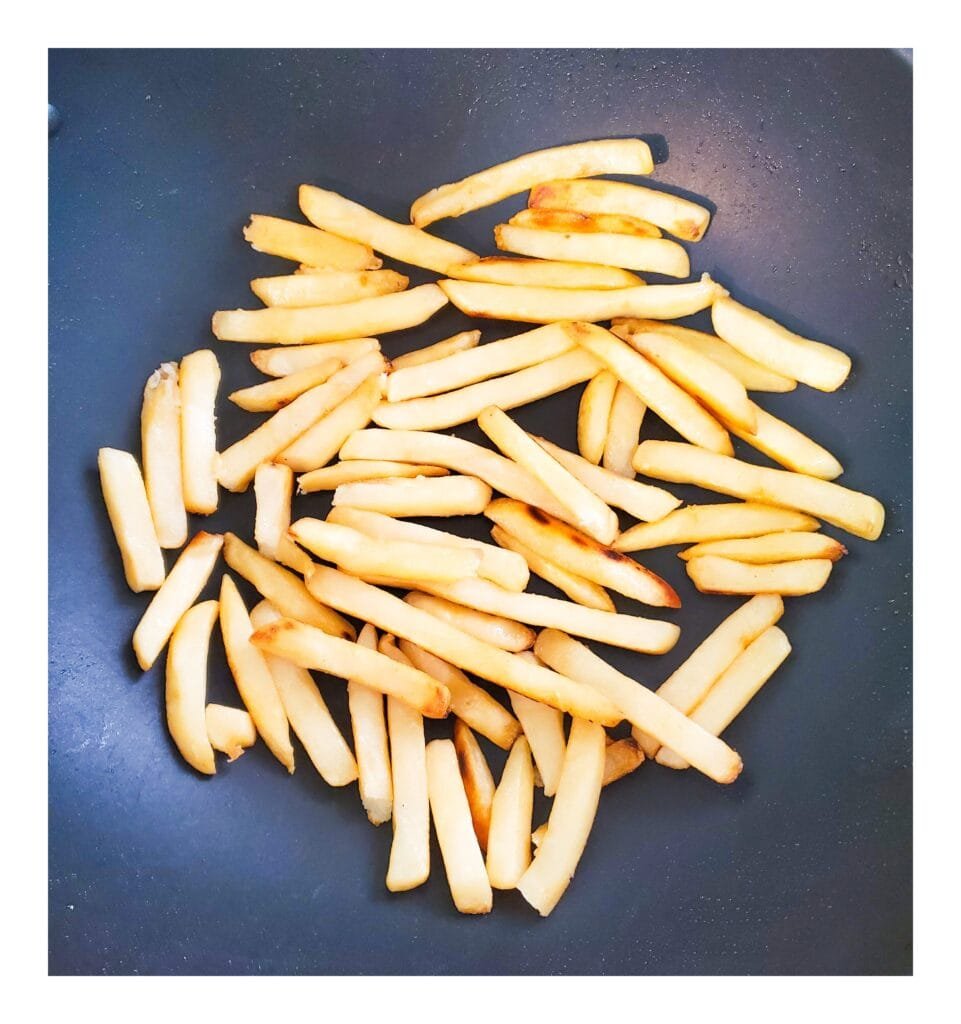 The final step is to make the vegan gravy. I use homemade vegetable stock with flour for mine. It's very easy to make and it tastes great. Vegetable stock can be bland, so it's important to season the gravy well. You can adjust the seasonings you use to suit your taste. Heat the stock on the stove, and then add the seasonings. After it has boiled, pour into a food processor and process until smooth. Serve it hot so the cheese cubes will melt.
Poutine is served hot. Top the french fries with the hot gravy and a cupful of cheese curds. Garnish with parsley flakes and serve. Vegan poutine is delicious for lunch, and healthy if served with a salad, or as a comfort snack anytime. Enjoy!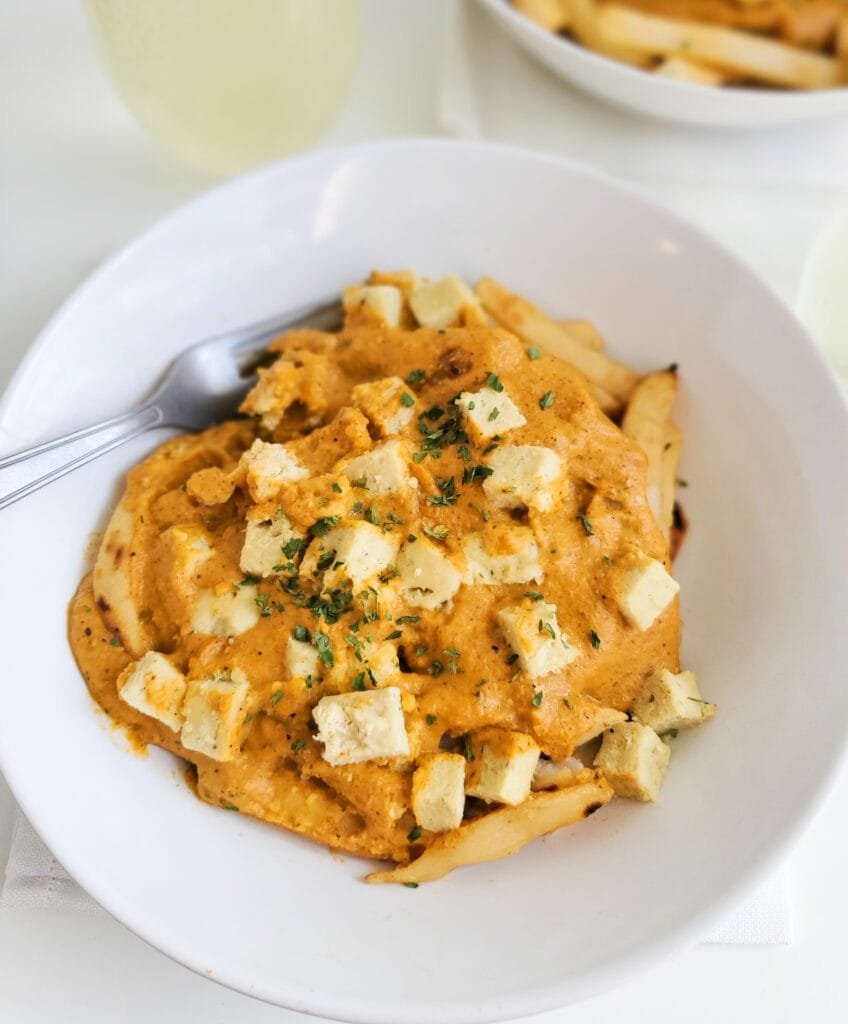 Vegan Poutine
Print Recipe
Ingredients
1

package

frozen French fries

Canola oil

for frying
Vegan Cheese
1

cup

 cashews

1 1/4

cups

cashew water from cooking

1/4

cup

nutritional yeast

plus 1 tablespoon

1/4

cup

tapioca starch

plus 1 tablespoon

2

tablespoons

lemon juice

1/2

teaspoon

stevia seasoning 

or any salt free seasoning
Vegan Gravy:
4

cups

vegetable stock

1/4

cup

whole wheat flour

or gluten free flour

1-2

teaspoon

stevia seasoning

or any salt free seasoning

1

tablespoon

canola oil

2

tablespoons

nutritional yeast

1

teaspoon

lemon juice
Instructions
Make the cheese:
The day before, in a medium pot, bring 4 cups of water to a boil. Add the cashews and boil for 10 minutes.

Pour cashews through sieve over a medium size bowl. Transfer the cashews to a high-speed blender. Do not discard the cooking water.

Combine the nutritional yeast, tapioca starch, lemon juice, and 1 cup plus 2 tablespoons of the reserved cooking water in a blender. Blend sauce for 2-3 minutes on high speed, until completely smooth. Add more water if needed to create a thick, creamy sauce.

Pour the mixture back into the pot and heat, stirring over medium heat. Clumps should immediately begin to form.

Continue stirring for 10- 15 minutes, or until the sauce is thickened and stretchy. Remove the pot from the heat and set aside.

Let cool and pour into a flat container. Let cool completely.

Once cooled, place in the freezer and freeze until frozen.

Once frozen, place in the microwave for 1 minute until slightly thawed. Cut cheese into cubes. Place in bowl and refrigerate until ready for use.
Make the gravy:
Place all the ingredients except for the flour in a medium sized pot. Heat and stir over medium high heat until boiling.

Once boiling, remove from heat and stir in the flour. Return pot to the heat. Cook and stir over medium low until thickened.

Remove from heat and set aside.
Frying the french fries:
Heat a little oil in a large pan or wok pan over medium high heat. Once hot, add the frozen french fries.

Let them fry, stirring and flipping them occasionally for a 5-8 minutes until crisp and browned.
Making the poutine:
Place fries on four plates or bowls. Top with each with a generous amount of gravy and a 1/2 cup of cubed cheese.