The perfect picnic food or a very tasty canape, Vegan Deviled Eggs are irresistable and even tastier than the original. Made with avocado and tofu, they are healthier as well.
Summer time is picnic and barbecue season and the best time to enjoy devilled eggs, the classic take along summer recipe, now veganized. I always loved deviled eggs and being vegan doesn't mean I have to miss out on this summertime favorite. Tofu and avocado work very well as an egg replacement that tastes as good as the original and is alot healthier as well.
How to make vegan deviled eggs
Vegan deviled eggs are very easy to make. You begin by cutting your sliced, firm tofu into rounds with a small 2 inch biscuit cutter. Marinade each round with your favorite dressing. I use a homemade lemon viniagrette. Next, blend the avocado and other "yolk"ingredients in a food processor until smooth and creamy.
You then bake the tofu until it has the chewy texture of egg whites, about 30 minutes.To finish, top each tofu round with a tablespoon of the avocado to the eggs and garnish.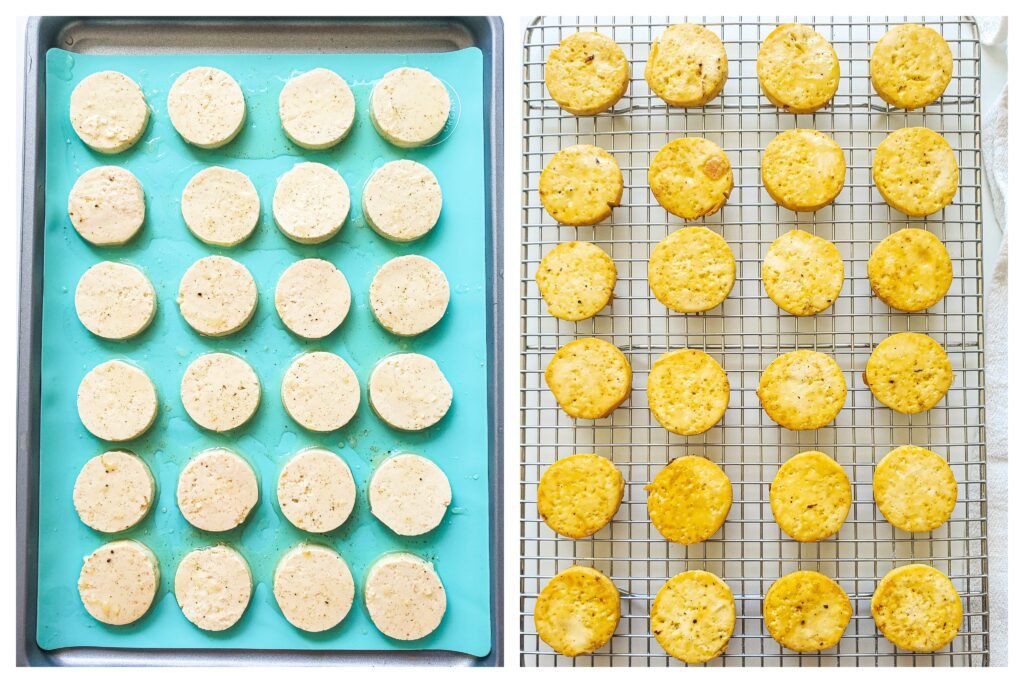 I like to garnish with paprika and chopped chives. You can add anything you want such as red pepper or hot pepper.
Brings back the taste of summer
Vegan deviled eggs would liven up any picnic hamper or BBQ get together. They can also be served as canapes. They taste as good as the original but without the cruelty or cholesterol. A win win combination!
You can top them with paprika and chives as is traditional or spice it up with strips of red bell pepper or even hot peppers. Whatever you like. Just make alot as these little bite size taste treats are sure to be popular. Enjoy!
More Vegan Summer Recipes
Summertime is the right time for vegan barbeques, picnics and outdoor family gatherings. Why not impress them with some light and delicious vegan recipes? Here are some to try:
Grilled Corn, Peach, Cucumber and Avocado Salad
Watermelon Rind Kimchee Pickles
Vegan Deviled Eggs
Print Recipe
Ingredients
2

530 g

packages firm tofu

1/4

cup

lemon vinaigrette

2 tablespoons lemon juice with 3-4 tablespoons canola oil, with a small pinch of pepper, stevia leaf powder and mustard powder

2

ripe medium sized avocados

1/4

cup

vegan mayonnaise

1/2

teaspoon

Salt free seasoning

1/2

teaspooon

garlic powder

1/2

teaspoon

onion powder

1/4

teaspoon

pepper

1

tablespoon

nutritional yeast
Garnish:
1

Paprika

2

tablespoons

chives

chopped
Instructions
Preheat oven to 350 degrees F.

Slice tofu block lengthwise into six 1 inch slices. Do not cut it widthwise into squares slices. You want rectangle slices.

With a small biscuit cutter, cut sliced tofu into rounds.

Brush tofu rounds on both sides liberally with lemon vinaigrette and place on a baking sheet.

Bake for 35-45 mins, turning once, until slighlty browned and firm, chewy consistancy of cooked egg white.

Once done, remove from oven and let cool on a rack.

Prepare the "yolk": Place the avocado into a food processor with the mayonnaise, salt free seasonings of your choice, onion powder, garlic powder, epper, and nutritional yeast. Blend well, scrapping down the sides occasionally until smooth and creamy.

Preparing eggs: Once tofu rounds are cool, place on a serving tray. Scoop or pipe a half teaspoon of the avocado mixture onto the center of each round.

Garnish each with a sprinkle of paprika and some chopped chives