I love pickles and am always searching for new pickle recipes. I read about watermelon rind pickles online a few years ago and as I like to be as low waste as possible so it sounded like a neat idea. I went out and bought an organic watermelon and got started.
I make mine with kimchee spice and using lemon juice instead of vinegar which makes them a little less acidic but just as tangy and even better tasting in my opinion.
Making watermelon rind pickles
The process is pretty easy. Wash rind well and scrape off all of the pink from it. Cut the rinds into small pieces and place in a medium-size mixing bowl. Add the seasoning and minced garlic and stir until well mixed. Pack the rind and all the seasonings, garlic into a 8-ounce canning jar and cover with lemon juice.
These pickles are raw so that's about it. Just let them sit out for 4-6 hours and then refrigerate. They will last a few days in the fridge and a few months frozen.
Most recipes call for removing the skin from the rind but I leave it on. It's actually edible and full of nutrients like most fruit skin. It adds a nice crunch to the pickles as well. Because I'm using the rind, I prefer to use organic watermelon for this recipe but you can use non-organic as long as you wash it off well.
These pickles have become a part of my summer menu and you'll always find a jar in my fridge. They really add the snap and hot spice that is so great at this time of the year. Enjoy!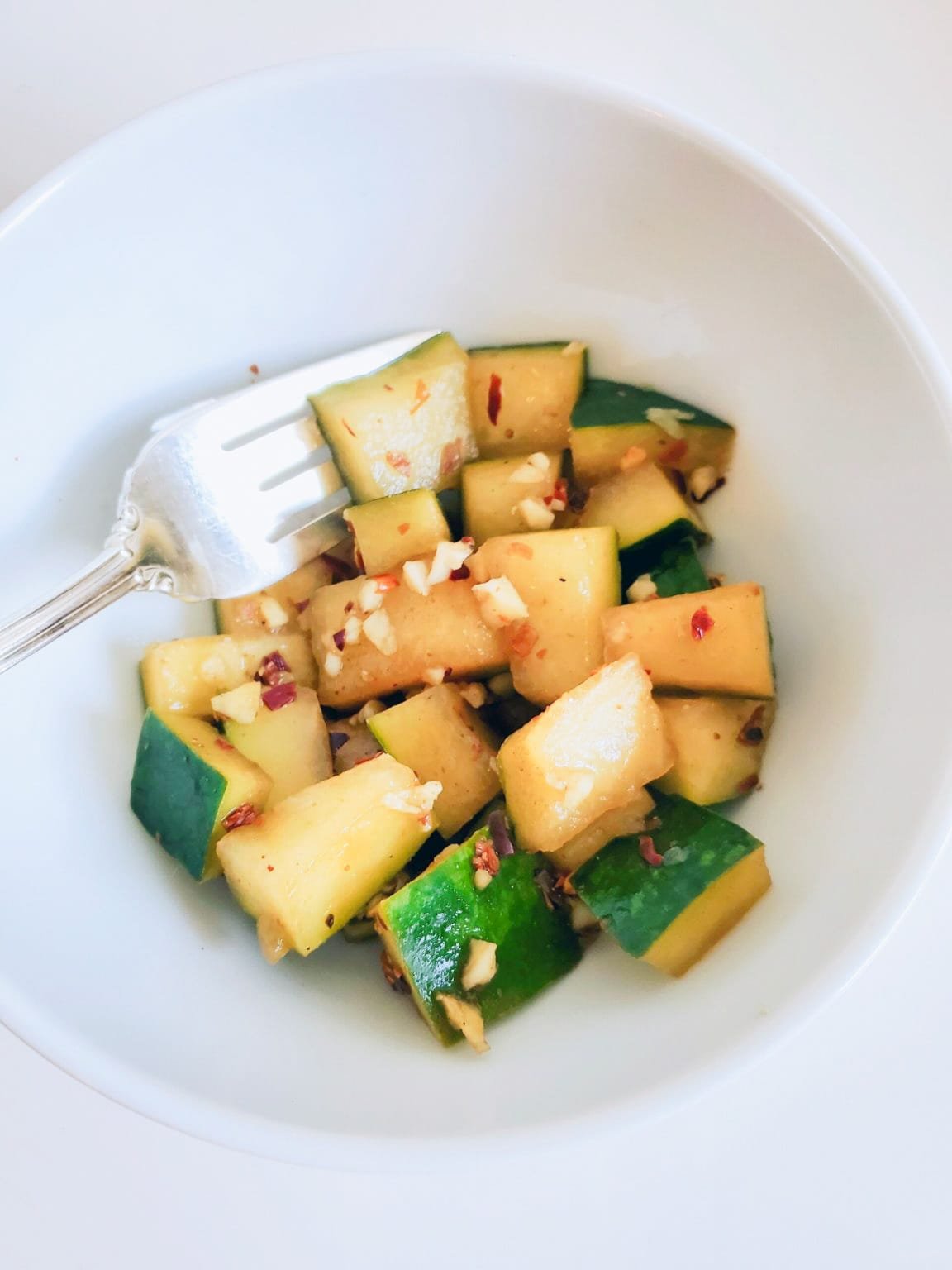 Watermelon Rind Kimchee Pickles
Print Recipe
Ingredients
2

cups

watermelon rind

cubed

1

cup

lemon juice

Water

to fill container

1

tablespoon

red hot chili flakes

1

teaspoon

cayenne or hot red chili powder

2

teaspoon

stevia seasoning

or sweetener and seasoning of your choice

4

garlic cloves

minced

1/2

teaspoon

ginger powder
Instructions
Scrap watermelon rinds with a spoon or knife to remove all pink from inside.

Tightly pack into a small 8 oz container.

Add the lemon juice and water to fill jar. (see note)

Add the spices and shake to stir.

Leave sitting at room temperature for up to 4 hours. Store in the refrigerator.

After 24 hours taste pickles and add more seasonings if desired.

Pickles will last up to about a week in the refrigerator.
Notes
If freezing, leave 1 inch head room as liquids expand when frozen.