This wholesome, healthy Chickpea Salad Sandwich is easy to make and so yummy. Made with chickpeas, celery, avocado, apple and vegan mayo, it's flavourful and sure to please. Dress it up or down and enjoy .
I, like many, grew up loving egg salad and chicken salad sandwiches. It was hard as a vegan giving them up, so I was thrilled to discover mashed chickpea salad taste just as good and is healthier and cruelty free as well.
Chickpea salad gets it's creaminess from vegan mayonnaise and it's "eggy" taste from mashed, ripe avocado. Chopped celery, onion and apples is added to give it some crunch and sweeteness and that's it. This sandwich spread is super easy to make and very delicious. You won't miss the animal products and will benefit from the added nutrients and flavour.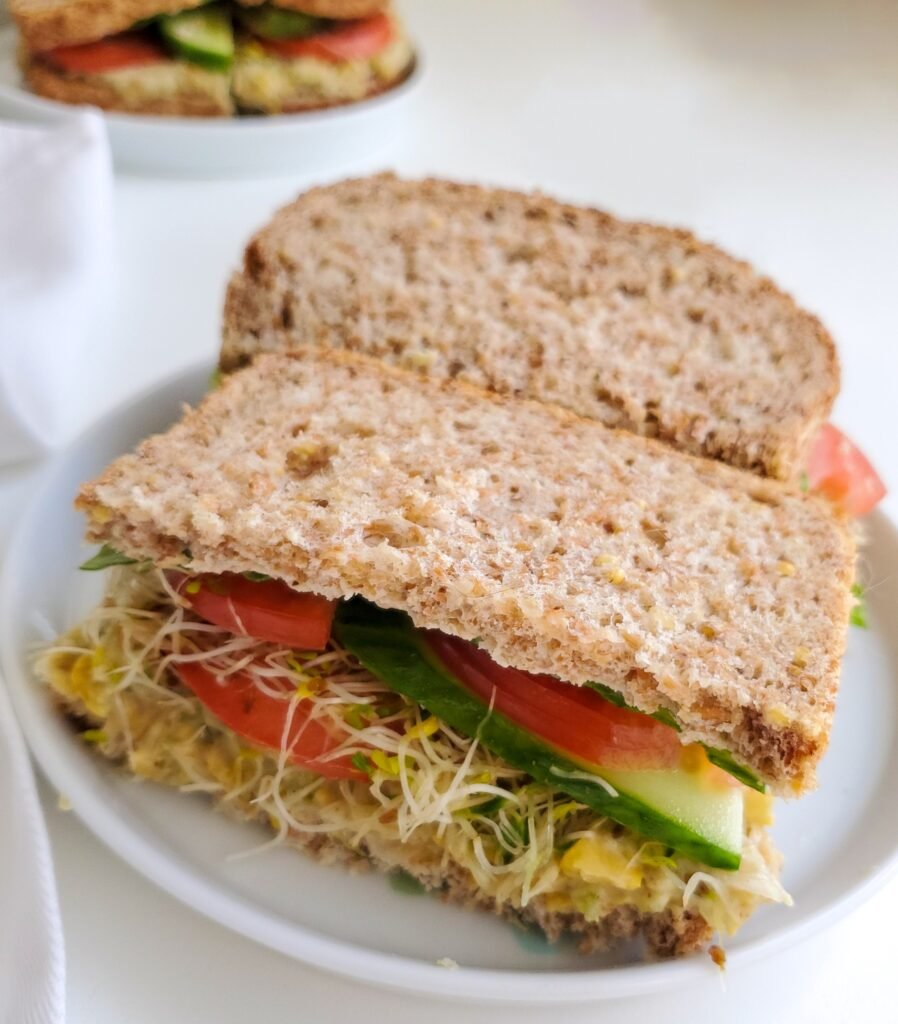 Making Chickpea Salad Sandwiches
To make Chickpea salad sandwich spread, you begin by either cooking your chickpeas or opening and draining a can. Be sure to use salt free chickpeas to make your sandwich healthier. Once drained, place the chickpeas in a large mixing bowl.
Next, prepare the other ingredients: mince the garlic, dice the onion, apple and celery and cube the avocado. Combine them with the mayonnaise in the bowl of chickpeas. Add the lemon juice and stir until mixed.
Transfer the mixture from the bowl into a food processor. Pulse process until chunky but creamy. Don't over process or you'll get a pate mixture. You want it to remain salad like.
Once the mixture is processed, spoon it onto bread and topped it as you please. I like to serve it with lettuce, tomato, sprouts and cucumber. Their freshness compliments the creamy, chickpeas deliciously.
Delicious Healthy Alternative
Nothing beats a good, hearty and healthy sandwich for banishing hunger and satisfying our cravings. Whether you prefer wraps, open faced sandwiches or traditional sandwiches, healthy, yummy chickpea salad sandwiches is sure to please.
They are delicious and nutritious, high in both protein and fibre. The salad is tangy and smooth and perfect for any lunch box and make the most of your favorite bread and toppings. Enjoy!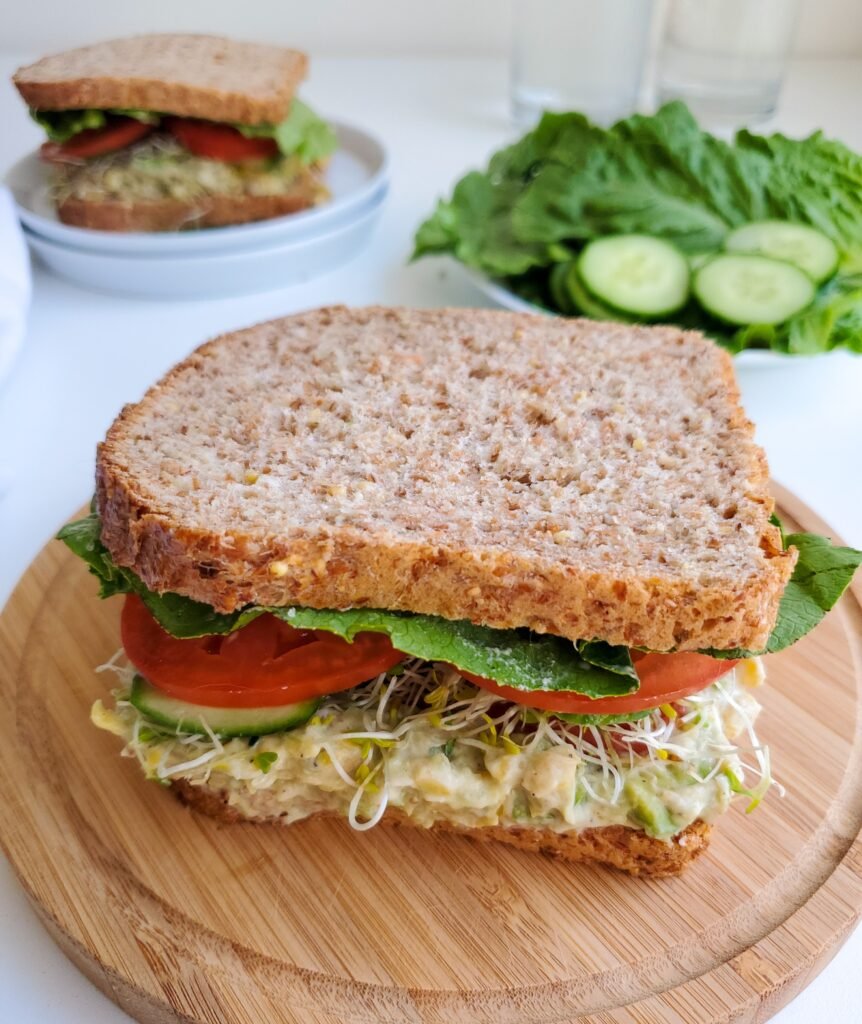 More Healthy Vegan Lunch Recipes
Lunchtime is a great time to get relax and enjoy a break with delicious vegan food. Here are some recipes to try:
Vegan Broccoli and Tomato Quiche
Chickpea Salad Sandwich
Print Recipe
Ingredients
1

15 oz

can chickpeas in plain water (1 1/2 cups)

drained

1

stalk

celery

diced

1/4

organic Delicious apple

diced

1

clove

garlic

1/2

small onion

1

avocado

cubed

1 1/2

cups

vegan mayonnaise

1/2

1/2 lemon

juiced

1

teaspoon

onion powder

1

teaspoon

garlic powder

1

teaspoon

salt-free seasoning blend

4

slices

wholegrain bread

Toppings of your choice

Lettuce, tomato, cucumber, sprouts, etc
Instructions
Open can and drain chickpeas well and place in a large mixing bowl. 

Prepare vegetables: Mince the garlic, chop the onion, apple and celery, and cube the avocado. Place them in the bowl with the chickpeas.

Add the mayonnaise, onion powder, garlic powder and salt-free seasoning and lemon juice. Stir until well mixed.

Spoon mixture from bowl into a food processor. Pulse process until chunky and creamy. 

Butter one or both sides of the bread and add your toppings. 

Spoon chickpea salad onto the bread without the topping.

Put both sides of the sandwich together and slice in half. Serve.