Tofish tacos with mango salsa are delicious and fun and bring home the taste of easy summer living.
Summer is here and time to start enjoying the wonderful tastes and fresh produce of the season. My favorite recipes include alot of seasonal fresh fruits and vegetables and this recipe for tofish tacos, features alot of them. Mangos, red peppers and red cabbage add nutrients, color and crunch to these tacos and add a modern twist to the recipe.
Fish tacos has been a trendy food over the past few years. Usually served with coleslaw and mango salsa it has all the taste, flavour and fun we expect and want at this time of the year. Unfortunately fish is a very cruel food and overfishing is destroying our oceans and leading to marine life extinction. For many giving up fish is too hard, but if you love our oceans and marine life you might want to consider it.
Tofish tacos are easy to make
The good news is tofish, fish made out of tofu is a delicious, easy to make and healthy substitute. You can find commercial versions in your local health food store or you can, as I did here, make your own. Either way these tacos are delicious. You can find my recipe for tofish here.
Tofish tacos taste great with mango salsa. You can make the salsa the day before to save time. I serve my tacos with a store-bought cabbage salad, tartar sauce, mango salsa, cilantro and lime wedges. You can add hot taco sauce as well if you want to add some spice.
Tofish tacos are really so good. They're healthy, colorful, delicious and full of nutrition and protein. Give them a try and have a wonderful summer!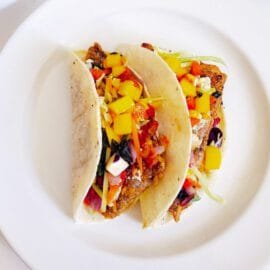 Tofish Taco with Mango Salsa
Print Recipe
Ingredients
8

small

tortillas

8

pieces

tofish

homemade or store bought
Mango Salsa
2

cups

diced mango

1

cup

diced red bell pepper

1/2

cup

finely chopped cilantro

1/4

cup

diced red onion

1 1/2

tablespoons

freshly squeezed lime juice

1

hot pepper

minced

1/4

teaspoon

favorite salt free seasoning

to taste
Toppings:
Fresh cilantro

Vegan tartar sauce

Taco sauce

Cabbage salad blend

Dehydrated corn

optional
Instructions
Prepare the tofish and set aside.

Prepare mango, red pepper, cilantro and red onion for the mango salsa and place together in a large mixing bowl.

Add the lime juice and seasonings. Stir gently but well. Taste test and add more seasonings if desired. Place in covered container and let chill in the refrigerator.

Heat a skillet or pancake pan over medium-high heat. Once hot, place a tortilla onto the skillet and let heat for a minute or two each side.

Once tortillas are done, serve along with the tofish, mango salsa and other condiments of your choice. Serve warm.