Boston Baked Beans with tofu bacon is the perfect comfort food. It's super healthy, yummy and satisfying. Whether served on toast or dressed with greens or a salad, it's are sure to please.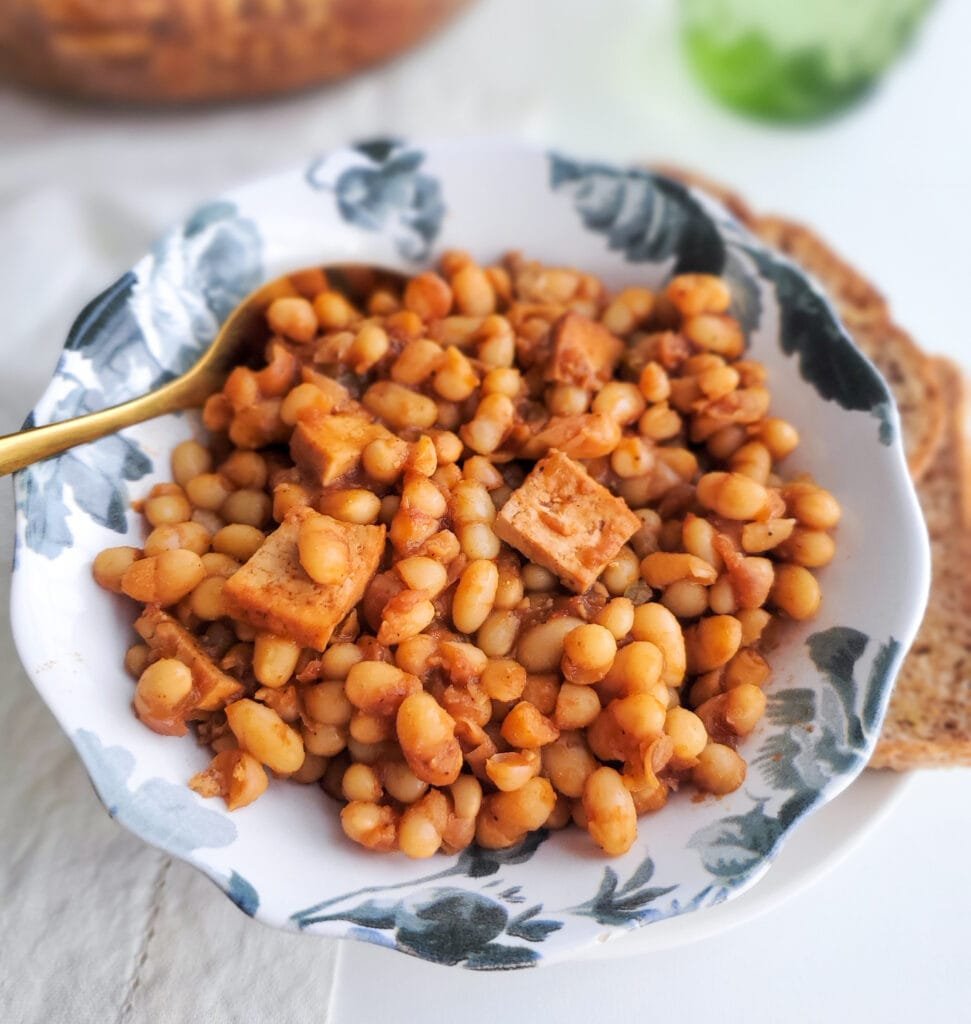 I was never a big fan of baked beans. I still have childhood memories of being forced to eat canned baked beans with their sad little pieces of pig's fat. Homemade baked beans are another story however, and this is the dish that redeeemed them for me.
February is a great month for eating beans because they are hearty and also warming. They are also very healthy. Navy beans, also called haricot or white beans, have a high level of protein and B vitamins as well as fibre. They are cholesterol free and soaking and cooking them well reduces the bloating associated with eating beans.
Making Boston baked beans
Traditionally baked beans rely on meat for flavour but they don't require it. Baked tofu gives the same chewy bite and adds alot to the recipe. I bake and slice mine the day before.You can precook the beans as well.
The recipe is very easy. Just combine the beans with the rest of the ingredients in a mixing bowl and stir well. The result is a delicious blending of beans and flavours in tomato based sauce.
Bake the beans for one hour to allow the flavours to blend and the liquids to be absorbed. Serve beans hot with toast. This recipe serves six but easily can be portioned and frozen if you're cooking for one.
Comforting and healthy
Boston baked beans with tofu bacon can be served as an entree or as a breakfast, served on toast. They are perfect in the winter months as they were traditionally eaten. Hearty and delicious, they're sure to please vegans and non vegans alike. Enjoy!
More Easy Vegan Comfort Food Recipes
Vegan recipes are not complicated and are comforting. They are also as yummy and healthier than non vegan versions. Here are some of comfort food favorite recipes to try:
Black Eyed Pea and Kale Masala
Roast Baby Potato Salad with Radish Greens and Vegan Bacon Bits
Boston Baked Beans
Print Recipe
Ingredients
6

cups

cooked white beans

about 3 cups dry

2

cups

vegetable stock

4

tablespoon

tomato paste

1/8

cup

molasses

1/4

cup

maple syrup

1

teaspoon

mustard powder

1

teaspoon

black pepper

2

tablespoons

onion

pureed

2

tablespoon

green pepper

pureed
Tofu 
1

block

Ffirm tofu

pressed gently and patted dry

4

tablespoons

tomato paste

1

tablespoon

water

4

tablespoons

lemon vinaigrette

juice of 1 large lemon with double the amount of canola oil and 1 teaspoon salt free seasoning.
Instructions
Cover 4 cups dried white beans with water. Let sit overnight.

In the morning drain beans and rinse.

Place in a large dutch oven and fill with water. Boil until beans are tender about 1 hour. Be sure to cook them well. They need to be very soft.

Once beans are cooked, rinse and pour into a large mixing bowl. Set aside.

Cut tofu into 1/4 inch thick slices. Marinade one side of each slice with tomato paste and lemon vinaigrette. Place marinade side down on a silicone lined baking sheet. Brush the tomato paste and lemon vinaigrette on the other side.

Bake tofu for 25 minutes at 350 degrees F. Flip each piece brushing both sides with marinade, and cook for another 20 minutes or until each piece is slightly chewy and firm.

Once tofu is cooked, let cool slightly and cut into bite size pieces. Set aside.

Combine all the ingredients except for the beans and tofu in a medium mixing bowl. Stir until well mixed.

Add the mixture to the beans, along with the tofu. Stir until well combined.

Spoon mixture into lightly greased baking dish. Cover with lid or tin foil.

Bake at 350 degrees F for 1 hour. Remove from heat and serve hot.