This side dish of roasted potatoes with radish greens and bacon bits is flavourful and delicious. It's sure to be a hit whenever its served and is a great addition to any summer get together.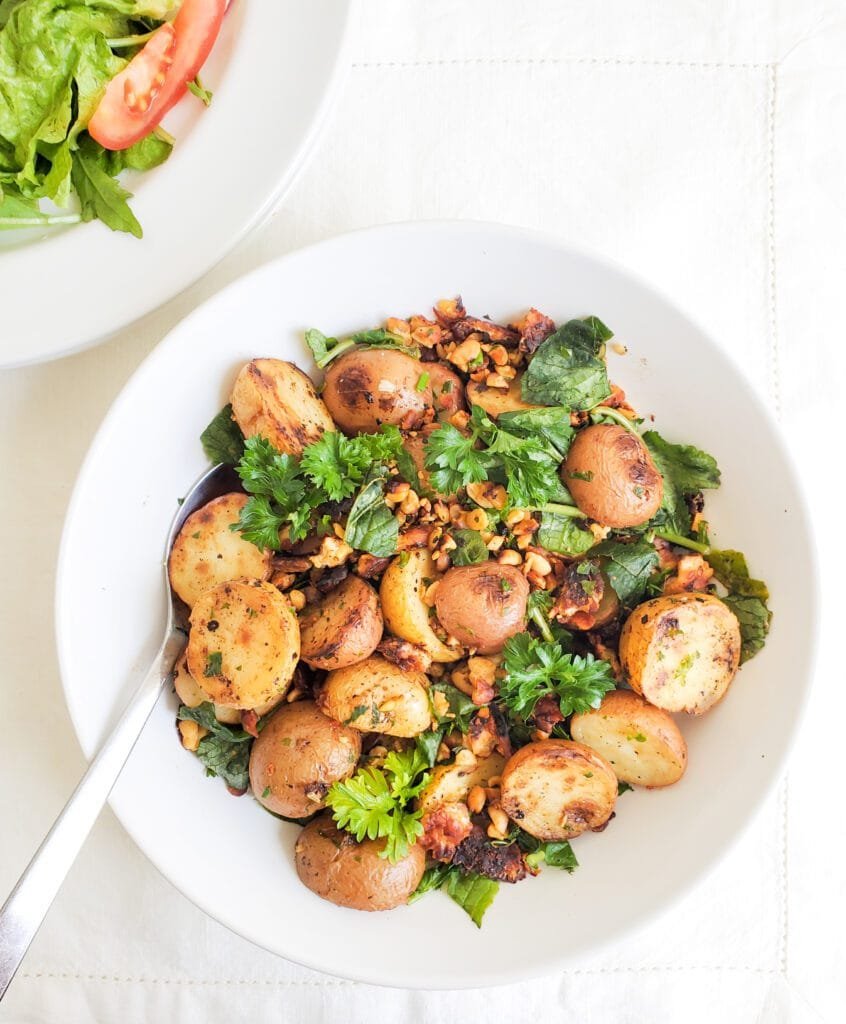 My favorite early spring summer vegetable is baby potatoes. They are amazing, creamy, buttery and silken smooth, and so versatile. I usually make a regular potato salad with them but this year I decided to try something different and made this roast salad with radish greens and vegan bacon bits. Wow I'm glad I did! The taste combination is amazing and really spotlights the taste and texture of the potatoes.
This salad is super healthy as well as being super yummy. Radish greens are full of nutrients and flavour as are the potatoes. The vegan bacon adds savory contrast and protein. This salad is proof delicious equals healthy and will be a welcome addition to any spring or summer meal.
Making roast potato salad
Making roast potato salad is very easy. You begin by cutting baby potatoes in half. Add them to a bowl and add finely minced garlic, canola oil, lemon juice and seasonings to create a dressing.
After potatoes are well dressed, place them onto a baking sheet. Make sure they aren't touching too much. Bake until soft and slightly browned. Remove from the oven and let cool slightly in a large mixing bowl.
Add the chopped radish greens and toss gently to mix. Spoon onto a serving plate and top with vegan bacon bits and some parsley as a garnish. That's it! Such a super easy recipe and so yummy!
This salad taste best warm so serve immediately. It is great as a side dish at a bbq, a bring along to a picnic or as a light lunch with a salad. This is truly a great and yummy salad/side dish and really makes the most of spring baby potatoes. Enjoy!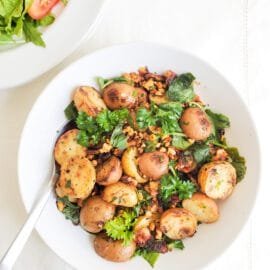 Roast Baby Potato Salad with Vegan Bacon Bits
Print Recipe
Ingredients
680

g

baby potatoes

1.5 pounds

1-2

large cloves garlic

minced

2

tablespoons

olive oil

1

lemon

juiced

1-2

teaspoons

salt free seasoning

2

teaspoons

parsley

1

bunch

radish greens

cut or torn into bite sized pieces

1

cup

vegan bacon bits
Garnish
Chives

finely chopped

Parsley

3-4

radishes

sliced
Instructions
Preheat oven to 350 degrees F.

Wash and cut potatoes in half.

Combine olive oil, lemon juice, minced garlic and seasoning in bowl. Add the potatoes and stir to mix.

Refrigerate for at least an hour to marinade

Heat oven to 350 degrees F. Roast potatoes for 30-35 minutes until roasted.

Remove from oven and let cool slightly.

Return roasted potatoes to mixing bowl.

Add the bacon bits, radish greens. Gently toss to mix.

Place on serving plate. Garnish with chives, parsley, and sliced radish.