Sure to become one of your go to recipes, Easy Baked Tofu is easy, versatile and delicious. Eat it in sandwiches, in salad or your favorite stew or casserole. No need for meat, this recipe can do it all.
Tofu is great super food and ingredient, but unless you know how to cook it, it can be as tasteless, and unpleasant as many people imagine it to be. It's not difficult to cook tofu properly, and once you know how, it can be a vegan cook's most versatile ingredient.
I like to bake my tofu, as I prefer a firmer tofu with a chewier texture. I will sometimes fry it afterward to add flavour and moistness. but baking it first is important to get a firm, meaty texture.
Making Baked Tofu
Baking tofu is very easy, using only a few common ingredients. I use tomato paste in my marinade for a tangier, meatier taste. For a more chik'n like taste you can omit it.
To make, begin by evenly slicing tofu. It should be thick enough to hold and thin enough to be used in sandwiches, about 1/4 inch. Brush one side with a tomato paste based marinade with a pastry brush. Place on a silicone or parchment lined baking sheet and coat the other side. Place tofu in the oven and bake until firm and chewy.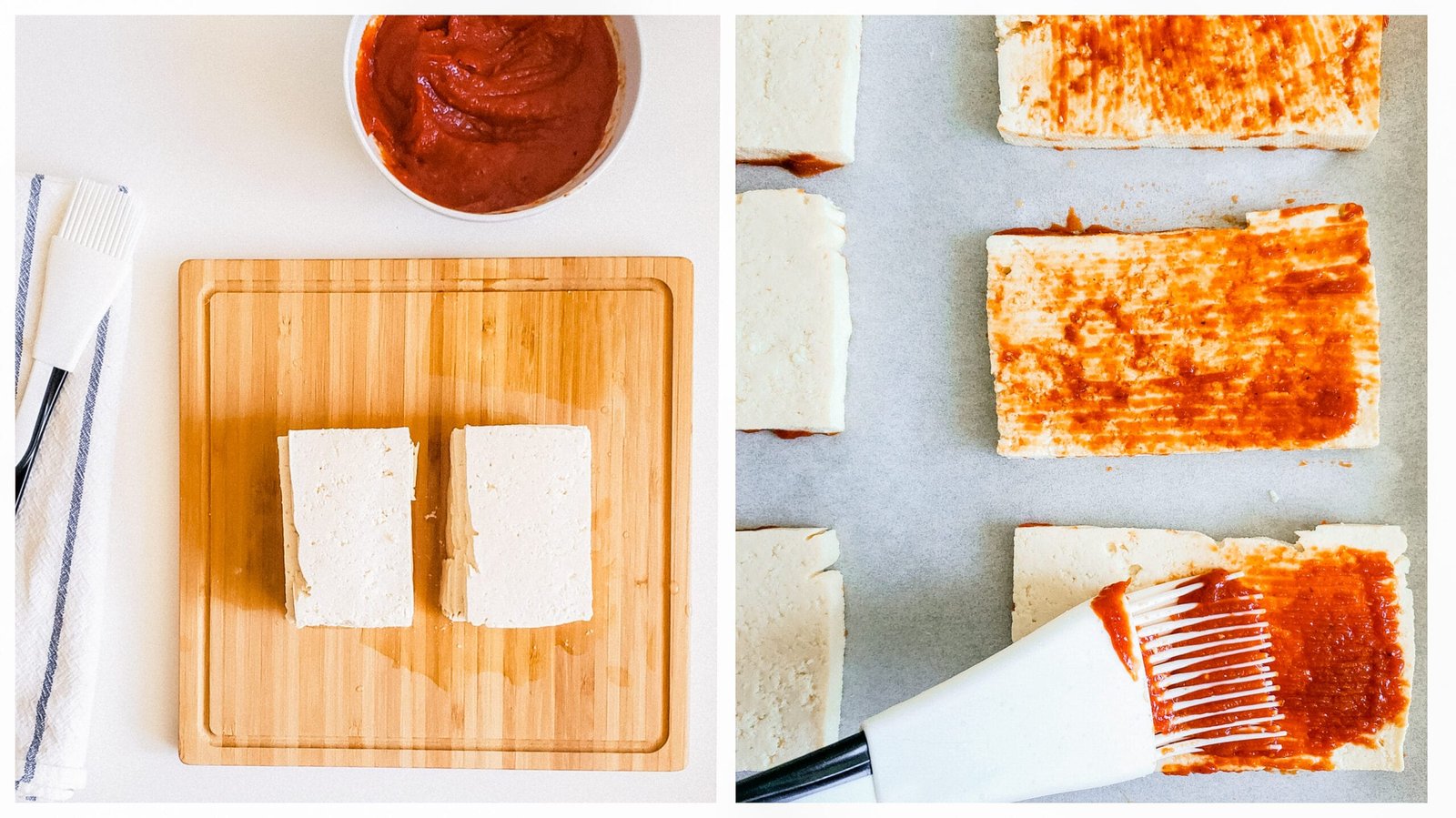 The cooking time will vary depending on the thickness of the tofu. It usually takes between 35 and 45 minutes to bake.The tofu is done when slightly chewy and not soft at all. It can be picked up without breaking, and it has a firm texture when you bite into it.
So Versatile and Yummy
Baked tofu is yummy and very versatile. You can serve it with salad, in a sandwich, or as a meat replacement in stew or casseroles. My favorite is making TLTs (tofu, lettuce and tomato) sandwiches with it. It's a great vegan basic recipe to try. Enjoy!
More Tofu Recipes
Tofu is so popular because it's so versatile. It can be eaten on it's own or used in baked dishes, stews and practically any recipe featuring meat. Here are some delicious recipes to try:
Easy Baked Tofu
Print Recipe
Ingredients
400

g

firm tofu

1/2

156 ml

can tomato paste

1

teaspoon

stevia seasoning

or commercial salt free blend

1

tablespoon

canola oil

1/2

large lemon

juiced

1

tablespoon

water
Instructions
Preheat oven to 350 degrees F.

Combine the tomato paste, stevia seasoning, oil, water and lemon juice in a small bowl. Stir until well mixed. If too thick add water

Slice firm tofu into 1/3-1/2 inch slices.

Spread one side of the tofu with the tomato paste mixture. Place on a silicone lined or greased baking sheet.

Once the tofu is on the sheet, with a pastry brush, brush the top with the marinade

Bake for 35-45 minutes, turning once. Brush both sides with tomato paste while turning.

Tofu is done when firm and slightly springy and chewy in texture.

Once tofu is done, remove from oven and let cool slightly before using.
Notes
This is tangy, meaty tasting tofu. For a more chik'n tasting tofu, omit the tomato paste and water.