Beets make great burgers. Super healthy, yummy and easy to make, these burger are sure to become your new favorite.
I love making homemade veggie burgers. They are one of the easiest and most versatile of all vegan recipes. There are many great recipes out there, but beet burgers are my all time favorite. Beets are great because not only do they look meaty, they also give a very meaty texture to burgers as well.
This recipe is fairly easy. You will need a food processor as all the vegetables need to be shredded. All the ingredients as pantry basics and easily purchased produce from any grocery store. I used frozen beets but you can use fresh as well.
Beets make great burgers!
For people who don't like beets, don't worry. The taste and texture once baked is completely different from what you might expect. Beets are a great source of vitamin A and C so don't be afraid to cook with them.
The process is pretty simple. Prepare the ingredients and combine. Form them into patties and bake. I kept these burgers purposely plain, without onion, garlic or spices. You can add them if you wish but I find spicy condiments and toppings are enough and that these burgers are flavourful enough on their own.

Beet burgers can be served dressed up or down, as a burger or as a meat substitute patty for a family dinner, and are versatile, economical and delicious. Please do give them a try and enjoy!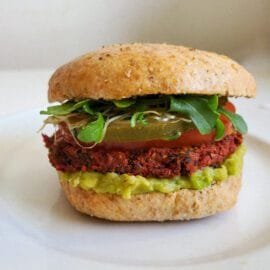 Beet Burger
Print Recipe
Ingredients
2

cups

cooked beans, cooked

preferably chickpeas or navy beans

1 3/4

cup

beets

grated

2

cups

zucchini

grated

2

cups

carrots

grated

1

cup

packed frozen chopped kale

thawed

1

cup

oat flour

2

tablespoons

peanut butter

3

tablespoons

tomato paste

1

lemon

juiced

2-3

teaspoons

stevia seasoning

or salt free seasoning of your choice
Instructions
Preheat oven at 350 degrees F.

Line a baking sheet with parchment paper or a silicone mat and set aside.

Grate beets, carrots, and zucchini. Set aside.

Grind oats into flour and place in a large mixing bowl.

Add the grated carrot, zucchini.

Add the kale, peanut butter, tomato paste, lemon juice and 1 teaspoon seasoning of your choice. Mix together well with your hands. Taste and add more seasoning if desired.

Once mixture is well mixed, spoon it into a food processor. Process until mixture is smooth.

Transfer mixture in a separate large mixing bowl. Continue mixing until well combined.

Spoon a heaping tablespoon onto the parchment-lined sheet into a biscuit cutter. Press down and shape mixture with the back of a spoon. Remove biscuit cutter and repeat, making 6 patties per sheet. If you haven't got a biscuit cutter just shape into 1 inch thick 3-1/2 inch patties with your hands.

Place filled pan into oven and bake for 25 minutes.

Remove from oven, flip patties and bake for another 20 minutes.

Remove from oven and let cool on a rack.