Easy to make and impossible to resist, blackbean burgers are sure to become your new go to burger recipe.
As a health conscious, on a budget vegan, I generally make most of my food myself. To make this easier, I try to stick to well tested favorites and basic recipes, so I don't have to spend all my time cooking.
Finding a great legume burger recipe is a must for any vegan cook. I came up with this recipe by combining food I already had in my pantry. These burgers has only five ingredients and can be dressed up with vegetables and flavouring as much or as little as you want. They can also be frozen and thawed any time for a quick and delicious meal.
Simple ingredients and so easy to make
Blackbean burgers taste like you spent hours making them but they're actually really simple and easy to make. They are made of only a few basic ingredients and require no special equipment. It does take a while to make them, but they're worth the time and effort.
To make black bean burgers, first assemble your ingredients. Then combine them in a large mixing bowl. The mixture is then placed in a food processor. For most food processors, it will take at least two batches. Process them until well mixed and mealy. Place processed mixture in a bowl and continue processing until entire mixture is processed.
After burger mixture is processed, with a heaping 1/3 cup measuring cup, scoop up some of the mixture. Tap it onto a prepared baking sheet. Next, shape patty into a 3 1/2 inch circle. Contine until the sheet is filled. Bake for 35-40 mintues until patty doesnt break when you lift it and the outside is cooked and center are still soft. Let burgers cool for at least 20 minutes on a rack. This allows the centers to reach more burger like texture.
These burger are very low in fat and high in protein and flavour. I also love how versatile they are. You can crumble them into spaghetti for a meaty sauce or slice and use in tacos or wraps. They are delicious and do taste and feel very much like the non plant based version, only better. Enjoy!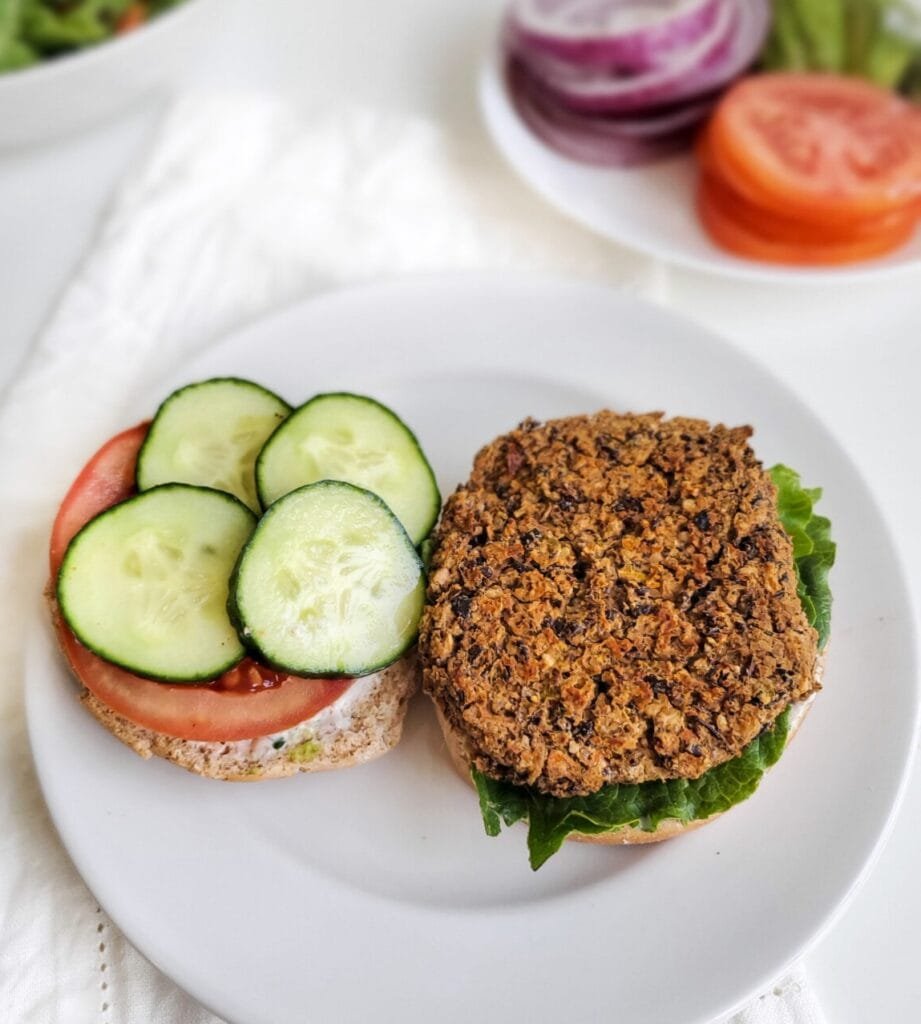 Blackbean Burger
Print Recipe
Ingredients
4

cups

black beans

cooked

2

cups

brown rice

cooked

1

cup

peas and carrots

2

tablespoons

tomato paste

2

teaspoons

stevia seasoning

1/2

teaspoon

onion powder

1/2

teaspoon

garlic powder

1/4

teaspoon

cumin
Instructions
Preheat oven to 350 degrees F. Line a baking sheet with a silicone mat or lightly grease. Set aside.

Combine all the ingredients in a food processor. Blend until well mixed and finely chopped.

Spoon mixture into a mixing bowl.

Form mixture into 12 burgers and place on a baking sheet lined with a silicone mat or lightly greased.

Bake burgers for 30-45 minutes until cooked through. The burger will feel firm on the outside and soft in the center.

Remove from heat and let cool for at least 15 minutes on a rack. This is important as it allows the burger to achieve a more consistent burger like texture.

Serve while still warm. Freeze the rest of the burgers or refrigerate and use within two days.