High in vegan protein, sweet and sugar free, this versatile powder is easy to make, low in cost and high in nutritional value and taste.
As a vegan, I am always questioned about my protein. While this question can become repetitive and annoying, it is a serious nutritional point vegans and newby vegans need to consider. The truth is its very easy for anyone eating a healthy vegan diet of 1800-2400 or so to get more than enough protein. The problem arises with vegans who are dieting, who work out with weights, who's normal calories are lower and those who eat a less than healthy diet. Then you have to plan your diet a little more carefully.
As I am both dieting and working out I decided to add a protein powder shake to my daily menu. I can't afford commercial protein powder so I decided to make my own. Its pretty easy and cost efficient and is yummy as well. As for protein, one shake or 2 tablespoon added to my diet fully covers whatever deficits I might have. It's a vey easy and cheap solution to the protein when dieting dilemma.
Making vegan protein powder
I decided to make my powder pea protein based. I added cashew milk, stevia leaf powder for sweetness and carob for caffeine free chocolatey goodness. I bought my ingredients at my local bulk barn and vegan/health food stores but you can easily find them all online.
The recipe is very simple. You just combine all the ingredients in a medium sized bowl, stir it until well mixed and store in a container in a cool place. It will last for months and you'll find it's very versatile as well.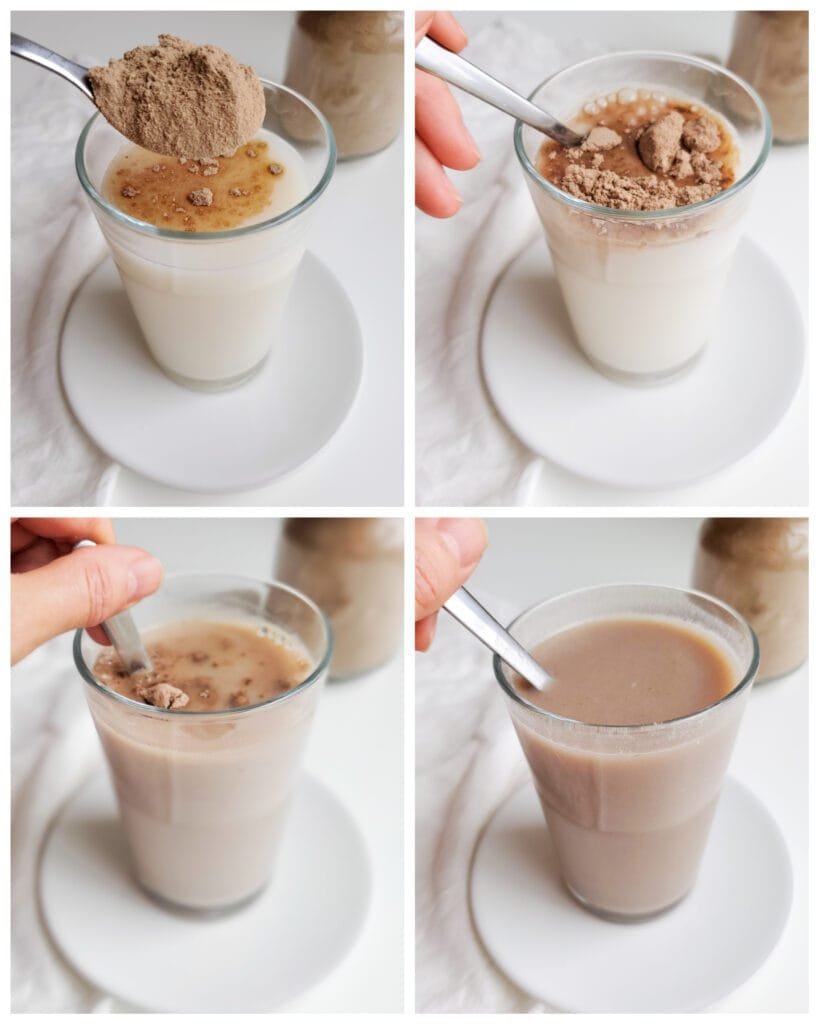 My favorite way of using this powder is in breakfast or post workout shake. You can also add it to a smoothie, sprinkle over your morning oats or roll your favorite energy balls in it for additional sweetness and protein. So yummy! It can also be added to your baked goods such as brownies, chocolate cake or chocolates. Just replace a tablespoon of the flour with this mix. Enjoy!
Other Healthy Recipes To Try
It's so easy to be healthy on a plant food based, whole food diet. Here are some more easy and delicious, super healthy recipe for you to try:
Carob Protein Powder
Print Recipe
Ingredients
1

cup

cashew milk powder

2

cups

pea protein

1/3

cup

carob powder

1

tablespoon

stevia leaf power
Protein Shake:
1

banana

1

tablespoon

carob protein powder

1/2

cup

soy milk

1/2

cup

water

Dash

cinnamon

optional
Instructions
 Combine all the ingredients in a medium sized mixing bowl.

Stir until completely mixed.

Pour into a covered glass container.

Store in a cool, dry place.
To Make Protein Shake:
Place all the ingredients in a blender.

Blend until smooth and frothy.

Pour into a glass. Serve immediately.
Notes
You can also add a tablespoon to your oatmeal.
You can roll energy balls or bars in the mixture.
You can add it to baking products. Just add 1 tablespoon to flour and eliminate an equal amount of flour.
Nutrition
Serving:
1
serving
|
Calories:
77
kcal
|
Carbohydrates:
2.9
g
|
Protein:
15.077
g
|
Fat:
0.77
g
|
Saturated Fat:
0.23
g
|
Sodium:
34.24
mg
|
Potassium:
106.64
mg
|
Fiber:
1.24
g
|
Sugar:
0.82
g
|
Vitamin A:
0.01
IU
|
Calcium:
76.88
mg
|
Iron:
0.33
mg