A fast and easy, healthy and delicious start to your day, Mixed Berry Chia Pudding combines seeds, frozen fruit and nuts to make a high protein energy boost.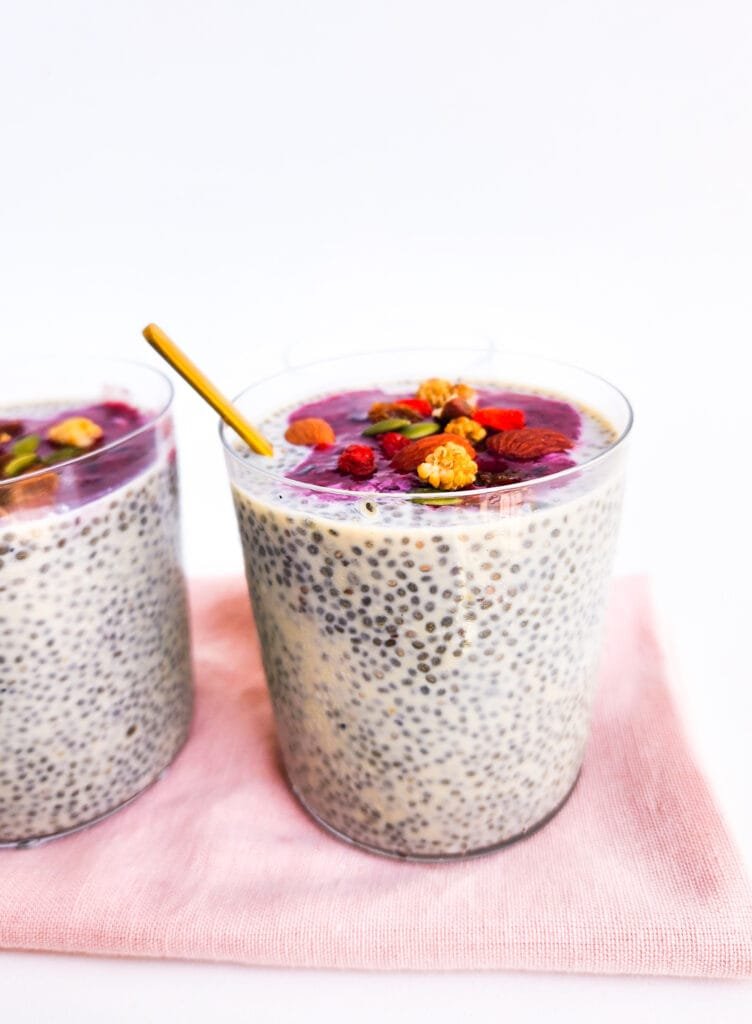 Chia seeds are a super popular super food. They are very nutritious with a high levels of protein, calcium, fibre and many other essential nutrients that vegans and non vegans need. My favorite way of eating them is in a chia breakfast pudding. Mixed with plant based milk, frozen or fresh fruit and a little stevia leaf powder, they are a healthy and delicious way to start your day.
Making Mixed Berry Chia Pudding
Mixed Berry Chia pudding is very easy to make. You combine plant based milk and chia seeds and refrigerate until set. After chia pudding is set, blend thawed frozen mixed berries until nearly smooth.
To serve, make sure all the ingredients are chilled. Spoon chia mixture into two glasses that are at least 8 ounces. Pour half the pureed berries onto the centre of each pudding. Top with trail mix and additional berries if desired.
Fast and Yummy Breakfast
Morning is a busy time for most people and starting your day with a good breakfast is important. For those who are rushed in the morning or want a satisfying but lighter breakfast, chia and fruit puddings are perfect. We also need to eat more fruit, so these are a great way to get a serving. Enjoy!
More Healthy Vegan Breakfast Recipes
A healthy vegan breakfast is the best and yummiest way to start your day. Whether it's plant based pancakes, muffins or muesli, there are so many delicious options. Here are some recipes to try:
Whole Wheat Blueberry Pancakes
Vegan Blueberry Muffins with Strudel topping
Mango-Coconut Overnight Chia Oats
Mixed Berry Chia Pudding
Print Recipe
Ingredients
1

cup

plant based milk

unsweeetened

1

cup

frozen mixed berries

4

tablespoons

chia seeds

1/2

teaspoon

stevia leaf powder
Instructions
Add 1 cup unsweetened plant based milk and 2 tablespoons chia seeds to a container with lid, like a small mason jar. Stir well to mix. Chill to set, at least 4 hours. Stir well before serving.

Thaw frozen berries for a minute in the microwave. Set aside at room temperature.

Place frozen fruit into a blender. Blend until almost smooth.

Pour chia seed mixture into an 8 ounce bowl or glass. Stir well to mix.

Pour 1/2 cup berries onto the centre of each pudding. Serve with trail mix for topping. Serve chilled.