Rice for breakfast? Why not, especially if it vegan kedgeree. Curried rice, with tofish and veggies, is a super healthy and delicious way to start your day.
I've always loved cooking and been fascinated by British dishes. The first recipe I ever made successfully were classic British jam tarts. I also grew up eating alot of traditional British food so they're comforting and familiar to me as well.
Kedgeree is an amazing recipe I recently discovered. It's a classic recipe that became popular in Colonial Victorian England, during the Anglo-Indian craze and remains popular to this day. It's based on a traditional South East Indian lentil and vegetable dish called Khichari. Kedgeree traditionally is a mixture of fish, hard boiled eggs, herbs and East Indian spices. As I am vegan and do not like heavy spices in the morning, my recipe is vegan, much simplified but just as satisfying and delicious.
How to make vegan Kedgeree
This vegan Kedgeree requires a little effort but it's pretty straightforward. To save time, you can make the rice, ranch dressing and fried tofu the night before. You can also prepare the vegetables the night before if you're planning to serve it for brunch. This recipe serves 6 generously. It's alot if you live alone, but it freezes well and makes a great quick and easy meal for anytime.
You begin by cooking your rice. I use brown basmati but any basmati will do. You want to use a longer grain rice such as basmati for this recipe, no other rice will taste as good or have the same perfect texture. After the rice is cooked, you then need to blend together a creamy ranch dressing.
Following this, you need to crumble and fry a block of firm tofu. Firmly press it with your hands to remove water and pat the tofu dry before using. Add the nori and seed mix, seasoning and mix it together well. The nori is what gives it its to-fish taste. I use nori flakes for this recipe but if you can't find them, you can make your own. Tear up a nori sheet and process it in a blender until it is fine flakes.
Prepare your veggies by mincing preferably by hand. You want them to be well minced so they will cook thoroughly. You can also add fruit to the dish. I always serve my kedgeree with grilled pineapple. This is optional but I find it really complements the dish well.
Once all your ingredients are prepared you just add them with the spices to a large frying pan or wok. Stir until heated, and well mixed, adding a little plant based milk milk if it gets too dry. Garnish with nuts, parsley and your favorite seed blend and serve immediately.
This is a very delicious and healthy recipe. Brown basmati rice is full of nutrients and fibre as are the vegetables included. Tofu adds protein and the nori and seeds add many other essential nutrients.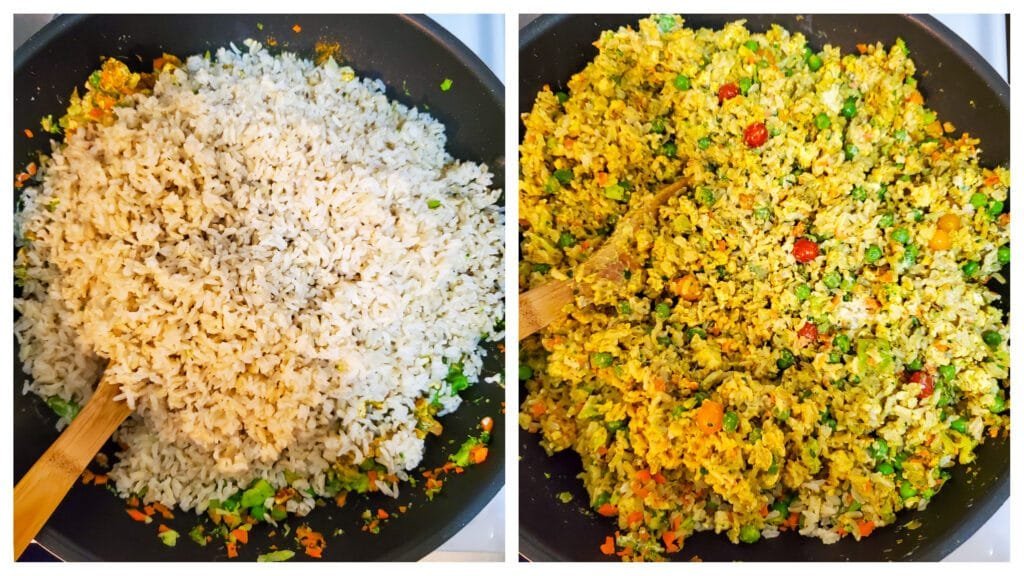 There are no onions or garlic in this dish in keeping with its detoxification properties in Ayurvedic cooking. Its perfect after a night (or month) of indulging. I find curry to be very soothing and comforting ingredient and its perfect for brunch.
Kedgeree is great recipe. Its comforting on cold winter mornings and brightens up any brunch or lunch. I like to eat it for breakfast with a fruit salad or for a quick dinner with a salad. It's a yummy and is a very healthy change from the usual boring and bland breakfast or brunch. Enjoy!
More Vegan British Recipes
Classic British cooking is comforting and fun. It is also very easy to veganize. Whether a entree or sweet treat, there are many recipes to enjoy. Here are some more:
Gluten Free Orange and Lemon Cake
Kedgeree
Print Recipe
Instructions
Boil rice as directed. Once cooked, drain and rinse and set aside.

Add the ingredients for the ranch dressing into a blender. Blend until smooth. Set aside.

Mince carrot and broccoli. Chop first and then mince by hand to insure an even consistency.

Remove frozen peas. Rinse under hot water to thaw. Refrigerate until use.

Wash and pat dry the parsley and set aside.

Roughly chop the cashews and set aside.

Heat a little oil in a large wok or skillet. Fry the pineapple over medium heat until browned on both sides. Remove from heat and set aside.

Press tofu with your hands gently to remove water. Crumble into a medium bowl, in small bite size pieces.

Add the nori flakes, stevia seasoning and seed mix to the bowl with the tofu. Stir gently until well mixed. Set aside.

Heat 2 teaspoons canola oil in a large wok or skillet over medium high heat.

Add the tofu and stir fry until it is browned slightly and a bit chewy in texture, about 5-8 minutes. Add more oil if needed. Remove once done. Set aside.

Add more oil to the wok. Add the carrots, broccoli. Stir fry until tender. Add the peas, tofu and grape tomatoes, ranch dressing and seasonings. Stir until everything is well mixed.

Add the rice and stir until well mixed. Taste test and add more seasonings if desired. Add more soy milk if the mixture becomes too dry.

Serve immediately while hot. Serve with cashews, parsley, fresh ground black pepper, and the fried pineapple.