No need for eggs to make this delicious vegan quiche. Made with tofu and filled with broccoli, kale and tomato, its yummy, healthy and perfect for dinner or a light lunch.
Before going vegan in 2008, quiche was one of my favorite things to eat. Light, sophisticated and satisfying, it was a dish I often craved and missed as a vegan. Over the years I have read various recipe for vegan quiche but never felt motivated to try them. Its thanks to pandemic boredom that I finally decided to give vegan quiche making a try. I'm so thankful I did. Vegan quiche is amazing, good enough to "fool" your non vegan dinner mates and perfect for satisfying any craving for this savory tart.
I made my quiche with tofu instead of eggs, and tomato and broccoli as the filling. Tomato and broccoli quiche was my favorite quiche and I had all the ingredients on hand. I also added chopped kale and cherry tomatoes to increase the vegetable content and for garnish. I used my easy go-to vegan pastry recipe for the crust. The quiche only takes minutes to make and anyone from beginner vegan cook to expert can make it. Its definitely well worth giving a try!
How to Make Vegan Quiche
Vegan quiche is very easy to make. It consists of making a pastry crust, then the filling and then baking them together. This recipe includes a very easy basic pastry crust which is, as long as you follow the instructions, foolproof.
The pastry is made in a large mixing bowl. You begin by adding flour to it. Vegan butter is then added and cut in using a fork, pastry cutter and even your fingers.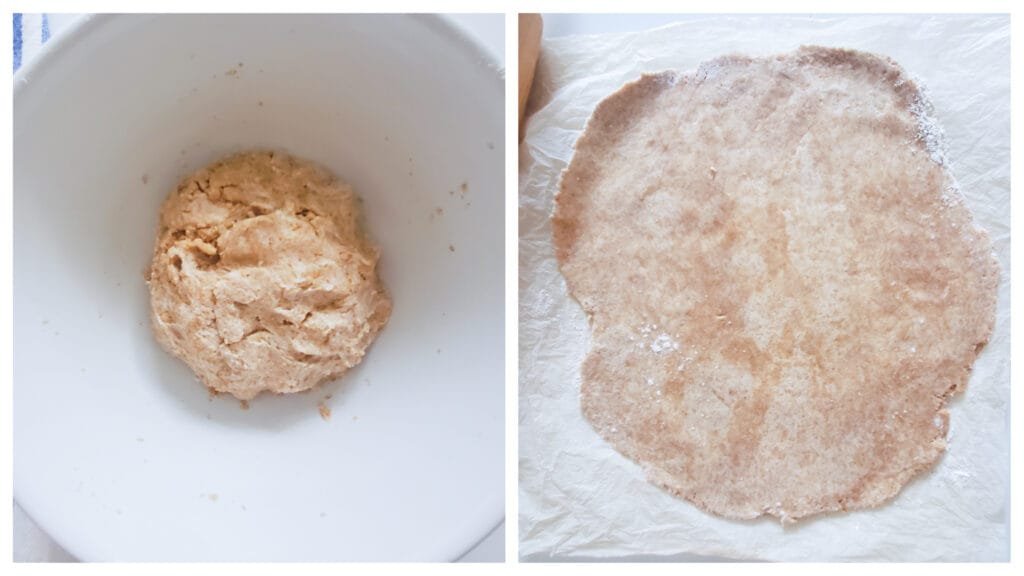 After dough is crumbly and the butter well incorporated, you add ice cold water to form a soft but firm pastry dough. The water must be ice cold to insure a light, flaky crust. Also don't use too much. Begin with a scant 1/4 cup and only add more if needed.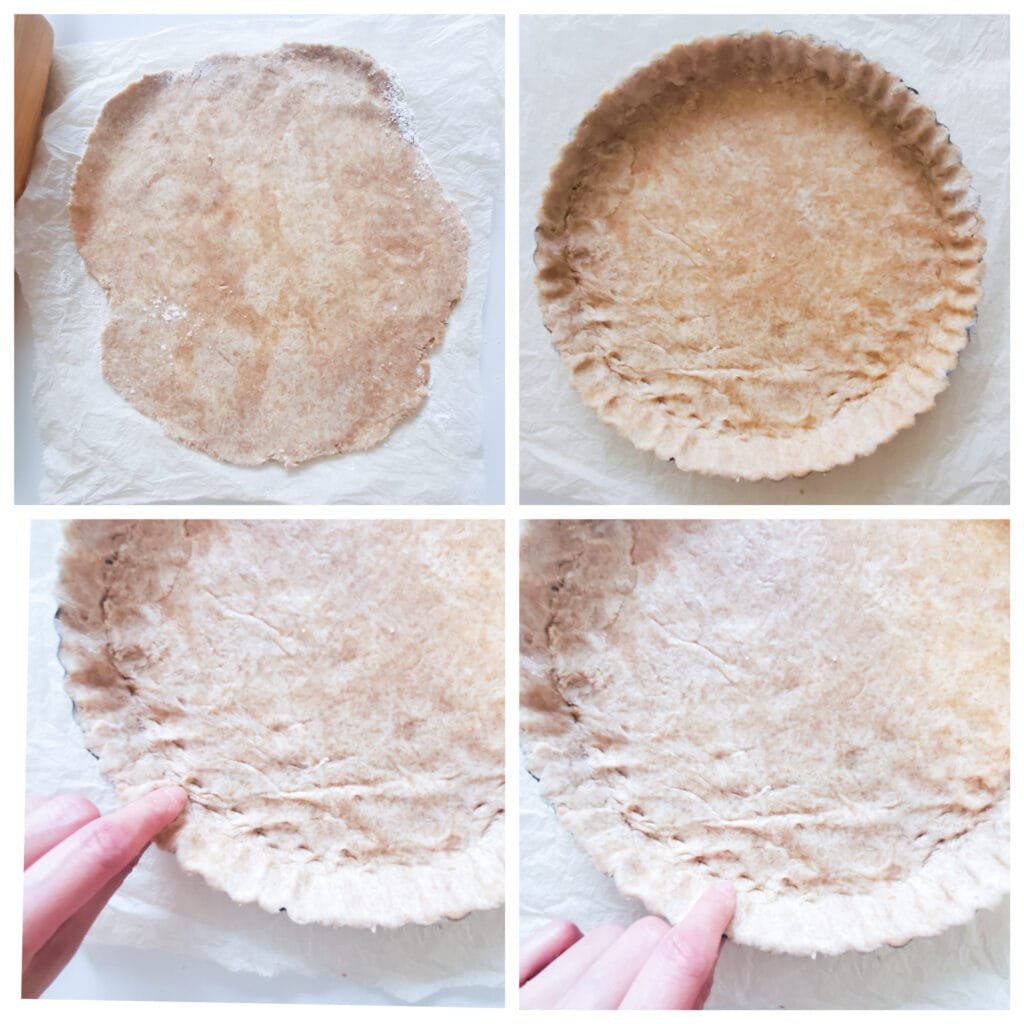 After dough is formed, roll it out to 1/4 inch thickness. Flip rolled out dough into a prepared tart or pie pan. Cut off the excess dough and the quiche crust is ready. If using a tart pan, there's no need to cut off the excess dough. Just press down on the edges and the edge of the pan with cut the dough easily. Press the dough into the pan ridges to finish the crust. Refrigerate pastry crust until you're ready to fill it.
Next, chop the vegetables and stir fry them. Set them aside in a large mixing bowl while you prepare the filling. For the filling, place tofu, nutritional yeast, vegan parmesan, soy milk, seasoning and other ingredients in a food processor. Process well until smooth. Spoon into the bowl with the veggies and mix until well combined. Taste test the filling and add more seasoning if its too bland.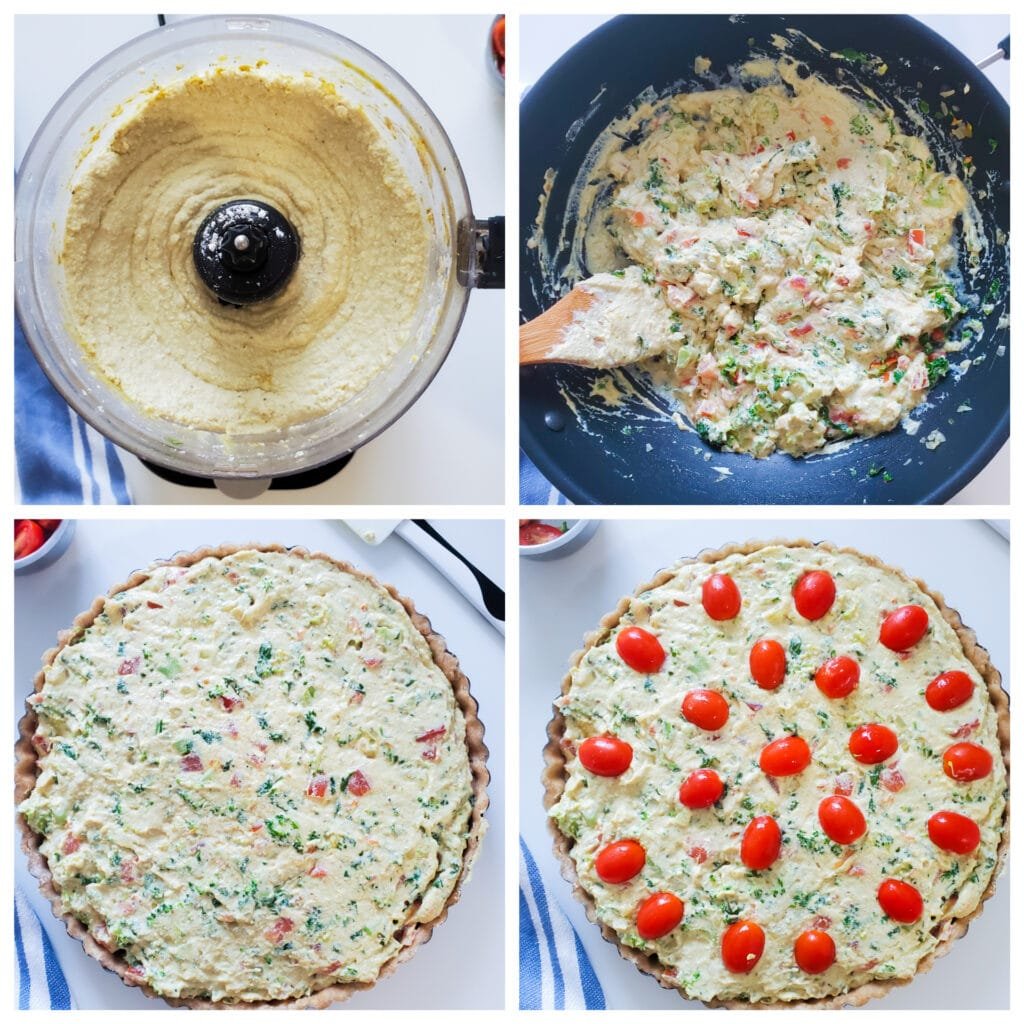 The next step is to fill your tart shell. Spoon tofu and vegetable mixture into the chilled pastry crust. Smooth out the top with a spoon or spatula. Top with cut cherry tomatoes. The quiche is now ready to be baked.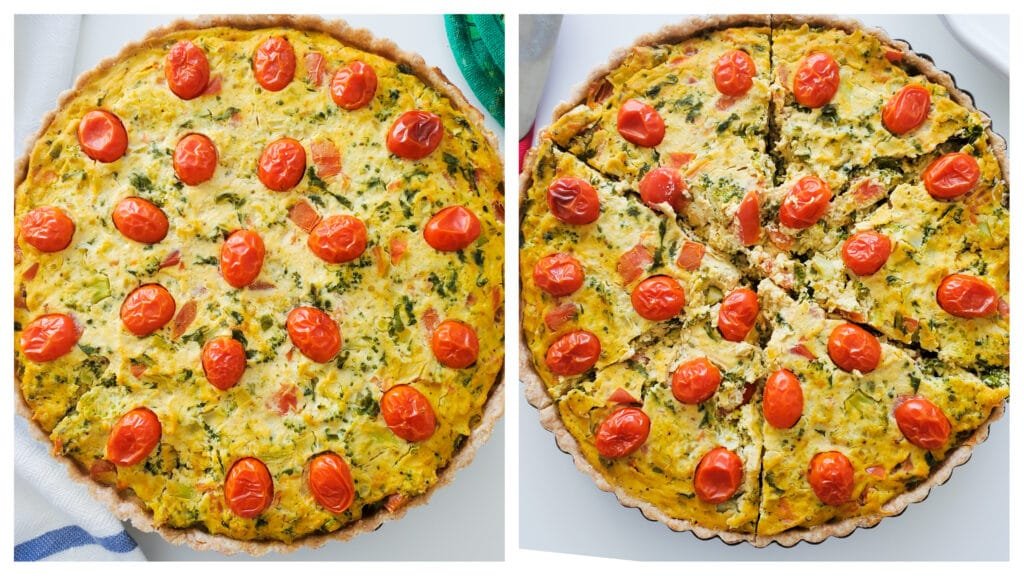 Bake at 350 degrees F for 40-55 minutes or until filling is firm and slightly browned. Turn quiche halfway through baking to insure even baking. After quiche is finished, allow it to cool in tart pan for at least 5 minutes to fully set.
Serving Quiche
Quiche can be eaten warm or cold so you can either serve it immediately or refrigerate it for later. Before serving, after it has cooled, cut quiche into 6 pieces while still in the pie plate or tart pan. Carefully remove quiche from tart pan and serve. If using a pie pan, the quiche can remain in pie plate.
Vegan quiche is delicious and tastes as good as the non vegan version. It is also healthier and cholesterol free. Perfect for dinner or a light lunch with salad, it also freezes well for a quick meal later. You can fill it whatever you desire or have on hand- mushrooms, sliced bell peppers, spinach or any other combination of vegetables. This irresistible and easy recipe is proof you don't need eggs to make a yummy quiche. Enjoy!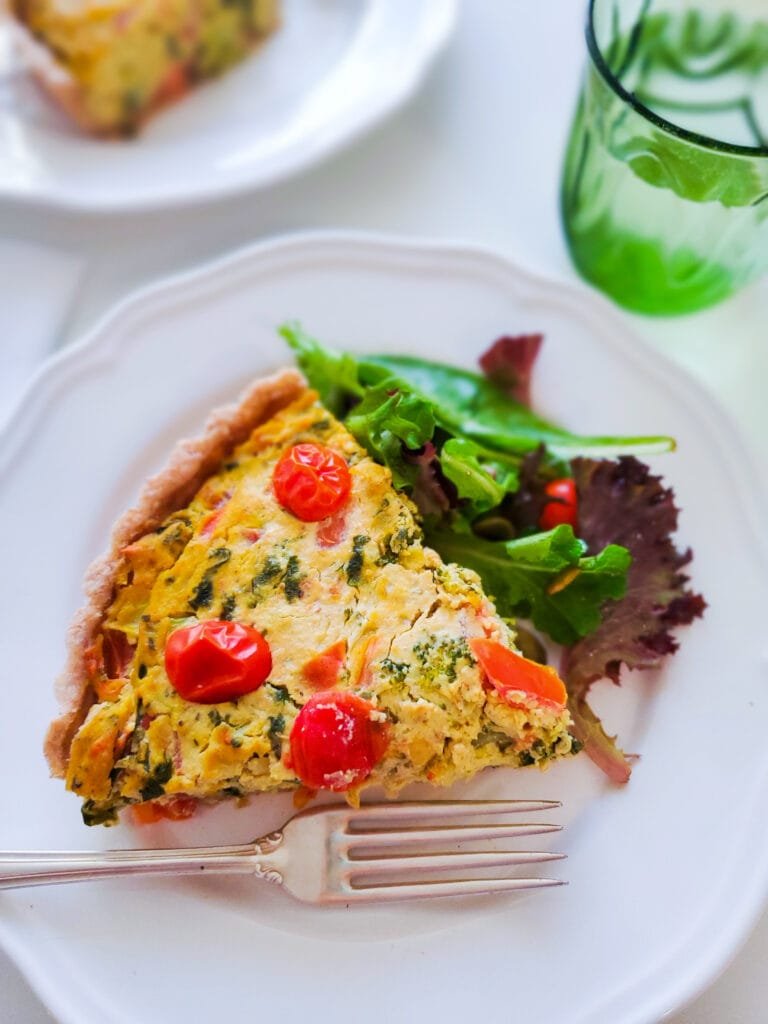 Vegan Broccoli and Tomato Quiche
Print Recipe
Ingredients
Pastry for crust:
1

cup

spelt flour

1/2

cup

All Purpose flour 

plus more for rolling

1/2

cup

vegan butter

slightly chilled

1/4

cup

ice cold water
Filling:
420

g

package firm tofu

1

tablespoon

cornstarch

2

tablespoons

nutritional yeast

2

tablespoons

vegan parmesan

1/4

teaspoon

turmeric

1/4

teaspoon

onion powder

1/2

teaspoon

garlic powder

1-2

teaspoons

stevia seasoning

or any salt free seasoning mix

1/4

teaspoon

paprika

2

tablespoons

unsweetened soy milk

1 1/2

tablespoon

fresh lemon juice

1

tablespoon

canola oil

1

small

onion

finely chopped

1

teaspoon

garlic

minced

3

cups

broccoli

chopped into bite sized pieces

2

cups

tomato

chopped

1

packed cup

kale

chopped
Garnish:
12

cherry tomatoes

halved
Instructions
Preheat the oven to 350 degrees F.

To make the pastry crust: Place the flour into a large bowl. Cut in the vegan butter using a fork or pastry cutter until the mixture has a crumbly texture. 

Pour 1/4 of the ice cold water into the flour mixture and use the fork to combine. Mix dough gently but well, adding more water if needed, until you have a soft, workable dough. Don't over mix.

To roll the dough: Lightly sprinkle a baking mat with flour. Shape the dough into a rough ball, and put it in the center of the floured surface.

Roll it out until you have a rough circle that is several inches bigger than your tart shell, to allow room for the sides and edges of the crust.

To form the pie crust: Place the tart pan over the dough and flip it over. Use a knife to cut off the excess pastry around the edges. If using a tart pan, just press dough around the edges to cut.

If there are any holes or tears in the dough, fill them with some of the extra pieces. Press dough into the sides of the pan and pinch the edges to flute.

Refrigerate pie shell until using.

To make the filling; Place the canola oil to a non stick frying pan. Add the chopped onion and minced gatlic. Saute until the onions are soft and translucent, about 1 minute.

Add the chopped broccoli, tomatoes to the pan and stir fry until the vegetables are slightly cooked, about 1 minutes.Add the chopped kale and stir fry until wilted.

Placed cooked vegetables in a large mixing bowl and set aside.

Combine the tofu, cornstarch, nutritional yeast, vegan parmesan, turmeric, onion powder, garlic powder, paprika and stevia seasoning in a food processor. Process until well mixed.

Add the soy milk and process mixture until smooth. Set aside.

To make the quiche: Add the tofu mixture to the vegetables and mix well until combined.

Spoon filling into the pie shell. Smooth top and add cherry tomato halves as garnish.

Place quiche in the oven and bake uncovered for 40 minutes until firm and golden on top, turning in oven after 20 minutes.

Allow to cool for at least 5 minutes before slicing and serving.
Notes
Quiche can be served either warm or cold.