Versatile, delicious and well worth the time it takes to make it, homemade seitan will amaze you. It's the ultimate vegan basic recipe that's extra special in every way.
Seitan is the superpopular vegan meat that's everywhere. It is made from the gluten from wheat. Once the flour from the is removed by rinsing, you are left with a chewy and meaty ingredient that you can then use in numerous dishes. Basically any dish with meat can be replicated by seitan.
Seitan has gained in mainstream popularity recently due to its recent TikTok fame. This popularity is warranted as seitan is versatile, delicious and super easy and simple to make. It takes a few hours to make and cook with, but its well worth it.
How to make seitan
To make seitan all you need is flour, water, oil and seasonings. The process takes awhile but its easy and fun to make as well. I use Mrs. Dash salt free seasoning in mine as well as vegetable soup mix I buy at my local bulk food store. Feel free to use your own favorite seasoning and vegan soup mix.
Begin by combining the dry ingredients in a large mixing bowl. Stir to mix. You add water and mix until a firm dough is created.
Once the dough is formed, place on a floured surface and knead for about 10 minutes. This helps create and bind the gluten for a more elastic seitan. You will notice a difference as kneaded flour with take on a smooth and elastic look and feel.
After kneading, return the dough to the mixing bowl and let it rest for one hour covered. This allows further strengthening and binding of the gluten.
The next step, where you rinse the seitan to remove all the wheat, is the fun part. This can take awhile but you need to be thorough. Any wheat left over will create a bready not elastic seitan and the elasticity is what gives seitan a meat like texture.
You start by covering the seitan with water and kneading it for a minute or two in the water. After kneading pour off or preserve the seitan water for making crepes or noodles (like this recipe).
Repeat the rinsing process twice, kneading a few times after each rinse. Then put the seitan into a colander. Rinse and knead until water is quite clear. I sometimes use the inside of a salad spinner for this after its becomes stringy to save time. Once it begins to become elastic and stringy, keep rinsing and kneading until water run clears.
Press water out of final seitan and place on a clean surface. Stretch it out a few times and roll it back into a ball. The more you do this the more meat like the texture will be. Cut the seitan into two pieces. Stretch each out and knot it twice. That is your seitan. Just pat it dry, coat with flour and it's ready to be cooked.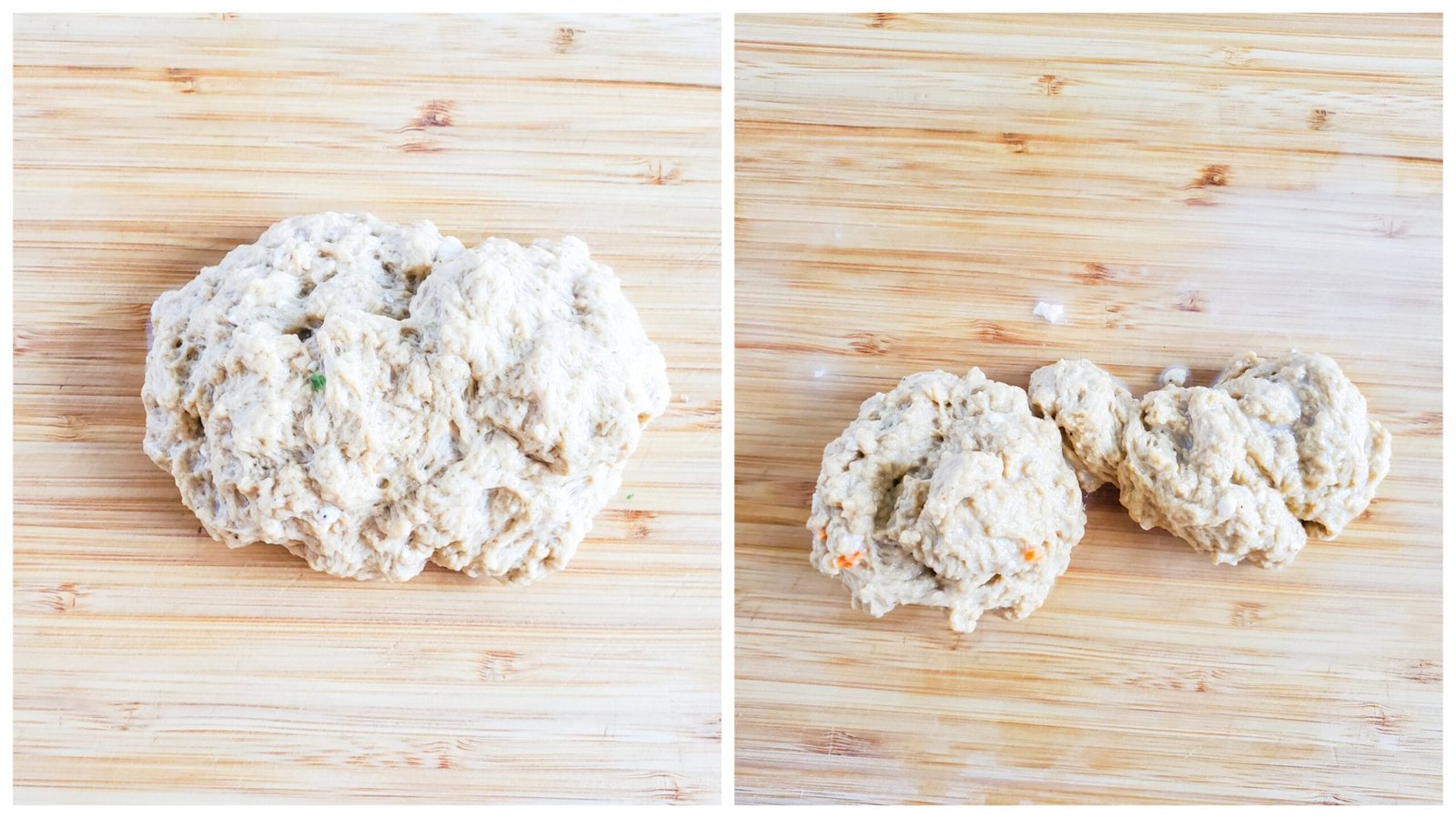 To cook, heat a little oil in a pan and add the seitan pieces. Flatten it a bit as you fry it. Stir fry on both sides until browned. Add vegetable stock to the pan to cover. I use homemade vegetable stock with vegetable puree but you can also use a clear stock. Stir regularly and cover and let cook for 20 minutes. After cooking remove from heat, let cool slightly and it's ready to use.
Cooking with Seitan
Cooking seitan is fun as you can make so many dishes with it. You can bread it and fry it as you would chicken which is my favorite way to eat it. You can also BBQ it, cut it up and use in stews, or turn it into a pot roast or sliced sandwich meat. Its has a great texture and takes on flavours very well. Delicious.
Homemade seitan is a vegan food basic that you should really give a try. It is sure to become one of your favorites and go to recipe. It is also cholestreol free and low fat. Enjoy!
Seitan
Print Recipe
Ingredients
3

cups

All Purpose flour

1

tablespoon

salt free seasoning

1

tablespoon

vegetable seasoning mix

1

teaspoon

onion powder

1

teaspoon

garlic powder

1

teaspoon

paprika

Water to cover

to cover and rinse

Oil

for frying

2

cups

vegetable stock

for simmering
Instructions
Place the flour, seasoning, onion and garlic powder, paprika and vegetable soup mix and in a large bowl. Mix until well combined.

Add 1 cup water and mix well.

Place on a clean surface. Knead until smooth and pliable about 10 minutes.

Place dough back into bowl and cover. Let sit for 1 hour.

Cover dough with water and knead again a few times. Pour off water.

Place dough into a sieve. Rinse dough under running water until it runs mostly clear and dough becomes stringy.

On a clean surface, stretch out dough a few times. Twist it and tie it twice into a knotted ball. Flatten a bit and dust with flour.

Heat a little oil in a large skillet over medium high heat. Fry seitan until browned on both sides.

Add 2 cups vegetable stock and reduce heat to medium low. Let seitan simmer for 20 minutes, stirring periodically, flipping it once.

Check for doneness by cutting a small piece off. It undercooked, return to skillet and cook up to 220 minutes more.

Remove from heat and let cool slightly.

Prepare seitan as you wish or freeze for later.