This Hanukkah favorite has been veganized and updated with added zuchinni, carrot. Onion free, gluten free and lightly fried, it is a perfect and healthy way to celebrate the traditions of this special time of the year.
Who doesn't love latkes? Fried grated potatoes served with sour cream and applesauce- yum! They really are the ultimate comfort food. Latkes are traditionally served during Hanukkah, the Jewish Festival of Lights, when they're eaten to signify the miracle of Hanukkah. If you're not Jewish and don't celebrate Hanukkah, the good news is, you can still enjoy latkes now or at any time of the year.
I decided to make my latkes a little more healthy than the traditional version by using less oil and adding grated carrot and zuchinni. I also made mine gluten free and onion free as I have sensitivity to both ingredients. The result was delicious. I served them with chopped green onion, sour cream and applesauce as is traditionally done. So yummy and so easy to make!
Making Vegan Latkes
Making vegan Latkes is very simple and only requires a few basic ingredients. You begin by making your chia eggs. Let them sit while you prepare the rest of the ingredients. Next, wash and prepare your vegetables. Grate them and place them together in a large mixing bowl. To grate the vegetables, it helps if you have a food processor but you can also just use a cheese grater and grate them by hand.
Assemble your ingredients and combine them all in the large mixing bowl. I find it easiest to do this by hand. Make sure to well mix the batter. Once batter is completely mixed, form your latkes and set them aside for frying. I always squeeze each latke over the sink or a bowl to remove excess moisture. This is very important as it helps them stick together. Too much excess water will make your latkes fall apart when frying.
Latkes are fried over medium low heat. Too high a heat will burn the outside and leave the inside raw. You want them cooked throughout so low heat works best. I coat my non stick pan with canola oil using a pastry brush. If using a regular pan you will probably need a little more oil.
Fry 3 to 4 latkes at a time. Press down on them with a spatula while they're frying to help the centers cook. It takes about 3 minutes per side for them to be cooked. Taste test one of your first batch to insure they are well cooked. Once the latkes are done, remove from pan and place on a clean dishtowel to absorb extra oil. Continue frying until all latkes are cooked and serve immediately.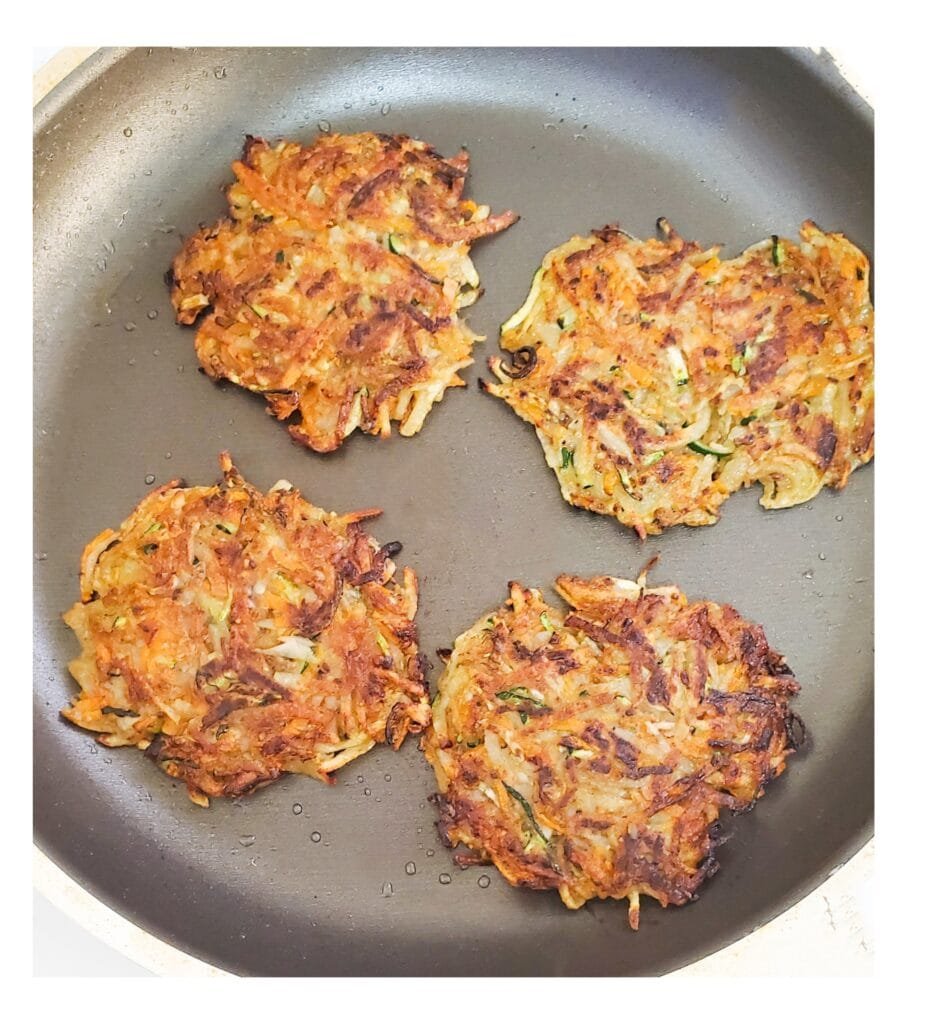 The Secret to Making Great Latkes
• Press all the water out before frying. It's excess moisture that keeps latkes from sticking together and frying crisply. I squeeze all the liquid out of each latkes before shaping and frying them.
• Fry in enough oil. I use 1/4 cup which is scant but enough. If you want really crisp latkes, use about 1/2 cup. I also use a pastry brush to insure the oil covers pan.
•Be sure to fry the latkes well. Gently pressing down on them with a spatula while frying helps insure they will be cooked throughout.
Vegetables latkes are delicious and fun to make whether you celebrate Hanukkah or not. They are low cost, healthy and easy to make. You can serve them as a side dish for a traditional Hanukkah dinner or as a light lunch. Be sure to serve them as traditionally served, with chopped green onions, apple sauce and sour cream. The sweet and savory combination tastes amazing and is a perfect complement to these festive fried potato and vegetables pancakes. Enjoy!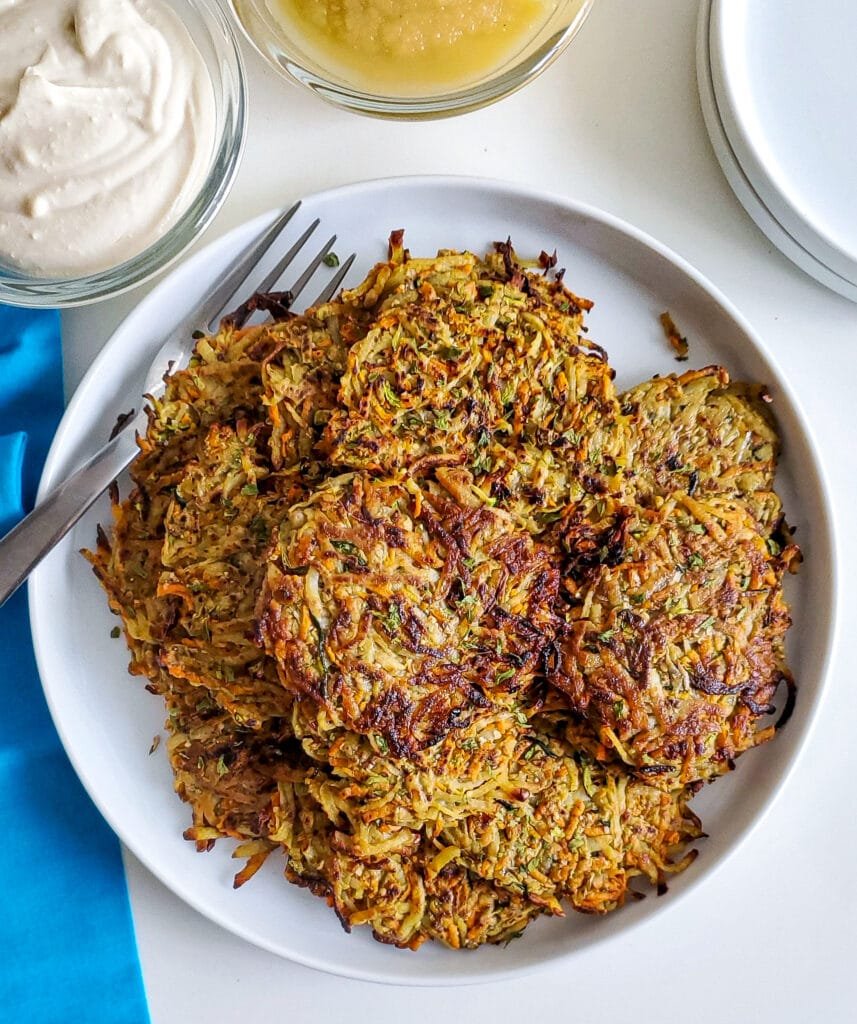 Vegetable Latkes
Print Recipe
Ingredients
4

medium

potatoes

2

large

carrots

1

medium

zucchini

2

chia eggs

2 tablespoon chia seed mixed with 6 tablespoons water, let sit for 15 minutes and stir.

1/4

cup

cornstarch

1/4

cup

oat flour

2

teaspoons

stevia seasoning

or any salt free seasoning blend

1/4

cup

canola oil

for frying

3

green onions

uniformly chopped, for serving

Vegan sour cream

for serving



Unsweetened applesauce

for serving
Instructions
Make the chia eggs and set aside.

Grate potato, carrot and zucchini in a food processor or by hand. Plave together in a large mixing bowl.

Add the seasoning and chia egg to the bowl. Mix together well, preferably with your hands. Taste test and add more seasonings if desired.

Scoop up about 1/3 cup of the mixture. Squeeze mixture together firmly over a sink or bowl to remove excess water.

Shape vegetable mixture into round flattish circles about 2-1/5 to 3 inches in diameter. Press each together well so they don't fall apart. Set each aside, making sure they aren't touching, on a lined baking sheet.

Coat a large non stick skillet well with oil using a pastry brush. Heat over medium low heat. 

When pan is hot, fry latkes for 2–3 minutes, gently pressing down with spatula while frying, Flip and fry the other side for another 2 minutes. Add more oil if they begin to stick.

Continue frying until all the latkes are cooked.

Serve immediately with chopped gren onion, sour cream and applesauce.
Notes
These are a low fat version of traditional fried latkes. If you don't have a non stick skillet or like a deep fried taste, you will need to use 1/2 cup oil for frying. 
Nutrition
Serving:
1
Latkes
|
Calories:
70
kcal
|
Carbohydrates:
9.33
g
|
Protein:
1.14
g
|
Fat:
3.31
g
|
Saturated Fat:
0.26
g
|
Sodium:
6.5
mg
|
Potassium:
168.32
mg
|
Fiber:
1.54
g
|
Sugar:
0.55
g
|
Vitamin A:
50.93
IU
|
Vitamin C:
6.67
mg
|
Calcium:
15.46
mg
|
Iron:
0.45
mg