Vegan pumpkin pie has all the great taste and pumpkin spice without any of the cholesterol and cruelty of a non vegan pie. Yummy and decadent, served with whipped topping, it is a holiday dessert that is sure to win rave reviews.
Pumpkin pie is my favorite pie and I could happily eat it at anytime of the year. But in keeping with tradition I only serve it at Thanksgiving so I'm always happy when it's October and holiday and pumpkin spice season is here again.
Pumpkin pie is one of the easiest recipes to veganize and the vegan version tastes better than the non vegan one in my opinion. It's light and full of flavour, and the perfect ending to any holiday feast.
Making vegan pumpkin pie
Every great pie starts with a great piecrust. The secret to making a really great flaky pie crust is to use cold unsalted vegan butter, cut into cubes and ice cold water to combine. Don't overhandle the pastry and be sure to wrap and chill it before use. I use regular All Purpose flour for my pastry but you can easily exchange it for a gluten free blend if you desire. You'll get the same great results.
Rollout pastry to 1/4 inch thickness. I do this on a silicone baking mat. To place the pastry into the pie plate, invert it on top of the rolled out pastry and mat, and flip them both over over. Then, press the pastry down and trim the excess pastry. You can also repair any tears in the pastry with bits of the excess. Finish by crimping the edges with your fingers and that's it. Refrigerate piecrust until your ready to use it.
The filling is very easy to make. Just combine all the ingredients and mix them together well. You can do this by hand or with an electric mixer if your wish. I use barley malt as a sweetener, along with coconut sugar, as it is lighter than the traditional molasses and sweeter as well. You can order it online or buy it at your local health food store.
The filling is then poured into the unbaked pie crust. Smooth down the filling with a spatula. The pie is then baked for 55 to 60 minutes or until the crust is nicely browned and the filling is set. Let the pie sit for an hour and then refrigerate for an hour before serving. You can serve it chilled or let it sit for an hour at room temperature before serving.
Everyone loves pumpkin pie and having a vegan holiday doesn't change a thing. Pumpkin pie and all your holiday favorites can be easily veganized without missing out on either taste or tradition. It's healthier and kinder as well. Enjoy!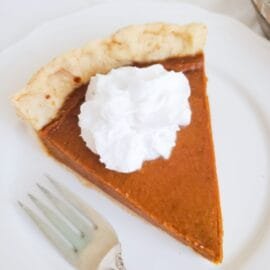 Vegan Pumpkin Pie
Print Recipe
Ingredients
Pastry
1 1/4

cup

All-Purpose flour

1/2

teaspoon

sugar

10

tablespoons

unsalted vegan butter

cold and cut into cubes

1-3

tablespoons

ice water

as needed
Filling
2 1/2

cups

pumpkin puree

1/3

cup

coconut sugar

1/4

cup

barley malt

3/4

cup

coconut cream

1

teaspoon

pure vanilla extract

1 1/2

teaspoons

pumpkin pie spice

3

tablespoons

cornstarch

Whip cream

for topping
Instructions
Pre-heat oven to 350 degrees F.

Making the pastry: Place the flour and sugar in a food processor. Pulse together the flour and butter until the mixture is crumbly.

Slowly add ice water, 1 tablespoon at a time. Pulse after each addition until the dough just comes together. The dough should be moist, but not wet.

Turn dough out onto a lightly floured surface and form into a ball. Flatten into a disk and cover tightly with plastic wrap. Refrigerate for at least 1 hour and up to 24 hours.

Once chilled, turn dough onto a floured liftable surface. Roll until 1/4 inch thickness. Once rolled out, flip pie plate onto the center of the dough. Flip entire rolling surface and plate over.

Press dough carefully into the pie plate and fill any tears with extra dough. With a knife remove excess dough and smooth top edge. Crimp the edges and set aside.

Making the filling: In a food processor, combine all of the pie filling ingredients. Blend for minute or so until creamy and smooth.

Pour the pie filling into the unbaked crust. Spread top with a spatula to smooth.

Bake in the oven for 55-60 minutes. Check pie at 40 minutes. If crust edges are becoming too brown, cover with them with tin foil or pie protectors.

Remove pie from oven. Pie crust should be nicely and lightly browned and the pie firm when lightly pressed or a tester inserted in the centre comes out clean.

Let cool in pie pan on a baking rack until cooled, about 1 hour. Finish cooling for another hour in the refrigerator.

If serving at room temperature, remove pie form refrigerator one hour before serving.

Serve chilled or at room temperature with whip cream or plain.