Super sweet, sugar free and healthy, this vegan carrot cake is sure to become a favorite. Serve it as a snack, for dessert or even for breakfast.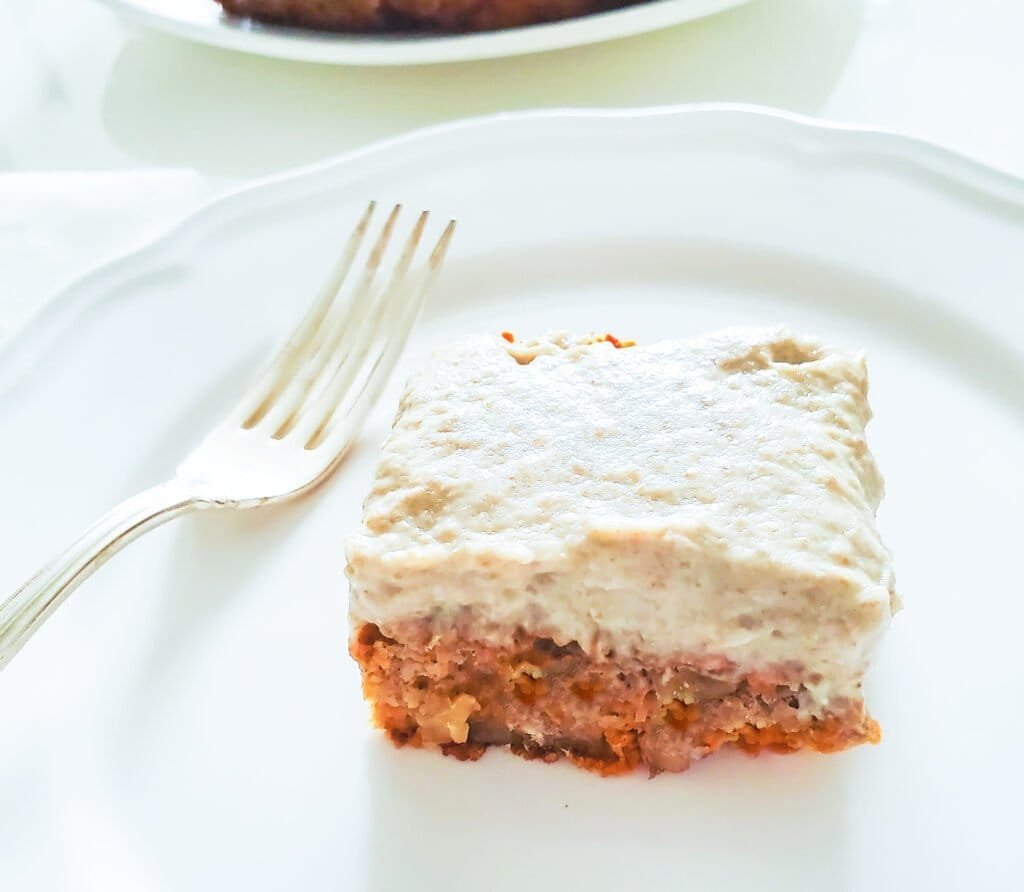 I love to make and eat cakes made with fruit. They are naturally sweet and super moist and perfect for snacking or dessert. I used to make carrot cake occasionally, but stopped when I went vegan as I couldn't find a vegan cream cheese I liked. Carrot cake has always been one of my favorite cakes so I was thrilled to discover this recipe after it popped up on my social media feed.
It seemed pretty easy to make, and delicious so I decided to give it a try. I am glad I did because this is an amazing recipe and the icing is as good as any traditional cream cheese one.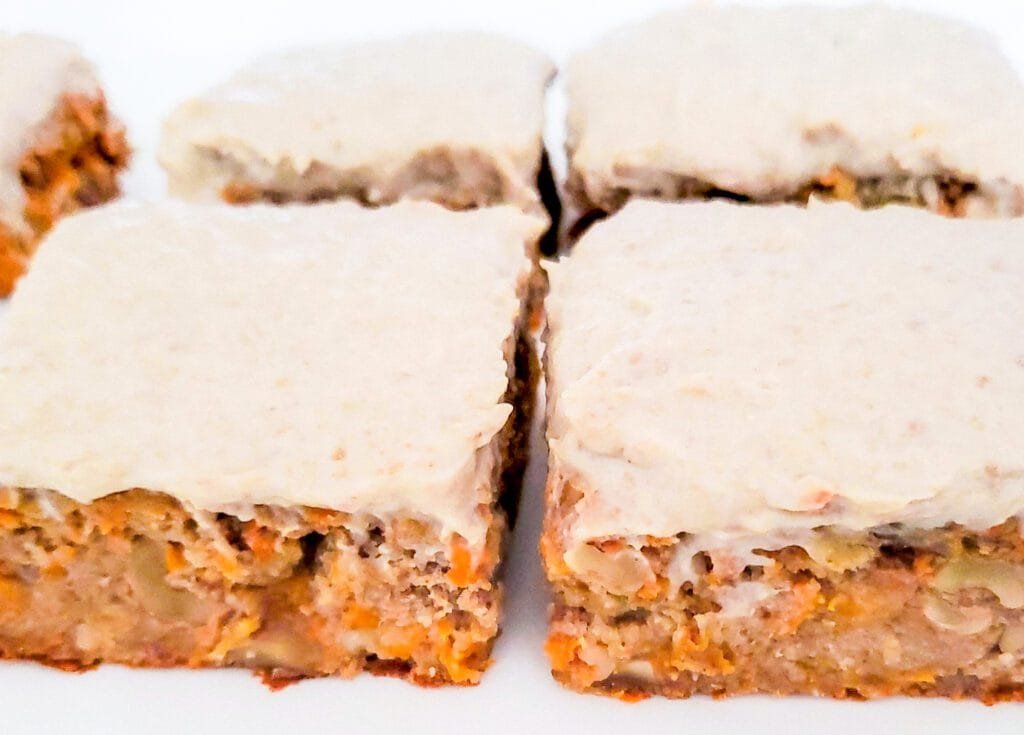 How to make vegan carrot cake
I followed the recipe I found except for one thing. I omitted the baking powder and baking soda which made it more dense and fruit pudding like. It's still light and delicious but if you prefer a fluffier cake, here is the original recipe: https://www.forksoverknives.com/recipes/vegan-carrot-cake/#gs.h136b8
I find it really helps to assemble and measure out your ingredients before starting your baking. It's easy to omit something or not be exact in your meassuring, especially when working with a new recipe.
The icing is made with simple basic ingredients and is so good! It is made with soaked cashews and dates and is a mildly sweet and super creamy frosting.
It's important with this recipe to not overmix the batter. Mix until just combined or the cake texture will be tough and chewy.
The finished cake will be crackley on top and moist inside. Let it cool completely before adding frosting. I also keep the frosting in the fridge until I use it.
This cake is a simple and sweet and sure to be a crowd pleaser. It is also low in sugar, fat and full of nutrients. Yum. Keep it refrigerated and it will last a few days. Enjoy!
Vegan Carrot Cake
Print Recipe
Ingredients
Cake:
1 1/2

cups

unsweetened plant milk

4 1/2

ounces

pitted whole dates,

chopped

3/4

cup

raisins

divided

1/2

cup

ripe banana

sliced

1

teaspoon

pure vanilla extract

1 3/4

cups

regular rolled oats

2

teaspoons

ground cinnamon

1

teaspoon

ground nutmeg

Pinch

ground cloves

1 1/2

cups

carrots

finely shredded

1/2

cup

chopped walnuts

optional
Frosting:
5

ounces

pitted whole dates

chopped

3/4

cup

raw cashews

1

teaspoon

pure vanilla extract
Instructions
Make frosting: In a blender combine the dates, cashews, and vanilla . Add just enough water to cover the mixture. Let stand for 45 minutes or until the dates and cashews are softened. 

Once softened, blend until smooth. Refrigerate until use. 

Make cake: In a medium bowl, combine the plant milk, dates, ¼ cup of the raisins, the banana, and vanilla. Let stand for 15 minutes or until dates are softened.

 Preheat the oven to 350° degrees F.

Oil and flour an 8×8-inch square baking pan and set aside. 

Place the oats in a blender. Blend until well ground. 

Transfer oats to a large bowl. Add the cinnamon, nutmeg, and cloves and stir well to mix. 

Place the date mixture in the blender. Blend until smooth. 

Add the date mixture to the oat mixture. Stir until just combined. 

Add the remaining ½ cup of raisins, the carrots, and walnuts. Stir gently until just mixed.

 Spread the batter into the prepared baking pan.

Bake for 40 to 45 minutes or until golden brown. Let cool in the pan for 10 minutes. 

Remove cake from the pan and finish cooling on a wire rack.

 Once completely cooled, spread with vanilla frosting