Sweet and moist, pineapple upside down cake is a summertime classic that's very easy to vegan and simply irresistible. Whether its served at a casual family BBQ or after a formal company dinner, it is sure to impress and earn rave reviews.
Pineapple upside-down cake with it sticky sweetness and combination of densely moist cake and the freshness of fruit is definitely one of my favorite cakes. It is also very easy to make while being both dressy and a comfort food. It's a classic for these reasons and a classic that's very easy to veganize.
How to make vegan upside down cake
Alot of pineapple upside cake recipes are far too sweet for me. This recipe which uses coconut sugar instead of brown sugar is less sweet which allows the flavour of the cake and fruit really stand out.
The recipe is very easy. You begin by adding some vegan butter and coconut sugar to the bottom of your baking pan. Arrange the pineapple on top and then add maraschino cherries.
You then make the cake batter. Once it's made, spoon it over the fruit and with a knife spread it out evenly over the fruit. The cake is baked for 40-55 minutes, left to cool for a few minutes in the pan and then inverted onto a cake plate. A super easy recipe and the results are spectacular.
I like to serve this cake with vegan vanilla ice cream but it tastes equally good with a vegan whipped topping or just plain. This recipe serves six so for larger gathering, you will need to double the recipe.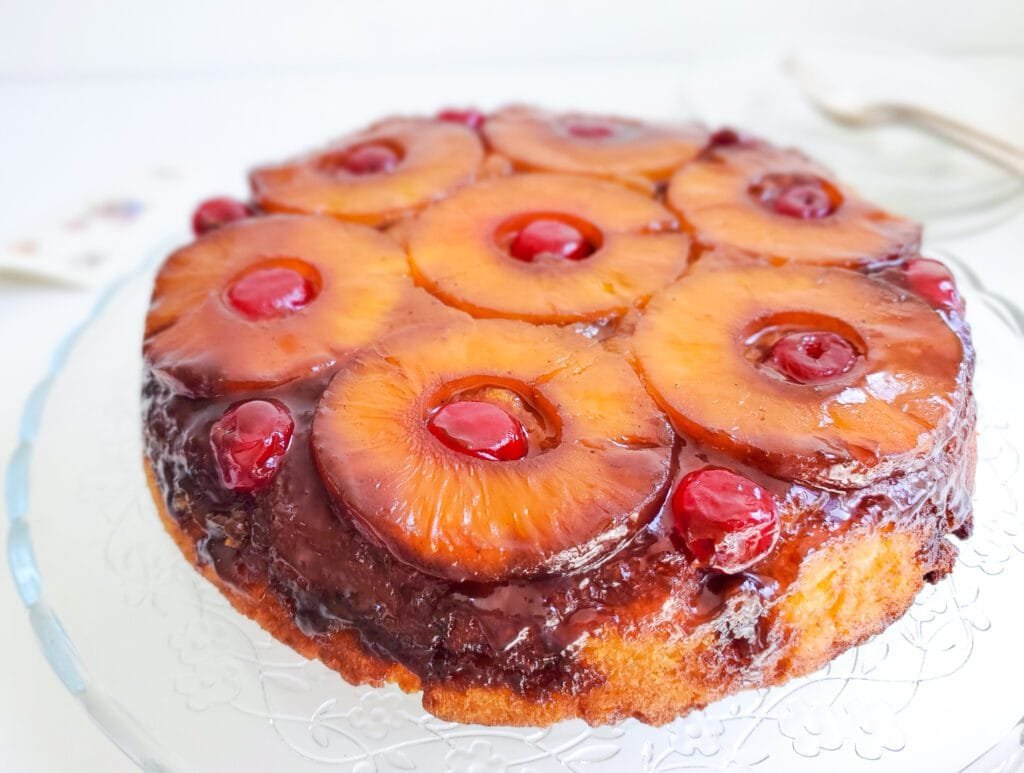 Pineapple upside down cake is a very pretty and popular cake. Due to its denseness its also easily transportable. You can also experiment with other fruits. Peaches, plums, pears also make great upside down cakes. Enjoy!
Pineapple Upside Down Cake
Print Recipe
Ingredients
1/4

cup

vegan butter

melted

1/2

cup

coconut sugar

7

canned pineapple slices

13

maraschino cherries

1 3/4

cup

All Purpose flour

1

cup

granulated sugar

2

teaspoons

baking powder

1

cup

soy milk

1

flax seed egg

1 tablespoon flax seeds with 3 tablespoon water, let sit for 15 minutes

1

teaspoon

vanilla extract

1/4

cup

canola oil
Instructions
Preheat the oven to 350 degrees F.

Well grease a 9 x 9 cake pan.

Melt the vegan butter in the microwave or on the stove and then pour it into the bottom of the cake pan. Spread it with a pastry brush so it covers the bottom of the pan.

Evenly sprinkle the brown sugar over the melted butter.

Arrange the pineapple slices in the pan.

Place maraschino cherries to fill in any spaces. Set pan aside.

To prepare the cake batter: sift the flour into a mixing bowl.

Add the granulated sugar and baking soda. Mix well to combine.

Combine the soy milk, vanilla and canola oil in a small mixing bowl. Whisk together until well combine.

Add milk mixture to the flour mixture. Stir with a spoon until just combined.

Pour batter over the pineapple slices and spread it evenly and smoothly with the back of a spoon or spatula.

Place pan in the oven and bake for 30-55 minutes.

Test for doneness by inserting a tester into the center of the cake. It's ready when it comes out clean. Make sure to only insert tester shallowly as the fruit base will remain moist and sticky.

Let the cake cool for 10 minutes before inverting it onto a cake plate.

Slice and serve while still warm.