As comforting as the classic sandwich, peanut butter and jam thumbprint cookies are a sweet treat that is irresistible. Sugar free, subtly sweet and very easy to make as well.
If you ask people what was their favorite sandwich when growing up, many would pick peanut butter and jam. I loved them too! They are the classic comfort food and a great taste combination, one that we generally give up as we reach adulthood. These cookies allows us to return to the simple tastes and pleasures of our childhood with the combined nutty creaminess of peanut butter and the sweet fruitiness of jam. They are truly delicious and a great treat to start off the new year.
One of my new year resolution is to eat less sugar this year so I decided to made these cookies sugar free. They are sweetened instead with dates which makes them just as sweet but alot healthier. I used sugar free strawberry jam as well. You can find many jams that are sugar free at your local supermarket or health food store.
Making Peanut Butter and Jam Thumbprint Cookies
These cookies are very simple and easy to make. There are only five ingredients: peanut butter, oats, dates, chia eggs and jam, and no extra mixing is needed. Just combine all the ingredients in a food processor and blend until smooth.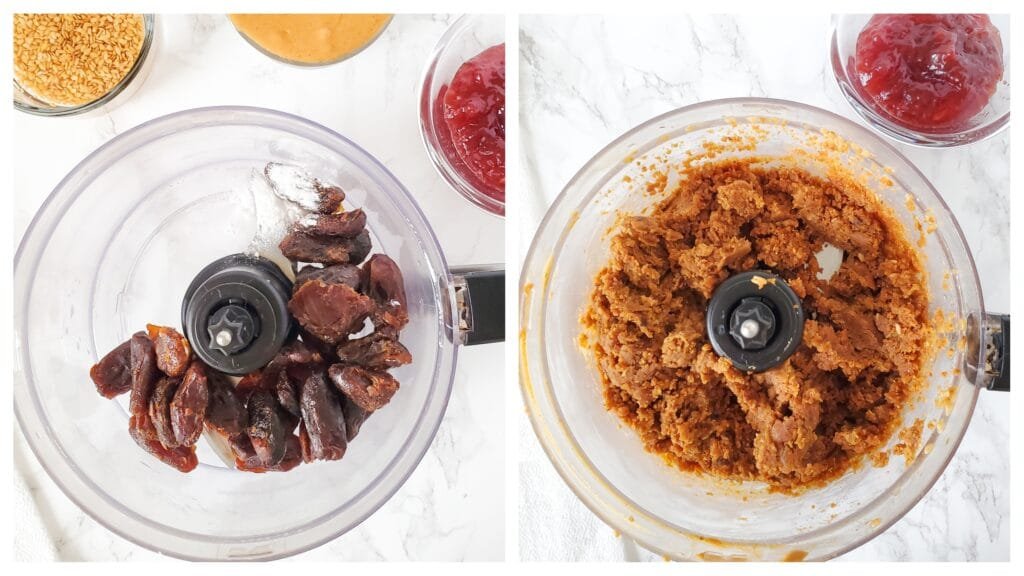 Once the cookie dough is combined, you then shape it into balls and place them on a baking sheet. Press crosswise with a fork, not pressing them as thinly as regular peanut butter cookies. Then, with your thumb, make a indentation in the center. Fill each with jam and bake.
The cookies are done when the edges are slightly browned. They will still be slightly soft. Place them on a baking rack and let them harden and cool. You will notice the jam has spread and no longer fills the indentation. That's fine. You will be adding more jam as they cool.
While the cookies are cooling, heat the remaining jam in the microwave. Spoon a little into each indention, filling them to full. Let the cookies finish cooling and hardening. Once cooled, eat or store for up to three days in the refrigerator. They can also be frozen for later use.
Healthy Start to the New Year
Every new year I try to start on a healthier note. For me, this year, that means eating less sugar. These cookies prove sugar free can be as sweet and irresistible as sugar can be. They are also high protein, gluten free, delicious, and satisfying. Enjoy and happy new year!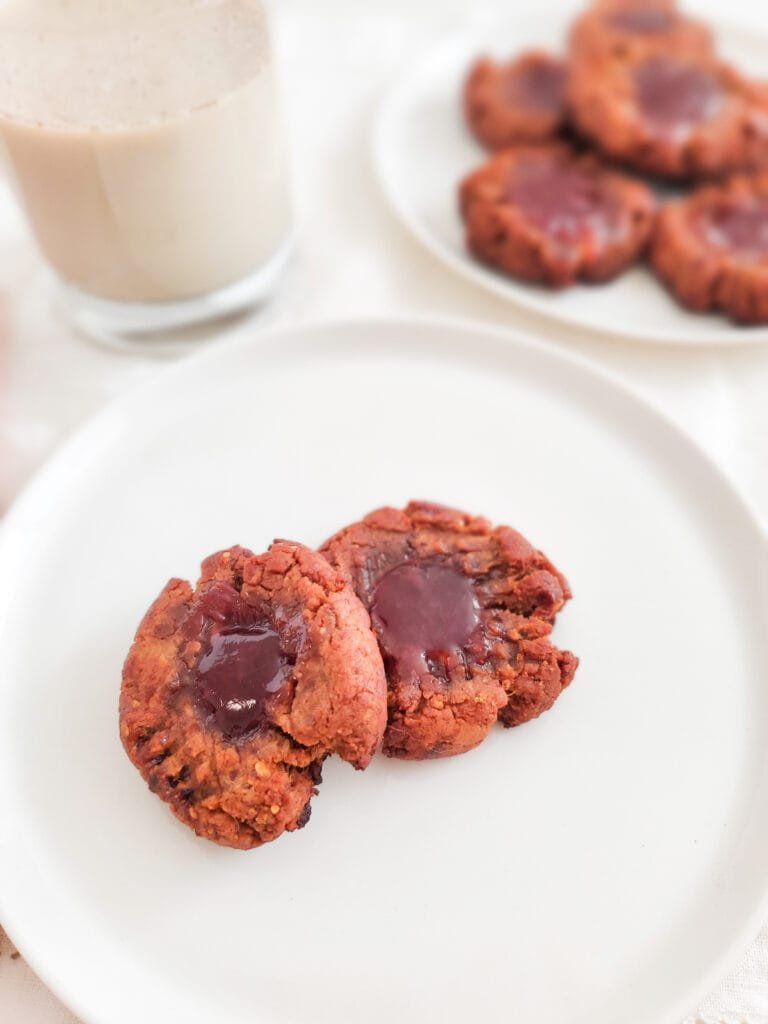 Peanut Butter and Jam Thumbprint Cookies
Print Recipe
Ingredients
1

cup

pitted dates (8 ounces)

soaked overnight and well drained

1

cup

peanut butter

1

ground flax or chia seed egg

1 tablespoon chia seed mixed with 3 tablespoons water, let sit for 15 minutes and stir

1

teaspoon

vanilla extract

1/2

teaspoon

baking powder  

1/2

cup

sugar free jam 
Instructions
Preheat the oven to 350 degrees Fahrenheit. Line a baking sheet with a silicone baking mat or parchment paper. Set aside.

Place the dates, peanut butter, ground flax, water, vanilla, baking soda, and vinegar in a food processor. Process just until a sticky, fairly smooth batter is created. Do not overprocess.

Scoop out the dough in tablespoons. Roll dough into a ball with your hands. Place rolled dough on prepared baking sheet. Repeat with the remaining batter, spacing each ball about an inch apart.

With a fork slightly press down and flatten dough crosswise. Don't flatten as much as you would a regular cookie.

Once cookies are flattened, with your thumb make a deep indention in the centre of each cookie.

Using 1/4 cup of the jam, spoon it into each indention, filling them.

Place cookies in the oven and  bake until the edges of the cookies start to lightly brown, about 13 to 15 minutes. Check after 13 minutes to insure the cookies aren't burnt. They can burn quickly.

Once done remove baking sheet and transfer cookies to a baking rack. They will still be soft but will harden as they cool. Let cookies cool completely before serving.

While the cookies are hardening, place the remaining jam in a small microwavable bowl. Microwave it on high for 30 seconds. Spoon into the indentation of each cookie, filling them.

Store cookies refrigerated or freeze for later.
Nutrition
Serving:
1
Cookie
|
Calories:
107
kcal
|
Carbohydrates:
12
g
|
Protein:
3
g
|
Fat:
7
g
|
Saturated Fat:
1.34
g
|
Sodium:
2.34
mg
|
Potassium:
124.06
mg
|
Fiber:
1.45
g
|
Sugar:
8.13
g
|
Vitamin C:
0.03
mg
|
Calcium:
10.69
mg
|
Iron:
0.33
mg