A surprisingly simple pasta dish, Fettuccine Alfredo is also very easy to vegan. Perfect for dressy occasion or for everday, it's a versatile classic that can be enjoyed at anytime.
Before becoming vegan, fettuccine alfredo was one of my favorite pasta dishes. Creamy, garlicy, sophisticated yet very easy to make, it was my go to meal when I wanted something that was a little extra special. Now that I am vegan, the good news is that fettuccini alfredo is completely easy to veganize and it loses nothing in terms of taste, creaminess, flavour or dressy appeal.
Making Vegan Fettuccine Alfredo
The recipe for fettuccine alfredo is very easy, uses only basic recipes and takes less than an hour to prepare. I use plant based milk but if you want to ho the tradtional route, you can also use plant based cream. Just keep some of the pasta water to thin the cream if necessary.
You begin by cooking and draining the pasta, which is then set aside. Make sure the noodles are al dente, "with bite", meaning they are slightly undercooked with a firm texture.
Next, you begin the Alfredo sauce. It is prepared in a large saute or deep fry pan. You will be adding the pasta later so make sure it is large enough for it. Begin by adding the vegan butter to a pan with the garlic over medium heat. Stir until the butter is melted and garlic aromatic and cooked, but not browned. Add the flour and stir until it's completely mixed in. Next, add the plant based milk or cream, nutritional yeast, vegan parmesan, the rest of the seasonings and lemon juice. Stir well until everything is mixed. The lemon juice might cause the milk to seperate but just keep stirring, it will smooth out again.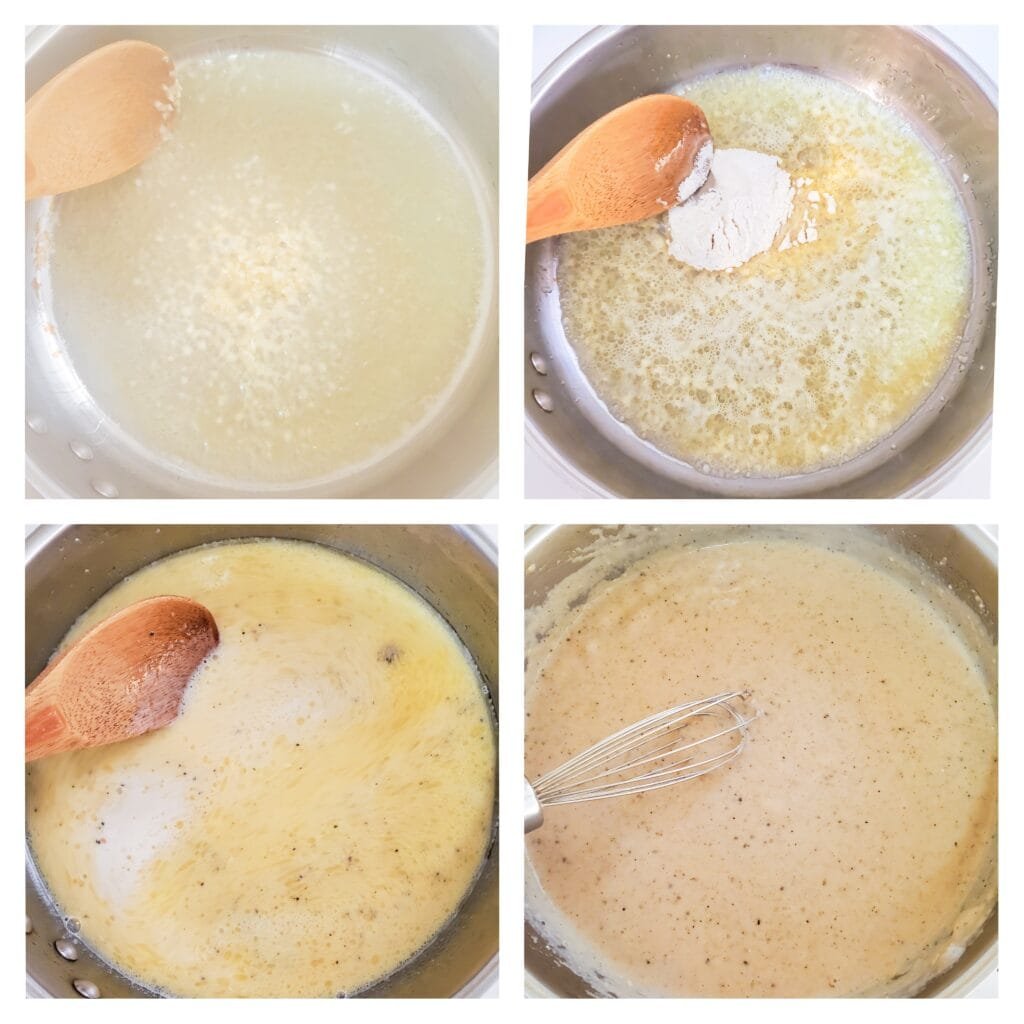 Reduce heat to medium low and keep stirring well until the sauce thickens and starts to appear creamy. Once creamy, turn off the heat, add the well drained pasta and stir until pasta is well covered. Serve immediately and top with chopped fresh parsley.
The perfect pasta dish for all occasions
Fettuccine Alfredo is very delicious and healthy and since it's vegan, it has no cholesterol. It's also perfect for any occasion or situation. You can serve it as a no fuss holiday dinner or a dinner party as well as a family favorite anytime meal.
This recipe proves that being vegan doesn't mean you have to give up your favorite recipes because of dairy ingredients. Plant based milks and cream are perfect substitutes for dairy ones and are alot healthier and cruelty free as well. Please give this classic recipe a try and prove it for yourself. You and you're guests are sure to be wowed. Enjoy!
More easy and delicious pasta recipes
Most pasta is already vegan, but even sauces made with cream and cheese can easily be made vegan. Here are some recipes to try:
Pasta with Creamy Zucchini Sauce
Spaghetti with Lentil Bolognese
Spaghetti with Roast Squash, Swiss Chard, Tomatoes and Tofu
Vegan Fettuccine Alfredo
Print Recipe
Ingredients
1/2

package

Fettuccine pasta

1/2

cup

reserved pasta water

if needed

5

tablespoons 

vegan butter

4

cloves

garlic

minced

2

cups

unsweetened soy milk

2

tablespoons 

flour

preferably gluten free but any flour will do

1/2

teaspoon 

salt free seasoning

commercial or homemade

1/4

teaspoon 

nutmeg

1/4

teaspoon

black pepper

1

tablespoon

nutritional yeast

1

tablespoon

vegan parmesan 



1/2

lemon

juiced

2

teaspoons

fresh Italian parsley

chopped
Instructions
In a large pot, add water and bring it to a boil. Add fettuccine noodles and cook according to instructions for al dente on package. Once cooked pour into a drainer and set aside.

In a large skillet or deep fry pan, heat the vegan butter over medium heat. Add the minced garlic and cook for 1 minute or so, until the garlic is aromatic and cooked but not browned.

Add the gluten free flour. Stir until well mixed.

Add the soy milk or cream as well as the lemon juice, nutritional yeast, vegan parmesan and the seasonings. Stir well for 1 minute to mix and to prevent curdling.

Reduce heat to medium low and cook sauce, stirring constantly, about 5-8 minutes. You will know its done when it becomes creamy, not runny. If too thick, add some of the pasta water until it's a creamy consistency. Turn off heat but keep pan on the burner.

Add the cooked fettini noodles and gently stir them until they are well coated with sauce. Remove pan from heat.

Serve immediately. Garnish with chopped parsley.