Healthy and delicious, Vegetable Tempura is a classic Japanese recipe that's really worth the effort. Deep frying makes the batter crisp and keeps the vegetables fresh. Fun to make and eat, it's sure to impress.
I loved Tempura from the first time I tried it. Crisp and light and full of vegetable flavour, it was like dressy onion rings without the leaden coating and heaviness. I never tried making it at home as I thought it was a difficult recipe but as it's AAPI Heritage month, I decided to give it a try.
Tempura is a Japanese method of quick deep frying that retains nutrients, flavour and crunch. The batter is made with carbonated water which makes it very light. Deep frying vegetables quickly in the batter really allows you appreciate their flavour and quality. It is a great recipe for parties as either an appetizer or main course and is sure to impress your guests.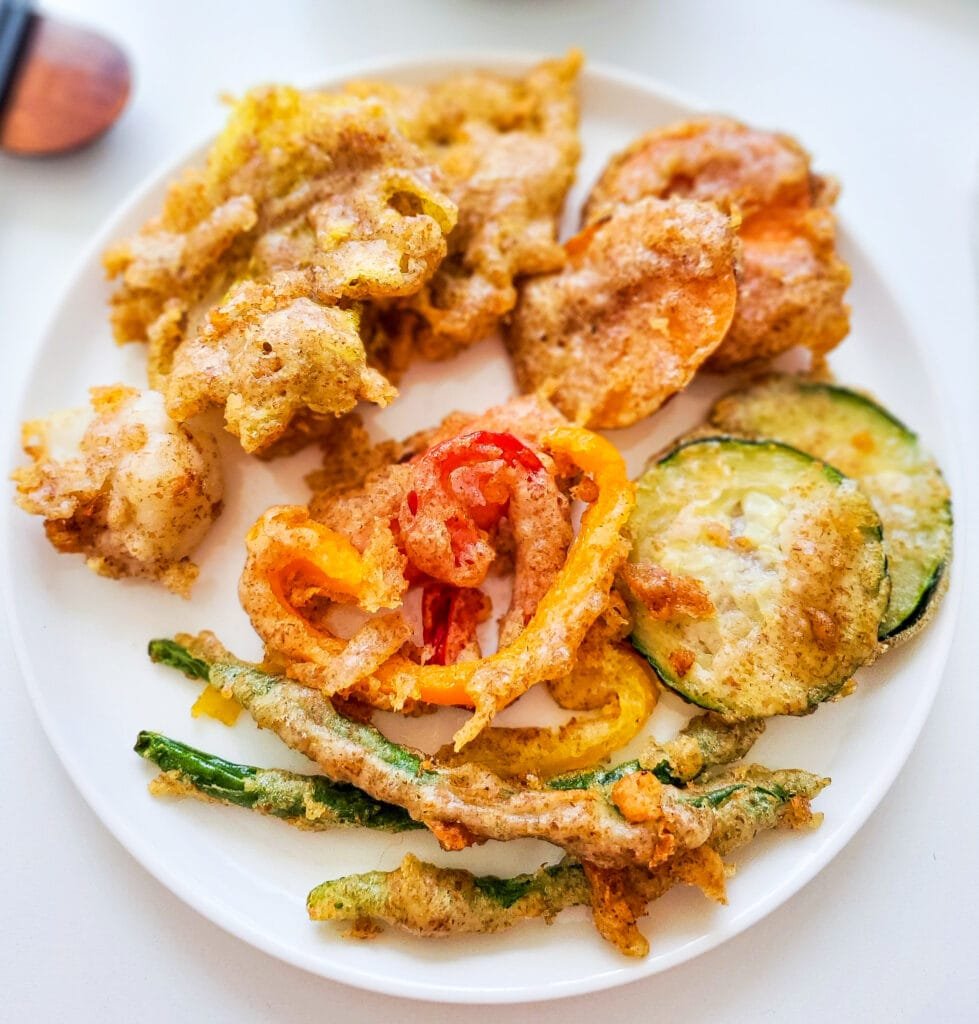 Making Vegetable Tempura
Vegetable Tempura uses the same method of deep frying as you would use with any breaded vegetable. You begin by choosing and preparing your vegetables. You can choose any vegetable as long as its not too soft. For this recipe I choose yams, baby carrots, bell peppers, napa cabbage, cauliflower and green beans. Be sure, when frying hard root vegetables such as yams. to slice them finely so they can cook through.
Once the vegetables are prepared, make your batter and set aside. Begin the deep frying by heating oil in a deep Dutch oven or wok. Once sizzling hot ( test by dropping a drop of water into the oil, it should sizzle), dip your vegetables one at a time in the batter, and remove any excess batter with your fingers. Place on a plate and prepare a few more.
Once you have four or so vegetables battered, place them in the pan or wok, one at a time. Stir immediately and gently so they don't stick to the pan. With a wooden spatula or choostick, keep the tempura moving around the pan and let fry for a minute or so, turning once.
Once the batter is crisp and golden, remove and let drain on paper towels or a clean cloth. Pat gently to remove excess oil. Continue battering and frying until all the vegetables are fried.
Once the tempura is finished frying, arrange it on a large serving platter and serve immediately with a soy sauce dipping sauce.
Perfect for a light meal
Tempura is great for a light meal as well as an appetizer. It is super healthy and as beautiful to look at as it is to taste. Perfect for impressing guest or for a light and colourful meal on a chilly, grey day.
There are so many nutrients in vegetables and flash frying, as you do with tempura, insures none of them are lost. The quick frying also retains the amazing crunch and flavour of the vegetables. Tempura gives new life to eating vegetables and evokes a time when eating and cooking was fancy, fun and special. It's a delicious way to eat vegetables and experience the taste of Japan. Enjoy!
More Vegan East Asian Recipes
East Asian food is very easy to veganize as it features alot of fruits and vegetables. Here are some yummy Asian recipes for you to try:
Watermelon Rind Kimchee Pickles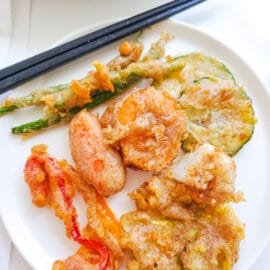 Vegetable Tempura
Print Recipe
Ingredients
Batter:
1

cup

wholewheat flour

2

tablespoons

cornstarch

1

tablespoon

baking powder

1

cup

sparkling water
Vegetables:
8

baby carrots

1

sweet potato

halved and thinly sliced

1

pint

fresh green beans

1/2

large red bell pepper

julienned

1/2

large yellow bell pepper

julienned 

1/2

large head

cauliflower

chopped, flowerets only

4

large

napa cabbage leaves

cut into 6 pieces

2

cups

canola oil

for frying
Dipping Sauce
1

cup

soy sauce

1

teaspoon

rice vinegar

or regular vinegar

2

tablespoons 

agave nectar

2

tablespoons 

chopped green onion

as garnish

Red chili flakes

as garnish
Instructions
Make the dipping sauce and pour into small bowls or serving dish. Keep chilled until serving.

Wash and prepare your vegetables and arrange on a large plate

Combine the wholewheat flour, cornstarch and baking powder in a large bowl and whisk until well combined.

Add the sparkling water to the flour gently. Stir until just mixed. Set aside.

Dip vegetables into the batter, one at a time. Shake or brush off any excess batter. You want a light coating. Place dipped vegetables on a plate. Dip the vegetables in several batches.

Pour the oil into a deep dutch oven, deep skillet or large wok. Heat until water sprinkled on it sizzles.

Add the veggies one at a time, immediately stirring them with a woden stapula or chopstick so they don't stick to the pot. Add three of four more veggies following the same procedure.

Fry, stirring gently for 1-2 minutes. Flip and cook for 1-2 minutes more or until batter is crisp and golden.

Once fried, remove vegetables from oil and let drain on paper towels or a clean cloth. Pat gently to remove excess oil.

Repeat steps until all the vegetables are cooked.

Arrange tempura on a large serving platter and serve immediately with dipping sauce.