Korean Strawberry Milk is a sweet, refreshing modern take on the classic milkshake. Made with fresh strawberries and your favorite plant based milk, it's pleasantly surprising and sure to please and amaze you.
Over the past two years, I've been watching alot of Korean cooking videos. They bring back memories of my homeland and also inspire me with new inventive dishes to try. One of the most interesting recipes I discovered was Korean strawberry milk.
I was skeptical at first as I hate lumpy food but I gave it a try and was amazed and delighted. Strawberry milk is perfectly sweet and creamy and so fresh. It's very simple to make as well, with just three ingredients. A really lovely, refreshing beverage that makes great use of in season strawberries.
Making Korean Strawberry Milk
Making strawberry milk is very simple. You begin by chopping fresh strawberries into bite size pieces. I prefer organc strawberries which tend to be bigger and more flavourful out of season but use whatever you prefer.
The strawberries are then placed in a food processor with sugar. They are processed until well combined, slightly chunky, and with small bits of strawberry remaining. Next, pour the processed strawberries and sugar into a small pourable container such as a glass mixing cup.
To make the strawberry milk you just need this mixture, your favorite unflavoured, unsweetened plant based milk and whole strawberries for garnish. Just make sure everything is well chilled before making.
To start, place 1/4 cup of the strawberries per serving in the bottom of a tall glass. Pour in milk gently. Garnish the glass with a whole Strawberry split nearly completely so it can sit on the rim of the glass. Serve with a long handled spn or a reusable straw.
To drink, just give the milk a stir so the strawberry is combined. Drink immediately. The taste is like a milkshake with delightful bits of fresh strawberry. Unusual but so amazing and great.
Refreshing, healthy and perfectly sweet
For those tired of the usual smoothie or ice tea, strawberries milk is a lovely, pretty and refreshing change. The fresh taste of strawberries is one of summer's great pleasures and this milk beverage fully allows them to shine.
You can bottle it for a picnic or make a large batch to adds some charm to a vegan barbecue party. You can also enjoy it on your own any time you need a pick me up, and want to relax with the fresh sweetness and creamy goodness of strawberry and plant based milk. Enjoy!
Cool Drinks for Summer
Nothing is more refreshing in the summer than a nice, cool drink. Here's another recipe to try: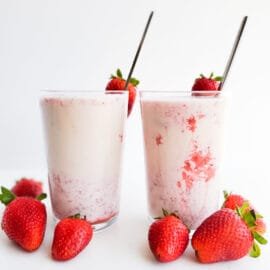 Korean Style Strawberry Milk
Print Recipe
Ingredients
14

fresh organic strawberries

washed, quartered and stem removed

1/3

cups

granulated sugar

2

cups

soy milk

or any unsweetened, unflavoured plant milk
Instructions
Chill all ingredients for at least 1 hour.

Wash the the strawberries strawberries and remove the stems. Cut into into small pieces and place in a food processor.

Add the sugar to the food processor and blend until well combined with small strawberries pieces remaining.

Pour strawberry mixture into a container.

Spoon 1/4 cup strawberry mixture into each serving glass. Gently pour the milk on top.

Slice a fresh strawberry and add to the top of the glass. Serve chilled with a long spoon or reusable straw.