Creamy and nutty vegan White Chocolate Bark is the perfect treat for any holiday season. It's so easy to make and impossible to resist.
My favorite chocolate is definitely white chocolate. I grew up eating almond bark and loved the combination of the subtly sweet creaminess of white chocolate with the crunch and satifaction of nuts. A match made in heaven and thankfully easily made vegan as well.
For this recipe I use almonds and a trail mix that had goji berries, mulberries and pumpkin seeds. They add alot to its visual appeal and taste. The result is spectacular and perfect for enjoying or gifting at anytime of the year.
Making Vegan White Chocolate
Making vegan white chocolate bark is a very easy process. You will need cocoa butter, soy or coconut milk powder (when using coconut milk powder, make sure it doesn't have added milk ingredients), icing sugar, pure vanilla, raw almonds and trail mix. Tip: For this recipe having a food scale is really helpful. I use mine for alot of recipes, especially those from the UK or Europe who use the metric system for recipes.
You begin by measuring out the cocoa butter and then melting it in a bowl over a pot of boiling water. When it is almost completely melted, remove it from the heat. Keep stirring to melt the remaining pieces of cocoa butter and then pour it into a blender. Add the icing sugar, soy milk powder, and vanilla and blend until smooth.
The chocolate is then pored into a prepared 8×8 inch baking dish. I line mine with parchment paper, but to be zero waste you can use a silicone baking pan instead.
Next, sprinkle the almonds and then the trail mix on top. Let cool undisturbed for an hour at room temperature and then refrigerate for 2-3 hours until it's completely hardened.
To serve, remove from baking dish and break apart using the tip of a knife. You can break it into whatever size or shaped pieces you want. You can also cut it into uniform pieces. To store, keep it in a covered container in the fridge and eat within a 2-3 days.
Perfect treat for gifting
White chocolate is my favorite for both gifting and eating. It's perfect at anytime and especially during the holidays seasons. Adding almond and trail mix makes this bark more interesting and irresistible. It tastes creamy and sweet and nutty all at once.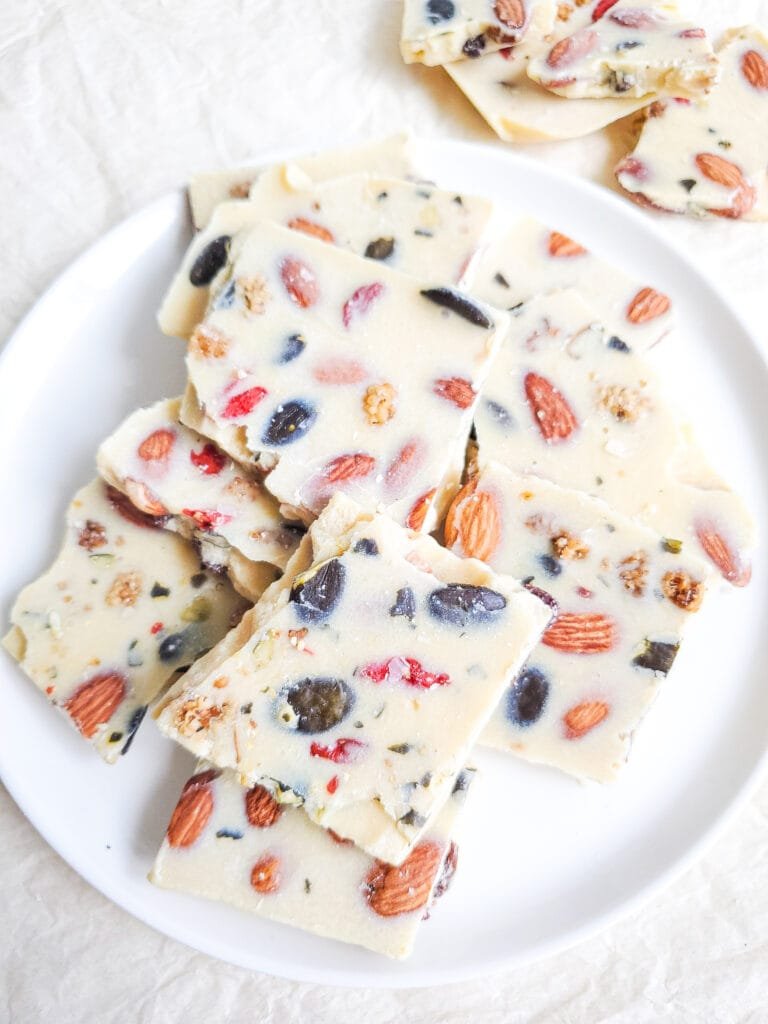 Vegan treats for the holidays and at anytime are the kind and healthier choice. They're so easy to make and when making your own, easily made to your specific taste. Vegan white chocolate bark is a wonderful way of celebrating and of enjoying the deliciousness and variety of vegan chocolate. Give it a try and enjoy!
More Holiday Treat Recipes
Cherry Peppermint Rice Crispy Treats
If you make this recipe, please leave a comment below. Also, feel free to post your creations on Instagram or Twitter and tag me @unarosevegan.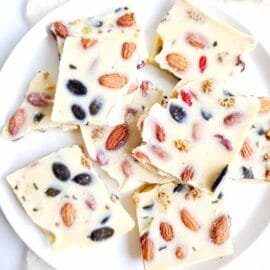 Vegan White Chocolate Bark
Print Recipe
Ingredients
1 1/4

cup

organic cocoa butter

175 gm

1

cup

icing sugar

6

tablespoons 

soy milk powder

1

teaspoon

pure vanilla extract

1/2

cup

raw almonds

1/2

cup

trail mix with going berries
Instructions
Line an 8×8 baking pan with Parchment papers or use a silicone baking pan. Set aside.

Fill a medium size pot of water with 2 inches of water. Place on stove and bring to a boil.

Place a medium size heat resistant mixing bowl on top of the boiling water, making sure the water isn't touching the bottom of the bowl.

Pour the cocoa butter into the bowl and stir until it's 90% melted. Remove bowl from heat and stir until all the cocoa butter is melted.

Pour the cocoa butter, icing sugar, soy milk and vanilla in a blender. Blend until completely smooth.

Pour the mixture into the prepared baking pan. Tap pan on counter a few times to smooth it out and release any air bubbles.

Sprinkle the almonds and trail mix evenly on top of the chocolate.

Let  sit at room temperature for 1 hour.

Refrigerate pan for 2-3 hours until completely set.

Break or cut chocolate apart to serve. Store in the refrigerator.