Spaghetti with squash and swiss chard make a basic meal spectacular. I add roast tofu as well to add more protein and texture. Delicious, healthy, made with fresh ingredients and rich flavours, this pasta is sure to become a favorite.
Pasta has always been my go to comfort food in good times and bad. It's yummy, filling and can be very healthy depending on the pasta and what you top it with. During the lockdown I've been searching online for inspiring pasta dishes and that's where I found the inspiration for this amazing recipe.
This pasta is served with fried tofu, marinated, roast squash, cherry tomato, sliced carrot, and swiss chard. It's a great taste combination of the sweetness of the squash and carrot, and the slightly bitter chard and acidic tomatoes. Roasting them also really bring out their flavour.
Note on seasoning
With any simple dish seasoning really matters. You may have noticed in my savory recipes I never use salt. I use my own seasoning blend of stevia leaf powder, mustard powder and pepper. For added zest, I use citrus juice and sometimes onion or garlic powder and spices. Salt is just a habit, a preservative and unless you really love the taste, which I don't, you don't need it for flavouring. It's also really unhealthy and causes stress, so if you can, try to learn to cook without it. In all my recipes, you can, of course, use your own seasoning blend if you prefer.
Making Spaghetti with Squash and Swiss Chard
The ingredient list for this dish is very basic. Just pasta, vegetables, fried tofu, oil, nuts, some seasoning and vegan parmesan thats all. The secret of it's deliciousness is to well marinade and roast the veggies, and to cook and season the pasta well. Start by cooking the spaghettini following the instruction on the package. Once cooked, reserve 1 cup of the pasta water, drain the pasta well and set aside in the refrigerator. Next, fry the tofu in a wok or frying pan. Doing this beforehand saves time.
Roast vegetables in two batches. Marinade the vegetables first,then lay them out on two baking racks. Bake each until well roasted and set aside. When roasting the vegetables use a timer and be sure to check them often.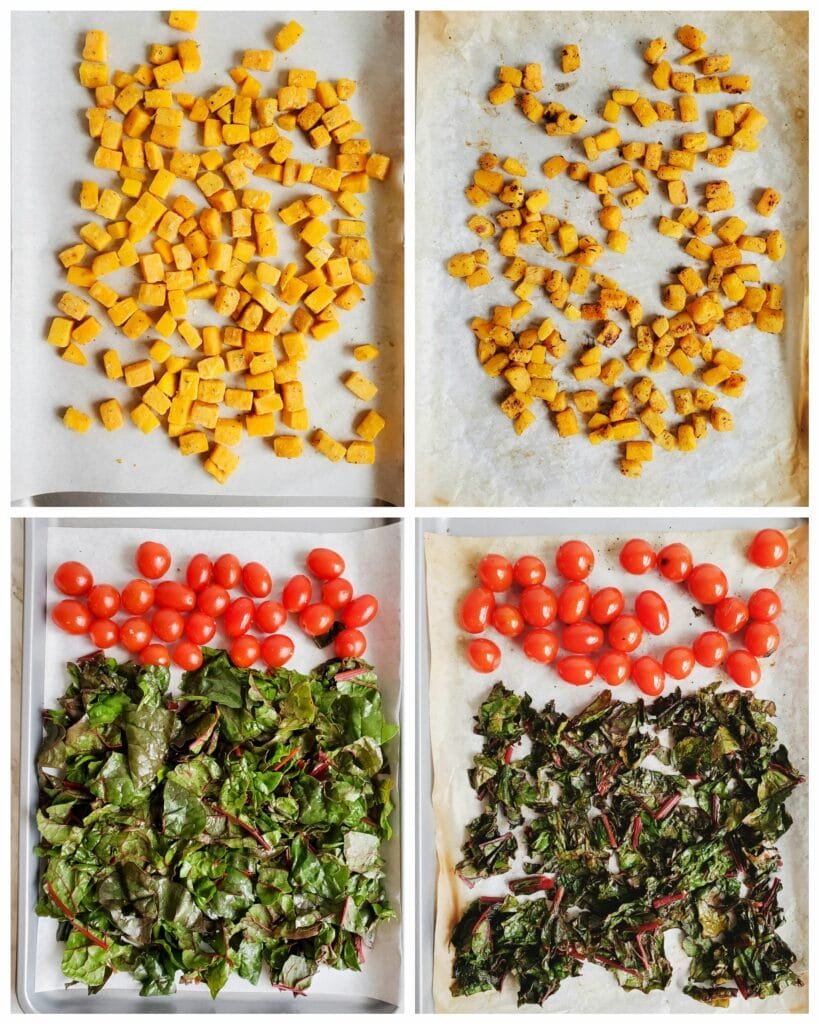 Cook the pasta by first stir frying the onion and garlic in little olive oil. Add the seasonings,lemon juice and then the cooked, drained spaghettini. Stir, adding a little pasta water if too dry. Once the spaghettini, onion, garlic and seasoning are hot and well mixed, add the still warm vegetables, adding the squash last. Toss very gently to mix. If you mix too vigorously the squash will become mushy.
Once everything is well heated, plate the pasta on four plates, serve with vegan Parmesen cheese and chopped walnuts. So delicious!
Healthy and delicious
In these colder months it's important to eat a varied and healthy diet. This year even more so. This dish checks all the boxes and is a super delicious, easy but dressy pasta that is sure to become one of your favorites as it's become mine. Enjoy!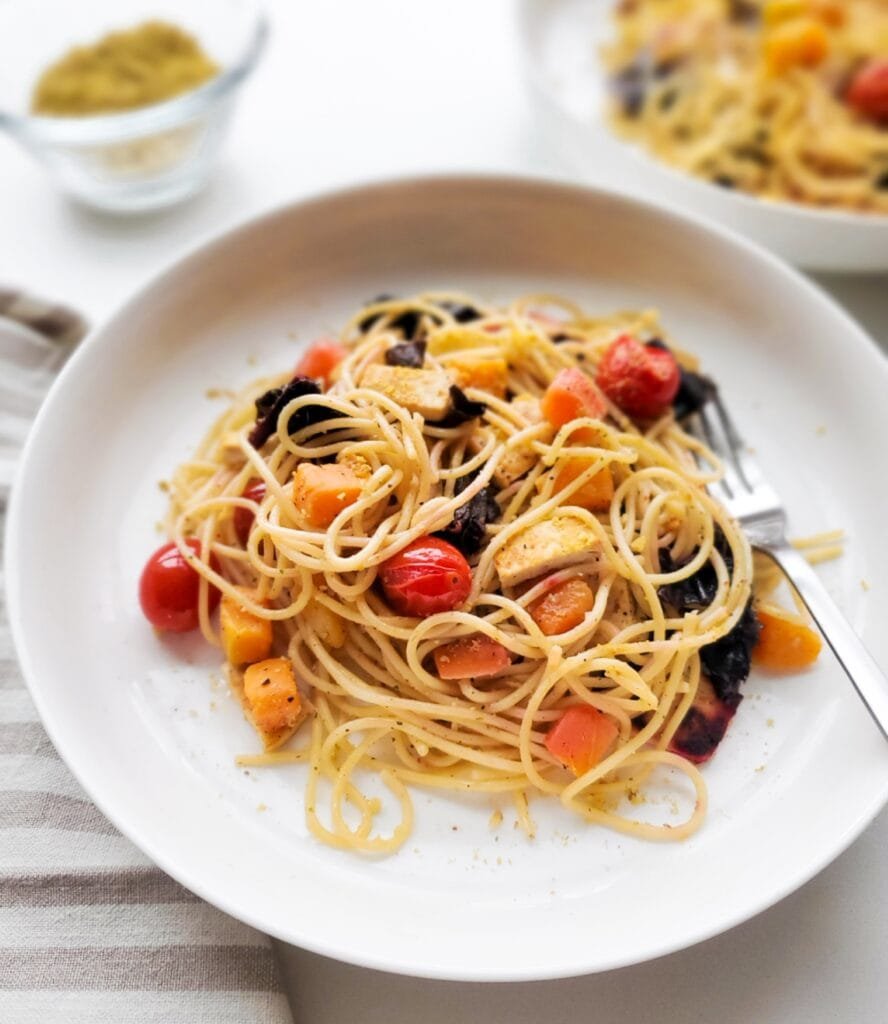 More Vegan Pasta Recipes
Pasta is the easiest dish to veganize and the results are always spectacular. Here are some yummy recipes for you to try:
Pasta with Creamy Zucchini Sauce
Spaghetti with Lentil Bolognese
Spaghetti with Roast Squash, Chard, Tomato and Tofu
Print Recipe
Ingredients
1/2

340 g package

wholewheat or gluten free spaghetti

1/2

package

480 g firm tofu

dried and pressed

2

teaspoons

canola or olive oil for frying

3

cups

frozen or fresh butternut squash

about 1 small squash

1

medium

carrot

2

cups

cherry tomatoes

1/2

large bunch

red swiss chard

chopped
Marinade:
1-2

tablespoons

canola or olive oil

1

lemon

juiced

1/4

teaspoon

seasoning of your choice

I use stevia seasoning
Pasta:
2

tablespoons

canola or olive oil

1/4-1

cup

pasta water

if needed

1/8

large

onion

finely chopped

1

large clove

garlic

minced

1

lemon

juiced

1/2

teaspoon

stevia seasoning

or salt free seasoning of your choice

1/8-1/4

teaspoon

red pepper flakes

4

tablespoons

nutritional yeast

1/4

teaspoon

onion powder

1/4

teaspoon

garlic powder

Vegan parmesan

for garnish
Instructions
To make the pasta: Cook the spaghetti noodles according to package directions until al dente. Once cook, drain well and set aside.

To fry the tofu: Cut the tofu in half and dry with paper towels or a clean cloth. Press it gently over the sink to remove water.

Slice into 1/2 inch slices.

Add a little oil in a wok over medium high heat. Once oil is hot add the tofu slices, 4 or so at a time. Stir fry until golden brown. Flip and brown the other side. Once browned, remove from heat and set aside.

Chop onion and garlic roughly. Then continue to chop them with a large chefs knife until finely chopped. Once chopped, set aside.

Slice the tofu into square bite sized pieces.

To roast the butternut squash, carrot, tomato and chard: Preheat your oven to 450 degrees F. Peel and dice the squash or use frozen squash. Chop chard into bite size pieces. Slice carrot into uniforms slices. Combine the marinade ingredients and pour over all the vegetables in separate bowls.

Spread the squash cubes on a large baking sheet, the chard, carrot and tomato on another.  Bake squash for 20 to 25 minutes, flipping halfway through until squash pieces are golden and fork tender. Bake the tomato, swiss chard for 5-10 minutes until chard is slightly crispy and the tomatoes are soft.

To make: In a large skillet or frying pan, heat the olive oil and sauté the onions and garlic until the onions have softened. Add the seasoning and stir well.

Add the pasta. Stir until well mixed. 

Toss in the still warm roasted butternut squash, carrot, chard and cherry tomatos and tofu. Toss gently to combine. Serve immediately with vegan parmesan cheese.