Amazing, crave worthy Vegan perogies are sure to become your favorite again. Made with vegan sour cream they are sure to please.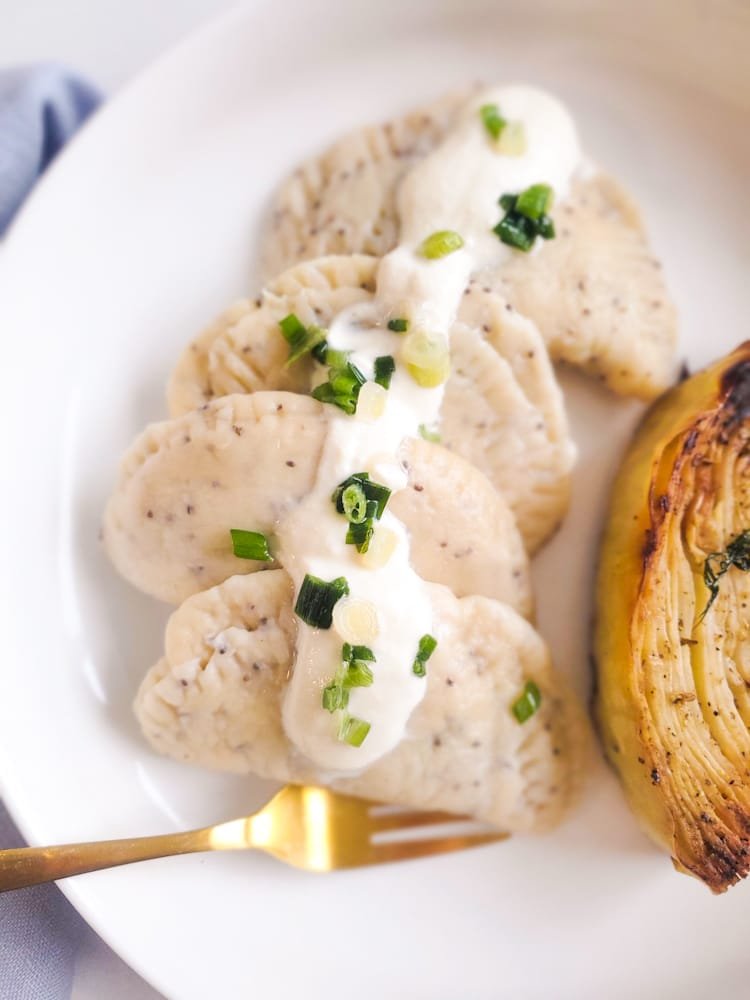 Who doesn't love perogies? They are so comforting and delicious, a perfect snack or meal. I ate alot of them during my student days, but had to stop when I went vegan. I had resigned myself to a perogy free life until I discovered vegan sour cream!
Homemade perogies are as good as store bought and more economical as well. You may think they are difficult to make but they really aren't. You just mash some potatoes, make the dough, roll and cut them out and stuff them. The finish perogies can then be fried or boiled.
Making Vegan Perogies
You begin by making a basic pastry dough. After forming, let dough sit covered at room temperature. It will make it softer and more pliable. When soft, roll it out until thin and uniform in thickness.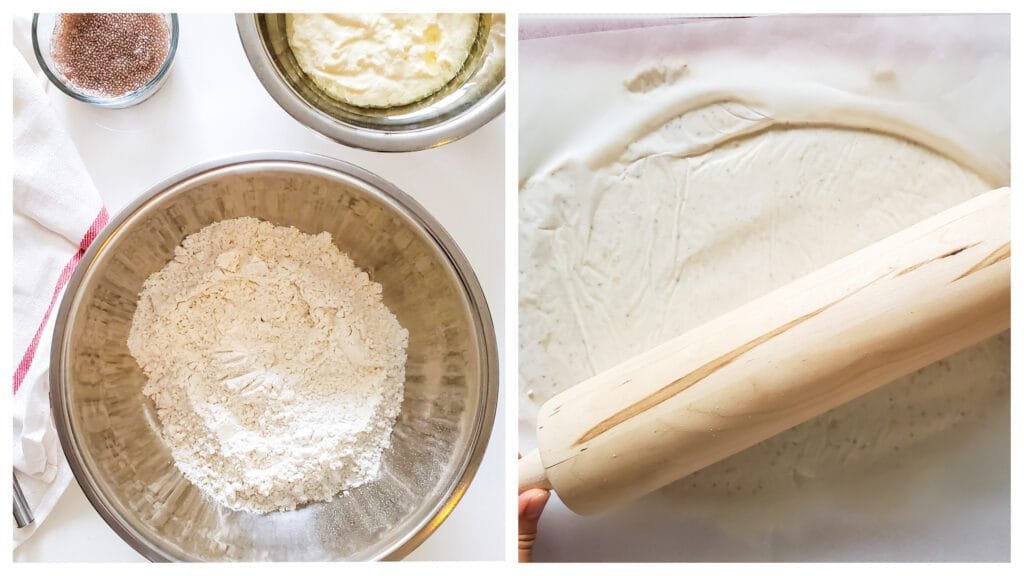 Make the potato filling by boiling and mashing potatoes. You can add onion or vegan cheese or leave it plain.
Cut out the dough with a glass or biscuit cutter to about 2 1/2 inches. Press each circle of dough out by rolling or with your fingers to enlarge it and keeping it from being too thick. Add one tablespoon of so of the potato to one half of the dough circles. Fold over and press edges to seal.
Place finished perogies on a baking sheet lined with parchment or a silicone baking mat to prevent them from sticking. They are now ready to be cooked.
You can now either fry or boil your perogies. When boiling, add your perogies to boiling water. Once they float to the top, then they are done. Remove, drain and serve. If frying, add the perogies to a lightly greased skillet. Fry each side until golden brown.
Placed finished perogies on a plate. Try not to eat too many while frying them, although they are pretty hard to resist!
Serve with Vegan Sour Cream
Perogies are usually served with sour cream and fried onions. I also sometimes serve them with sour cream and hot pepper. They are yummy either way.
Potatoes are a super comforting food and that's probably why perogies are so popular. Making your own is fun and you will have plenty left to freeze for later. Enjoy!
Vegan Comfort Food
Comfort food is what we all crave and it's impossible to give up. Happily, as a vegan, you don't have to. Here are some vegan comfort food favorites for you to try:
Popcorn Cauliflower with Buffalo Sauce
Small Batch Vegan Macaroni and Cheese Casserole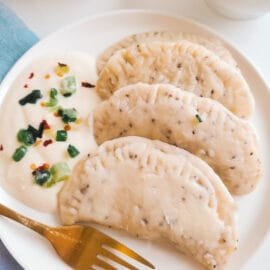 Vegan Perogies
Print Recipe
Ingredients
Dough:
2 1/4

cups

all purpose flour

1

tablespoon

vegan butter

melted

1

cup

vegan sour cream

1

chia egg

2 tablespoons chia seeds with 1/4 cup water, soaked for 15 minutes

1

tablespoon

canola oil
Filling:
6

baking potatoes

peeled and cubed

1/2

cup

unsweetened soy milk

1 1/2

tablespoon

vegan butter

1/2

teaspoon

stevia seasoning

or your favorite salt free seasoning
Toppings:
Vegan sour cream

Fried or green onions

optional
Instructions
Filling: Place potatoes into a pot, and cover with water. Bring to a boil, and cook until tender, about 15 minutes.

Drain and place in mixing bowl. Add soy milk and vegan butter. Mash well or beat with an electric mixer until fairly smooth. Set aside.

Dough: In a large bowl, place the flour. In a separate small bowl, whisk together the butter, sour cream, egg replacer and oil.

Stir the wet ingredients into the flour until well blended. Cover the bowl with a tea towel, and let stand for 15 to 20 minutes. 

Separate the dough into two or more balls. Roll out one piece at a time on a lightly floured surface until it is thin enough to easily work with, but not so thin that it tears when folded. 

Making the perogies:Cut into circles using a cookie or biscuit cutter. Spoon 1 tablespoon of filling into one side of each perogy. Pick up perogy and fold over and seal with your hands. Place perogies on a cookie sheet until all are ready to be cooked.

To boil perogies: Bring a large pot of water to a boil. Drop perogies in a few at a time. Stir them gently a few times to insure they don't stick to each other or the bottom. Boil for a minute or two. They're done when they float to the top. Remove with a slotted spoon' drain well in a colander and serve hot. 

To fry perogies: heat oil over medium heat in a skillet. Place 6 to 8 perogies in the pan. Fry for a minute or two on each side, pressing them slightly as they cook. Watch them as they cook very quickly.

Once cooked, remove from heat and serve immediately.

Serve perogies with sour cream and fried onions.