Fun, spicy and perfect for any party or get together, Kimchi Queso Dip is the ultimate cheesy dip. Super easy to make and impossible to resist, serve it with nachos, chips or crudites. It even tastes great on a sandwich or fries.
Queso dips are very popular and once you try some, you'll understand why. Hot, creamy and perfect for dipping, it's the ultimate party dip. With this recipe, I decided to try adding a little Korean umami by using kimchi to add the heat, and yogurt to add tanginess.
To be honest, this is an amazing recipe, but it's not mine. I found it on a comment board on the New York Times Cooking app. The commenter posted she added kimchi and yogurt to her vegan cheese sauce, which I thought sounded amazing. I decided give it a try, and yes, it is as amazing, easy and delicious as it sounds. The perfect easy party recipe and with healthy prebiotics as well. Yum!
Making Kimchi Queso Dip
Kimchi Queso Dip is yummy and really easy to make. It consists of only three ingredients and toppings of your choice. You can make your own vegan grated cheese and kimchi (I've included recipes for both) or you can go the fast and easy method and buy them.
Remember, if buying kimchi, make sure it's vegan. Most aren't. When not making my own, I buy vegan kimchi in my local health food store. Also, be sure to use a tangy, unsweetened, unflavored yogurt. The tangier the better.
To begin, combine the vegan cheese, 1/2 cup kimchi, and 3/4 cup yogurt in a food processor. Blend until creamy. Taste test it and add more kimchi for more heat and more yogurt if its too thick. I usually end up using full cups of both.
Finish by spooning into a serving dish, add toppings, and serve with nachos, chips or crudites. As the flavour is Korean instead of Mexican, I omitted the usual salsa and cilantro and topped with chopped green onion, sesame seed and red chili flakes instead. I serve it with guacamole and lime as well.
Perfect Party Dip
Nothing says party more than a delicious queso dip. With today's great vegan cheeses there's no reason not to make a vegan version. This dip doesn't require baking and has all the heat, flavour and cheesy appeal you could want. Share it and savour it. Enjoy!
More Vegan Appetizers and Snacks
We all love snack food and as a vegan you still have plenty of option, both favorite classics or new and delicious recipes! Here are some more popular and irresistible snack foods:
Gluten Free Vegetable Crackers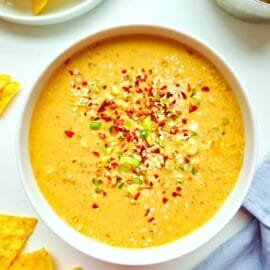 Kimchi Queso Dip
Print Recipe
Ingredients
Toppings
1-2

tablespoon

red chili flakes

2

Green onions

Chopped

1

tablespoon

Sesame seeds
Instructions
Combine the cashew cheese, 3/4 cup yogurt and 1/2 cup vegan kimchi in a blender or food processor. Process until creamy. Taste and add 1/4 cup more yogurt and 1/2 cup kimchi if desired.

Spoon into a serving bowl and top with sliced green onion, sesame seeds and red chili flakes.

Serve with nachos or chips, crudites, guacamole and lime wedges.
Notes
A tart, tangy yogurt works best. Coconut milk yogurts work better than soy or oatmilk for this recipe.
This dip tastes great on sandwiches and French fries.