Celebrate strawberry season with this delicious and easy to make Strawberry Spoon Cake. Perfect for all your favorite summer holidays. Serve it with vanilla ice and cardomon for a sweet and satisfying dessert.
Ahhh, it's summer again, the perfect time to enjoy the season's most popular fruit, strawberries. I love eating them freshly picked or with some vegan cream, but I also love baking with them. That's why I was so thrilled to find this recipe via the New York Times Cooking website. It features strawberries in a very easy spoon cake and the results are amazing.
I made a few changes to the recipe which I think made it even better. One was using frozen strawberries instead of fresh, since it's still a bit early in the season, but they work just as well. I plan to serve this Strawberry Spoon Cake on Canada Day and other summer get togethers along with vegan vanilla ice cream, a match made in heaven!
Making Strawberry Spoon Cake
Making Strawberry spoon cake is very easy. It's probably the easiest cake you can make. To begin, it helps to assemble all the ingredients. I then microwave the frozen berries for a few seconds to mostly thaw them and then mash them to release the juice. I mash them by squeezing them by hand. You can also use a potato masher.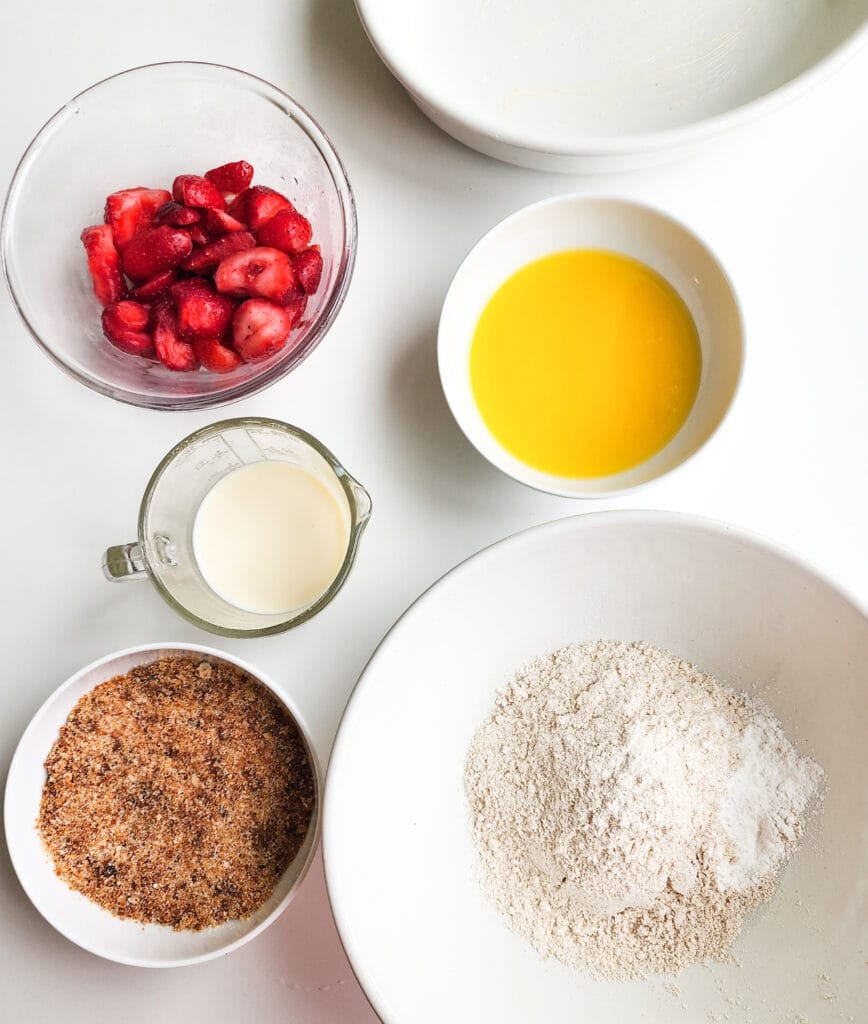 Next, mix the melted butter, and fructose in a medium large mixing bowl until well incorporated. Then, add the flours and baking powder, and whisk until smooth.
Next, pour batter into a 8×10 or 8×8 greased cake dish. Spoon the berries and add a pinch of cardomon on top. Bake until a tester comes out clean and the top is nicely and lightly browned. To finish, let it cool slightly before serving. Serve cake, plain or with ice cream or whip cream.
Celebrate with Strawberries
It's so true that summer is the best time to enjoy summer fruit cakes. Thankfully, with frozen berries you can enjoy this cake year round. It's great for whenever you need a nice, delicious dessert that can be quickly put together. It's also pretty healthy for a cake as it's baked with high fibre spelt flour and low GI fructose. Enjoy!
More Vegan Summer Desserts
Summertime is great because of the wide variety of fruit that is in season and local. In season fruit tastes better and is a real treat. Here are some more yummy dessert recipes featuring fruit:
Blackberry Almond Bread Pudding
Strawberry Spoon Cake
Print Recipe
Ingredients
1/2

cup

unsalted melted vegan butter plus more for greasing

melted

1 1/2

cups

frozen and thawed strawberries

2/3

cup

fructose

2

teaspoon

molasses

1/2

cup

plant based milk

at room temperature

1

cup

spelt flour

1

teaspoon

baking powder

Pinch

cardamom

Vegan vanilla ice cream

For serving
Instructions
Heat oven to 350 degrees F. Grease an 8-inch baking dish with butter. Set aside.

Combine the fructose and molasses. Stir until well mixed. Set aside.

Microwave the berries for 30 seconds until thawed. Place in a medium sized bowl and mash to release juice and berries are chunky. Add 1/3 cup of the fructose. Stir until mixed and set aside.

In a medium sized bowl, whisk together the melted butter, remaining 1/3 cup brown sugar, plant based milk.

Add the flour and baking powder to the fructose mixture and continue whisking until batter is just smooth.

Pour the batter to the greased baking dish. Spread it out evenly into corners.Spoon the strawberries and all their juices over the center of the cake batter.

Place cake in the oven and bake for 20 to 25 minutes, or when a toothpick comes out clean in the center and the top is nicely, lightly browned.

Remove from the oven and allow to cool for 3 to 5 minutes before serving. Serve warm plain or with ice cream.
Notes
You can use light brown sugar in place of the fructose and molasses.