Light and lovely classic Waldorf Salad is the perfect lunch. Sure to impress and healthy as well, it's the perfect summer salad.
Summer is here, and the living and eating should be easy and breezy. My favorite go to warm weather meal is a salad and I love to combine fruit with the usual lettuce and other vegetables. This combination, which is popular now, isn't new. Waldorf Salad, invented in the 1893 and named after the Waldorf- Austoria Hotel where it was invented, began the trend, combining apples with celery and serving it on a bed of lettuce.
The original recipe which had just four ingredients: lettuce, mayonaisse, apples and celery, has evolved over the years to include walnuts, grapes or whatever you want. This version of the salad includes walnuts, grapes and a simple, vegan mayonaisse dressing. I also combined the lettuce in the mixture as opposed to serving it the traditional way, with the mayonaisse apple mixture sitting on top of a bed of lettuce. Either way, this salad is amazing. Simple ingredients that create a light, refined and very delicious salad.
Making Vegan Waldorf Salad
Making vegan Waldorf Salad is very easy. Just make sure all your ingredients are well chilled before starting. Begin by washing and drying the lettuce, apples, celery and grapes. Next, prepare the lettuce by cutting or tearing it into bite sized pieces. Then cut the grapes in half, deseed and thinly slice the apples and finely chop the celery. Juice an orange and keep the apples covered in the orange juice to prevent them browning while preparing the salad.
Next, drain the apple slices well and place all the ingredients, except for four apple slices, in a mixing bowl and add the vegan mayonaisse. Gently toss all the ingredients together until just mixed. Top each salad with an apple slice and serve immediately, preferably on chilled plates to prevent the lettuce from wilting.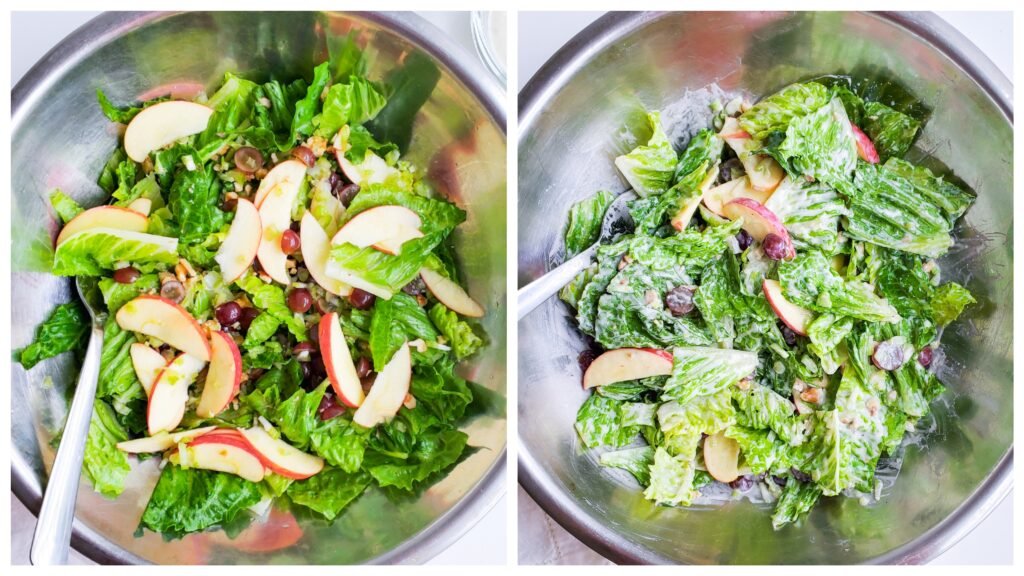 Light and lovely lunch
Waldorf salad is so easy to make and with very basic ingredients, it's surprising how delicious it is. The sweetness of the fruit really compliments the tangy, creamy mayonnaise and walnuts add some protein and texture. It's so good!
It's the perfect salad to share with a friend or enjoy by yourself. Eating lighter in the summer is the way to go, and this salad really is the perfect summer salad. Serve it with some fresh bread for a sweet and lovely lunch. Enjoy!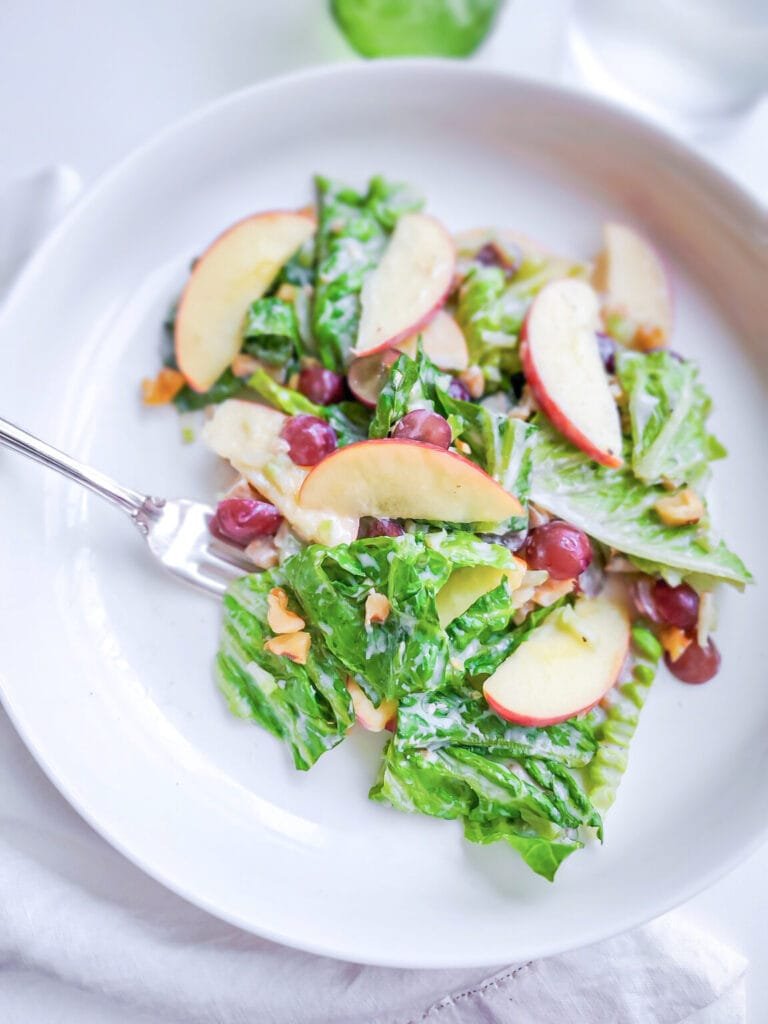 More Vegan Summer Recipes
Summertime with its abundant and varied produce is the perfect time to eat light and healthy. Here are some more delicious summer recipes:
Grilled Corn, Peach, Cucumber and Avocado Salad
Grilled Corn, Peanut and Serrano Pepper Salad
Roast Baby Potato Salad with Radish Greens and Vegan Bacon Bits
Waldorf Salad
Print Recipe
Ingredients
1

medium

organic apple

1

stalk celery

finely chopped

1/2

cup

walnuts halves

quartered

1/2

cup

seedless grapes

halved

1/2

cup

vegan mayonnaise

1

orange

juiced for cut apples

2

cups

lettuce

cut or torn into bite-size pieces

Freshly ground pepper

for seasoning
Instructions
Juice an orange and place juice in a small bowl.

Cut apple into quarters. Remove the core and seeds. Cut into thin slices and place in the bowl with the orange juice. Stir to insure slices are all covered. Place in the refrigerator until use.

Wash and spin dry lettuce leaves. Cut or tear them into bite sized pieces. Place them in a large mixing bowl. 

Chop celery stalk finely and place in the mixing bowl. 

Cut grapes in half and place in the mixing bowl. 

Place all apples except for four slices in the mixing bowl.

Add the walnuts and vegan mayonaisse to the mixing bowl and gently toss until salad is just combined.

Divide salad between four plates and top with apple slices and freshly cracked pepper. Serve immediately.